Martin St. Louis on moving on: 'All I really can say is that I am sorry'
Martin St. Louis left Tampa Bay on Wednesday, but not before leaving a letter behind. He said he would rather not discuss why he asked for a trade.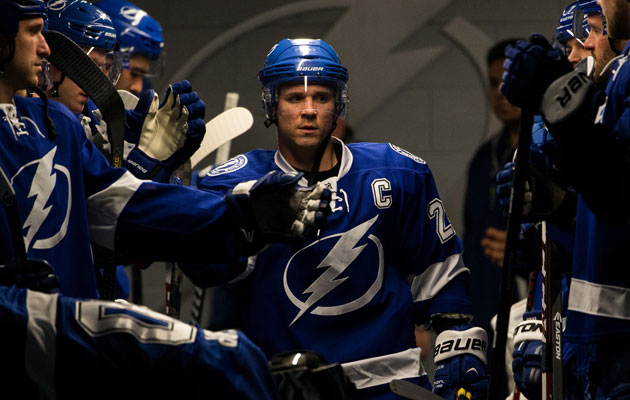 More NHL: Trades | Scores | Standings | League Leaders | Odds  | Power Rankings
One of the biggest moves of the trade deadline -- if not the biggest -- was Martin St. Louis being dealt to the New York Rangers for Ryan Callahan and a couple of draft picks. It was a blockbuster that had been in the works for a while.
St. Louis requested a trade, something that he didn't deny a few weeks ago and then was confirmed by Lightning GM Steve Yzerman on Wednesday. When he actually requested it isn't clear but it apparently goes back a long time, well before the Olympics. St. Louis spent 14 years in Tampa Bay but had enough.
After spending so long in Tampa, he became a fan favorite. It helps that he has been such a great player for years and led them to the Stanley Cup a decade ago. Even though he wanted to leave the team, leaving the city was a tougher decision.
On his way out of Tampa Bay, St. Louis left a letter behind. It was directed at a lot of people, thanking the Lightning for the great years but it was a part aimed mostly toward fans that was the key section. Here it is:
"When I arrived here in 2000, you all supported and believed in me when not many did. You have continued to support me through the years and I am extremely thankful for it! I know many of you are disappointed with me for my decision to want to leave.

"I would rather not discuss what brought me to that decision, but in the end this is a decision for my family. I respect the fact that many of you do not agree with my decision and are angry with it. All I really can say is that I am sorry and I am very appreciative of the support you have shown me through the years."
You can view the entire letter here.
Marty St. Louis' letter to #TBLightning fans. pic.twitter.com/vnWjaiuF4s

— Andrew Astleford (@aastleford) March 5, 2014
The belief has been St. Louis' request stemmed from the original snub from Team Canada by Yzerman -- who was also GM for Canada -- but there sounds like a lot more than meets the eye on this one. St. Louis wanted a trade and he wanted it to New York; all things considered Yzerman did about the best he could possibly do in a tough breakup.
It's weird to think of St. Louis playing for somebody but the Lightning -- and Callahan playing for somebody but the Rangers -- but all good things come to an end.
As Neil Sedaka sang, breaking up is hard to do.
NHL players are still disappointed they won't be going to skate in PyeongChang

With Artemi Panarin in the mix and a Vezina winner headlining the defense, Columbus can be...

The league's crackdown on faceoff infractions and slashing penalties isn't without some cr...
Joffrey Lupul spent last season on long-term IR but seems to be saying he's healthy

Early playoff trouble has been evident, but the Wild tout an offense capable of making another...

Why walk with skate guards when you can rollerskate instead?