Martin St. Louis selected to replace Steven Stamkos for Team Canada
With Steven Stamkos out, Canada has turned to his Tampa Bay teammate Martin St. Louis to replace the injured forward for the Winter Olympics.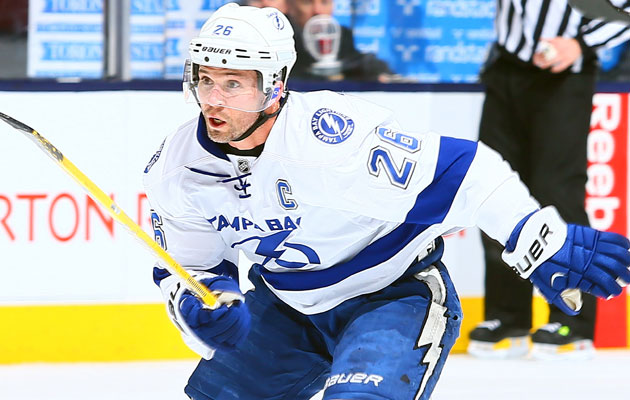 More NHL: Scores | Standings | League Leaders | Odds | Injuries | Power Rankings
Martin St. Louis was passed over for Team Canada one time, it wasn't going to happen again.
With Steven Stamkos announcing on Wednesday that he would not be playing for Canada in Sochi, the Canadians had a decision to make in replacing the Lightning star. So Tampa Bay (and Canada) GM Steve Yzerman didn't go any further than his own locker room and selected the Lightning captain, St. Louis, to take Stamkos' spot.
Martin St-Louis has been named to the #TeamCanada roster for #Sochi2014, replacing Steven Stamkos.

— Hockey Canada (@HockeyCanada) February 6, 2014
Canada had a lot of different directions it could have taken with Stamkos out as the list of guys who didn't make the team but were deserving is very long. But St. Louis seemed like the safest pick of all considering his ties with Yzerman but also his play since not making the team and the fact that he's been one of the NHL's top performers for years now. St. Louis took the first notice he didn't make the team well, it was hard to imagine his day-to-day GM would tell him that news again.
St. Louis admitted on Thursday after his selection that he was bitter about being left off the team the first time. Perhaps that would explain why he went on an offensive tear after Team Canada was selected. But St. Louis said he had little doubt he'd get the call to replace Stammer.
"If anyone could replace him, I know he would want me," St. Louis said of Yzerman. "So I'm going to go there and do my best."
St. Louis will be making his first trip to the Olympics, something that the 38-year-old really wanted to experience, though it's hardly a token honor. He won the Art Ross Trophy last season as the league's leading scorer and this season he has 54 points in 56 games including 25 goals. His speed could be a real benefit on the bigger ice.
At least with St. Louis making the team it turns what was a tough story with Stamkos not making the team into a good one again with St. Louis, a very popular player and person in hockey.
Of course the sting will be felt by the guys like Claude Giroux and James Neal or any of the many other players who could have filled Stamkos' spot admirably but only one was going to be able to make the spot and in the end St. Louis seemed to be the most logical.
Here's what you might have missed across the NHL on Tuesday night

Montreal can't score, New York's defense is in disarray and the Oilers are supremely under...

The NHL's newest team is a hit on and off the ice
J.T. Brown, who raised his fist during the national anthem, meets with Tampa Police Depart...

The decision would likely be met by anger from some fans, but it could also make sense

Toronto shoots to the No. 1 spot, just ahead of the Chicago Blackhawks