Martin St. Louis traded to Rangers for Ryan Callahan, picks
Martin St. Louis and Ryan Callahan are changing positions. The two captains were traded for each other on Wednesday in a blockbuster with the Lightning also getting two picks.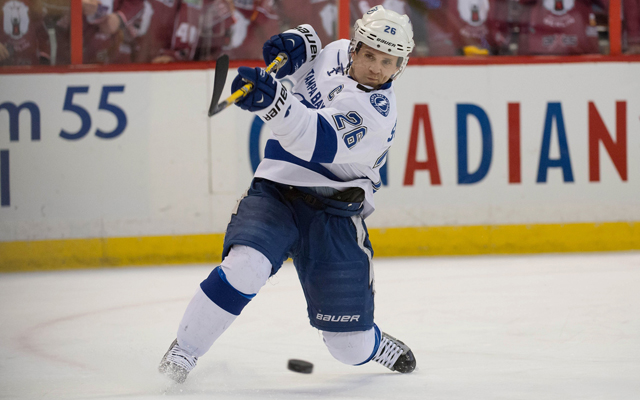 More NHL: Trades | Scores | Standings | League Leaders | Odds  | Power Rankings
Two big questions going into the trade deadline: Would Martin St. Louis or Ryan Callahan be traded? Both were answered in one move; the two were traded for each other on Wednesday.
The Rangers landed St. Louis from the Lightning in exchange for Callahan and a first- (2015) and second-round pick (2014) in the upcoming draft. If the Rangers make the conference finals then that 2014 pick also becomes a first-rounder. Talk about a huge deal.
Callahan is a free agent after this season and the Rangers had been working with their captain on a contract extension for months but were getting nowhere. That opened up the possibility of a trade instead of risking losing him for nothing in free agency. St. Louis, meanwhile, had reportedly asked for a trade a long time ago in Tampa Bay and it only grew more intense this season, leaving Steve Yzerman in an awkward position.
The end result was a deal of a captain for a captain.
"We'd like to thank Marty for everything he has done on and off the ice during his outstanding 13-year career in Tampa Bay," Yzerman said in a release. "He has been one of the greatest players in the organization's history but in the end we honored his request today. We wish him and his family the best of luck as he continues his career in New York."
How it all got to this point is rather staggering. The Lightning are in the midst of their best season in a few years and are true contenders in the Eastern Conference this season. To lose St. Louis, an iconic player for them in the past 13 years and the NHL's scoring leader last season, over some kind of dispute is amazing. Callahan is a good player, no doubt, but he can't match the scoring that St. Louis brings.
All in all, the return is somewhat underwhelming even for the Lightning. The picks won't be high in the draft and Callahan is very likely gone after this season. The Bolts probably won't be interested in giving him the big deal he wants. But keep in mind that first-rounder is in 2015 when the draft is packed with talented players.
Callahan, meanwhile, is almost equally surprising that it got to this point but his contract demands were very high and the Rangers weren't wrong to pass on that. To turn around and get St. Louis for this season and at least next is pretty close to a coup for GM Glen Sather. St. Louis will get a chance to reunite with Brad Richards to try and give the Rangers an offensive boost.
Stacia Robitaille says Donald Trump told her in an elevator that she was coming home with...

Vladislav Yeryomenko was the Teddy Bear Toss goal scorer for the Calgary Hitmen

The Golden Knights are finally getting their No. 1 goalie back after a 25-game absence
Washington has won four straight, and the Kings are also on a tear right behind the Lightn...

The NHL says it's only interested in expanding to Seattle, but here's a look at all the moving...

The NHL says it is only looking toward Seattle for the next expansion team