Matt Niskanen knows he could be odd-man out on Penguins defense
The Penguins have a cap problem and a glut of defensemen. That means Matt Niskanen could be on his way out of town and he knows it.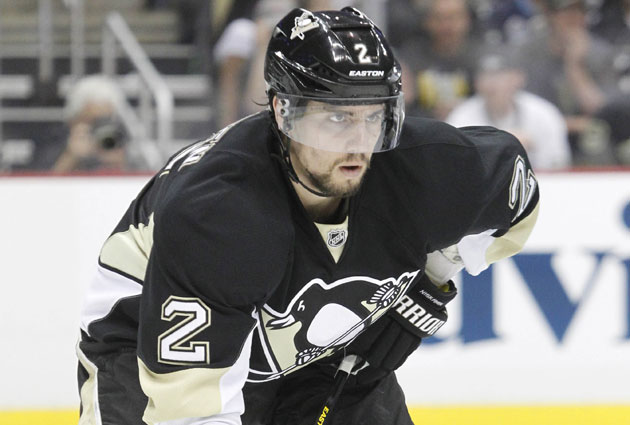 More NHL offseason: Rumors | Top 50 Free Agents | Buyout Tracker | Trades | Transactions
Looking ahead to the season in just a matter of weeks, the Pittsburgh Penguins still have some work to do in terms of the salary cap. At the moment they are projected to exceed the cap by a little more than $1 million and as you should know, exceeding the cap is not allowed.
The Penguins also have seven defensemen signed to NHL deals and an eighth in Simon Despres who is on a two-way deal but is expected to make the team without any concerns. So something's gotta give. That something might very well be Matt Niskanen.
One way that GM Ray Shero could make his team cap compliant would be to try and send a player -- likely one of those defensemen -- down to the AHL through waivers but it seems unlikely that a player such as Niskanen would get through the claiming process and the Penguins would lose him for nothing. Another option is a trade and at this point Niskanen sounds like a guy who sees the writing on the wall as he told Dave Molinari of the Pittsburgh Post-Gazette.
It's no surprise, then, that Niskanen has been a fixture in trade speculation since the Penguins signed free-agent defenseman Rob Scuderi two months ago.

"I know the situation we're in, being over the cap," Niskanen said after an informal workout Monday at the Ice Castle in Castle Shannon. "It's pretty evident that Ray [Shero, the general manager] has to make a decision. Someone who probably otherwise is a regular on our roster [will be traded]."

...

"I'm not worried about it, or anything," he said. "I've just prepared as though I'm going to be here when the regular season starts, and I'm working toward that. But I understand that Ray has to make a decision."
This became a mroe apparent issue after the Penguins brought back Rob Scuderi in free agency. With Kris Letang, Paul Martin, Brooks Orpik and Scuderi, you have four guys who are clearly going to make the team. Add in Despres who should have had a bigger role last season and you're up to five players for six spots. That leaves Robert Bortuzzo, Deryk Engelland and Niskanen. Of those three, only Niskanen has a salary big enough that moving it would make the Penguins cap compliant.
Assuming Shero has already been exploring his options in regards to Niskanen, he should find interest out there. Niskanen is still young as he'll turn 27 in December, had 14 points in 40 games and more than 20 minutes per game last season in Pittsburgh and is relatively affordable with a cap hit of $2.3 million with only one season left before free agency. In other words, a lot of desireable attributes for other teams.
With the Penguins having a lot of money tied up in a few players, these types of decisions will become the norm for Shero every offseason, trying to fit the salary cap restraints and filling out the team with good depth behind the obvious star power.
Players are set to give personalized messages for Adidas' former hockey equipment brand

The 40-year-old center is returning to the Wild after a successful run in Pittsburgh

Edmonton locks up its 21-year-old RFA a month after McDavid's historic extension
Even with a new coach and added veteran help, the Canucks have a long road ahead

Unlike expansion teams before them, the Knights have enough talent to entertain right away

Brian Lawton says he 'would not be surprised' if Boston deals its young star to end contract...