Matt Stajan returns to Flames after death of son, thankful for support
Matt Stajan returned to the Flames on Monday after a couple weeks off following the death of his newborn son. In a statement, he thanked everybody for the love and support.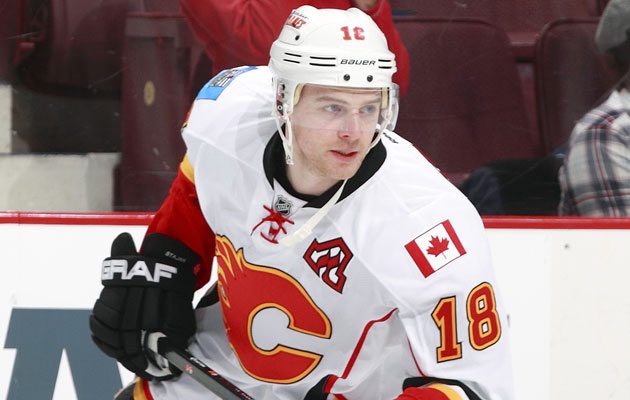 More NHL: Trades | Scores | Standings | League Leaders | Odds  | Power Rankings
After taking a couple weeks off following the death of his newborn son, Matt Stajan was back on the ice with the Calgary Flames on Monday.
Stajan has been out of action since March 1 for a very understandable reason as he and his wife Katie grieved over the loss of their son. But Stajan is apparently ready to get back to work and move past an awful moment in his and his wife's life.
Upon returning to the team, the Stajans had a brief statement to make, issued by the Flames.
We would like to take this opportunity to thank everyone for the incredible outpouring of love and support, during this very difficult time. All of you have touched our lives with your kindness and compassion, and we truly appreciate everyone's thoughts and prayers. Our son, Emerson, will forever be in all of our hearts. Thank you for taking the time to think of us, and grieve this unbearable loss with us. It means so much, and we are grateful for all of your support.

-- Katie and Matt Stajan
The Flames play their next game at home on Tuesday against the Buffalo Sabres. Based on the lines in practice -- Stajan was centering the third line -- as well as this from Sportsnet 960's Pat Steinberg, it looks as though Stajan will play.
In 52 games this season Stajan has 10 goals and 13 assists.
S/t PHT
Vegas isn't being quiet about its hot start to the NHL preseason

The blue-liners are set for another big push, but Edmonton's rise is hard to ignore in the...

Meanwhile, the Devils' Brian Boyle isn't sweating his recent cancer diagnosis
Limited-time Warriors-colored jerseys are apparently on the way in January

The 32-year-old forward tells the media he expects to be back on the ice for the Devils op...

It seems it's all as wild as it sounds, with Canadian actor Zack Ward heading a 'West Coast...