When the Tampa Bay Lightning reached the Stanley Cup Final a year ago it seemed pretty obvious they were building something very special with their current group of players.
Given the age and collective skill of their core, they had the look of a team that was going to be a consistent force in the NHL for the foreseeable future. So their return to the Eastern Conference final this year, after a dominating 4-0 win over the New York Islanders on Sunday, should not come as a surprise. 
But what makes this particular run so impressive -- and perhaps even more impressive than the one they went on last year -- is that they have managed to get through the first two rounds of the playoffs in only 10 games (8-2 record) without two of their best players, Steven Stamkos and Anton Stralman.
Stamkos is the big one. He has not played this postseason due to a blood clot issue that was expected to sideline him for 1-3 three months (he has missed a little more than a month at this point). He is the biggest name on the Tampa Bay roster, the face of the franchise, and the second best goal scorer of his generation.
He has also been the focal point of constant speculation over the past year because of his current contract situation and the very real possibility that he might be playing for somebody else next season. 
Losing a player like him is usually a crushing blow for most teams in the playoffs. When the postseason began his absence, combined with the injury to Stralman, seemed like it might be too much even for a team as deep and talented as the Lightning are to overcome. 
And then Victor Hedman reminded everybody that he, too, is a superstar cog in the Lightning machine.
At this point he might also be their best, and most important one.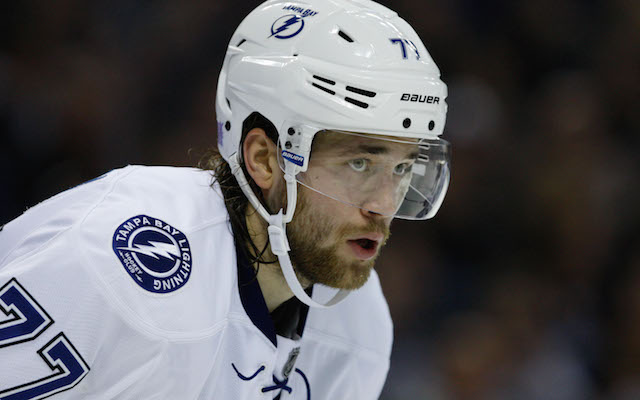 There are a lot of reasons for the Lightning's success this postseason in the absence of Stamkos and Stralman, from the continued brilliance of forwards Nikita Kucherov and Tyler Johnson, to the return of Jonathan Drouin and his improved play from one year ago, to having a great goaltender in Ben Bishop, to the simple fact the Lightning have been fortunate enough to avoid any of the Eastern Conference's top playoff teams to this point.
But Hedman has been perhaps the biggest reason for what is happening in Tampa Bay this year, especially when it comes to their second round series against the Islanders. 
He has quietly and without much fanfare been one of the top defensemen in the NHL for a few years now, but he might be playing his absolute best hockey at this very moment.
When the top defensemen in the NHL get mentioned it is usually the same group of four or five players. Drew Doughty, Erik Karlsson and Duncan Keith are probably at the top, and then there are usually guys like Kris Letang, Shea Weber and even Brent Burns that are in the mix as well, and all deservedly so.
But Hedman is in that group, too, and he just now seems to be entering his peak years in the NHL.
His performance during the 2015-16 regular season was exceptional.
There were 124 defensemen that played at least 1,000 minutes of 5-on-5 hockey this season. Hedman was 6th out of that group in Corsi Percentage (56.8), 12th in total shot attempts per 60 minutes (48.1), fourth in total shot attempts for per 60 minutes, and 12th in goals against 1.68). Across the board, in every objective measure, he was among the absolute best of the best at his position.
(All data via Hockey Analysis)
He has been just as good in the playoffs.
With Hedman on the ice during 5-on-5 play this postseason the Lightning are a 54 percent Corsi team and are outscoring their opponents by a 10-5 margin. Of the Lightning's 30 goals (in all situations), 15 of them have come with Hedman on the ice. He has scored four and assisted on five. 
His best work in the second round was the job he did helping to shut down Islanders forward John Tavares, the player that was taken ahead of him in the 2009 NHL draft.
In Tavares' first seven games this postseason he looked like an unstoppable force, producing 11 points (six goals, five assists) and recording 32 shots on goals (4.5 per game). He was everywhere, and was probably the biggest reason they moved beat the Florida Panthers.
In the four games that followed, all New York losses to Tampa Bay, he was held completely off the scoresheet (no goals, no assists) and managed just eight shots on goal (two per game). Most of his ice-time in the series came against Hedman. For the Lightning to win, they were going to have to shut Tavares down. Thanks to Hedman, they did exactly that. 
What makes a defenseman like Hedman so valuable is that they can play nearly half of a game (Hedman is averaging 28 minutes per game this postseason) and make an impact all over the ice and in every situation. Even strength. Power play. Shorthanded. You name the situation, and he is there, usually helping to dictate the pace of the game and what happens on the ice. 
Other than a goalie, there really is not another position that can take over a game the way a superstar, No. 1 defenseman can. No team reaches the Stanley Cup Final, or even goes deep into the playoffs, without one. Just look at the recent Stanley Cup winners. They all have one, from Keith, to Doughty, to Chara, to Lidstrom. It is also true for every other team still standing in the playoffs this year. They are the guys that make everything work. When you have a player that can on some nights play literally half of the game and be one of the best players every time he steps on the ice, it is a massive advantage.  
For the Lightning, Hedman is that guy, and it is going to be fascinating to see where he ended up in the Norris Trophy voting. We know he was not in the top-three. He probably should not be any lower than fourth or fifth. 
The reality for the Lightning is this: There is a very real chance that Stamkos is playing for a different team next season. Wherever he does end up playing, whether it is in Tampa Bay, Toronto, or some other mystery city, he is going to continue to be a goal scoring machine and a franchise player.
But if there is a team in the NHL that can potentially withstand the loss of one of the league's top players and still be a top Stanley Cup contender, this Lightning team just might be the one. It would still have a collection of young, top-line forwards in the prime of their careers and it would still have a top starting goaltender that is a Vezina Trophy finalist this season.
It also has one of the best defensemen in the NHL, and he has shown this season -- and right on through the playoffs -- he too can be the focal point of the team and its key building block.