Michael Del Zotto traded to Predators, Kevin Klein to Rangers
The Rangers and Predators reached a deal on Wednesday with Michael Del Zotto being traded to Nashville straight up for Kevin Klein.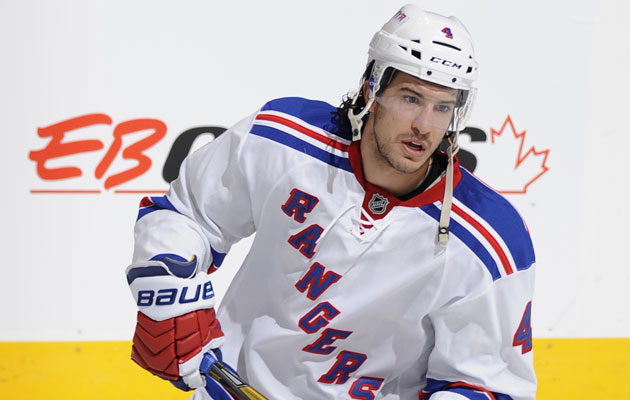 More NHL: Scores | Standings | League Leaders | Odds | Injuries | Power Rankings
Rangers defenseman Michael Del Zotto doesn't have to worry about being on the trade block anymore because on Wednesday the Rangers ended the speculation and traded him to Nashville.
The deal, as first reported by Renaud Lavoie, is straight up Del Zotto for Predators defenseman Kevin Klein.
This is a case of swapping two different types of defensemen as Del Zotto is your puck-moving, power-play QB type of rearguard whereas Klein is a defense-first player.The Predators could always use a little more offense and Del Zotto should help in that regard from the back end.
Now the Predators have a top four on defense of Shea Weber, Roman Josi, Seth Jones and Del Zotto. That's not looking to shabby, especially considering they are all still pretty young. And note that's two righties, two lefties. With Klein there was a backup of right-handed shots. In giving up Klein they do lose a good defensive guy but he has been a third-pairing guy for them. David Poile has made a pretty nice-looking deal for the second time in as many weeks.
"Michael gives us another young, gifted left-handed shooting defenseman with significant offensive upside," Poile said. "We look forward to his presence on our already talented young blue line, further balancing our defensive corps."
For the Rangers they do seem to be giving up the better player in this deal but they are servicing their own needs here. Alain Vigneault was clearly never happy with Del Zotto and he had been reduced to a third-pairing guy for the Rangers this season. In getting something for him he adds to the defense of his roster as that's the biggest knock on Del Zotto. He's still only 23 years old and has a lot of upside but he seemed to have hit a wall in New York, at least under Vigneault he had.
It's a straight-up deal where both teams are getting something they want. Klein will eat up PK time and play a dependable game, something that could certainly be an asset for seasons to come if they can't retain Dan Girardi. Plus Klein gives them that right-handed shot they wanted.
The Predators are also saving a little money against the cap here as Del Zotto has a cap hit of $2.55 million compared to Klein's $2.9 million. However Del Zotto will be due a new deal after this season as he's a restricted free agent. Klein just signed a five-year deal so the Predators trade a long-term deal for more flexibility with a short-term deal. They did the same in the trade that sent Matt Hendricks to Edmonton for Devan Dubnyk.
For the Rangers they got a long-term deal however that also means that they lock in a reliable defenseman who can kill penalties through 2018 at less than $3 million, which isn't bad.
The Pittsburgh Penguins will put politics aside and visit the White House out of 'respect'...

NBC will reportedly be devoid of NHL game broadcasts between Feb. 7-26

The Winnipeg winger suggests Trump is going after 'the principles the U.S. was founded on'
League gets excited about exhibition matches in Beijing and Shanghai

NHL players are still disappointed they won't be going to skate in PyeongChang

With Artemi Panarin in the mix and a Vezina winner headlining the defense, Columbus can be...