Michael Ryder and the other best contracts of free agency
Finding good deals in unrestricted free agency can prove as elusive as finding gold at the end of a rainbow. But a couple of GMs managed it.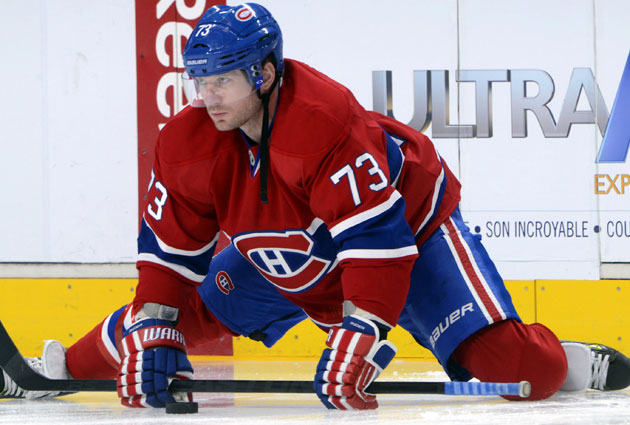 More NHL offseason: Rumors | Top 50 Free Agents | Buyout Tracker | Trades | Transactions
If there were a slogan for NHL free agency, it would likely include the words "dumb money" or something along those lines. It's the nature of the beast, and general managers just can't help themselves; they overspend on players almost without fail.
It's the curse that comes with the promise of free agency. When you get into an open market, values naturally get inflated with the bidding wars that usually break out. GM's become addicted to dumb.
Not all deals are dumb, though. Somewhere in the pile of wasted cash that GMs will soon regret as if it were that second helping of dessert the next morning are some actually sensible meals, errr, deals. I wouldn't say they're steals, but they're at least reasonable deals.
Take Michael Ryder . I'm not sure what it is about this guy, but GMs suddenly find their sensible hats when it comes time to sign this guy. In the summer of 2011-12, Ryder signed a two-year deal with the Dallas Stars for $7 million. In that time he had a 35-goal season and a total of 51 goals in 128 games. He was traded to Montreal for Erik Cole in a deal everybody lauded the Montreal Canadiens for because Ryder's contract was so friendly.
So naturally Ryder was going to get a bigger deal this time, right? We got our answer on Friday night when Ryder inked with the New Jersey Devils ... for two years and $7 million.
Put another way, for $3.5 million per season the Devils just signed a guy who is tied for 11th in most goals over the past two seasons with 51.
To show how that $3.5 million is a bargain, consider that his 51 goals are one less than Logan Couture , Corey Perry and Jonathan Toews had in the same time period. You're probably aware they all make a lot of money -- Perry now has a cap hit of $8.625 million, for example. Of course, a guy like Perry does do more for your hockey team than Ryder, and their respective ages -- Ryder is 33, Perry 28 -- are also factors. But isn't the whole point in hockey to score more goals than your opponent? Ryder has proven to be pretty adept at that.
For the Devils, who struggled to score this past season despite excellent possession numbers, the addition of a guy whose main attribute is scoring isn't bad. To get Ryder and his 16 goals this past season for $3.5 million per year for two seasons looks especially good compared to Ryane Clowe 's $4.85 million cap hit -- and for five years instead of two! Clowe had only three goals last season, and he also had a scary couple of concussions. The juxtaposition of those two contracts is rather striking.
So well done on this one, Lou Lamoriello. You found yourself a good deal. Here are a few others who spent responsibly:
Anton Khudobin , Carolina Hurricanes
Contract: One year, $800,000.

The Canes needed a backup goaltender as they parted ways with Dan Ellis , and Justin Peters hasn't yet proven he can be the answer. So they turned to Khudobin, the relatively unknown backup who played behind Tuukka Rask in Boston this past season.
Khudobin has never been more than a backup in the NHL, and he won't be asked to be more than that behind Cam Ward in Carolina, but he showed this past season that you can be confident putting him in. In 14 appearances, Khudobin had an 8-4-1 record with a .920 save percentage and a 2.32 goals against average. Keeping in mind he was playing behind the Boston Bruins defense, those are still pretty excellent numbers as a backup.
But the sample size on him is so small that reading too much into it is a risk. That's why the one-year deal for just $800,000 fits the bill for sensible here. Maybe Khudobin will prove he can play well anywhere if Ward's injury issues resurface. At that cost and that term, it doesn't hurt the Canes to try it out one bit.
Really, Khudobin's reasonable salary goes a ways in balancing out the crazy deal that Ward has. His cap hit checks in at $6.3 million. So now, combined, the Canes are paying $7.1 million for a goaltending duo that seems, at the worst, average.
Clarke MacArthur , Ottawa Senators
Contract: Two years, $6.5 million.

While I don't think this is necessarily a steal of a deal here for the Senators, it seems to be one that's pretty well priced. MacArthur has become a steady 15-20-goal guy in the NHL. This past season, he had eight goals in 40 games, putting him on pace for a little more than 16 over an 82-game season. Not a lot, but it's better than nothing.
He has scored at least 16 goals in each of the previous four full seasons so, again, you know you're going to get at least that. He helps Ottawa add a little scoring punch in a second-line role -- after they added some for the first line in Bobby Ryan  And the salary cap hit of $3.25 million isn't a tough one to take.
Not to mention, MacArthur was one of Toronto's best possession players this past season -- on a team that didn't do a good job with puck possession at all.
Like Ryder, MacArthur just signed the same exact deal (as far as the terms) as his previous deal; two years, $6.5 million. If it was a fair price then, then it's a fair price now considering his production has stayed consistent.
Viktor Stalberg , Nashville Predators
Contract: Four years, $12 million.

This contract is a little riskier than the previous ones because Stalberg hasn't been as consistent as you'd like to see. But at a $3 million salary cap hit, it's not a huge risk the Predators are taking, and it could prove to be well worth that price point.
Stalberg has never been given a truly prominent role on a team, but he should get that for the offense-starved Preds. Even playing barely a shade more than 14 minutes a game in 2011-12, Stalberg put up 22 goals and 21 assists for the Chicago Blackhawks in 79 games. He has skill.
This last season, Stalberg found himself in the doghouse, it seemed; he rode the pine for a few postseason games. Still, he had nine goals and 14 assists in the regular season -- 47 games, while again playing in a bottom-six capacity. That's a pace for around 15 goals.
The question now is this: With the bigger role, can Stalberg produce a bigger point total? Even if he doesn't, if he just has a season like his 22-goal, 21-assist campaign, that $3 million cap hit is very fair. Nashville could have done much worse.
Ray Emery , Philadelphia Flyers
Contract: One year, $1.65 million.

Would you look at that, the Flyers and reasonable deals in the same story. And not being used as a vehicle for humor.
But it's completely deserved this time for GM Paul Holmgren. He had a massive hole just begging to be filled between the pipes. It's been a years-long issue for the Flyers, really. Instead of going after another big-time goalie in hopes of finding that answer -- such as Tim Thomas or making a daring trade -- he went the route of the best backup in the NHL this season -- Emery.
Emery tried on Philly for size once before and it didn't work out so well. He then had a stint in the KHL, came back to North America and has been very good while not being in the starring role. He was so good this past season in Chicago that he had more points in the Vezina voting than Corey Crawford did, as stupid as that was.
Emery still has something to prove, though, and that explains why this is such a sensible deal for one of the more sought-after goalies available this summer in free agency. He's going to find life behind the Flyers defense much different than life behind the Blackhawks' defense. It's definitely a "prove it" contract to where, if Emery shows he's up to the task, the Flyers will likely re-sign him to a much bigger and more expensive deal. In the meantime, the Flyers got somebody who will presumably be their starter -- you have to start Emery over Steve Mason , right? -- for just $1.65 million. Especially for a team against the cap, that's a great deal.
Pittsburgh coach Mike Sullivan says the team also respects players' right to protest

Some familiar faces are back, but a cap-strapped summer left Chicago a little shakier than...

The Pittsburgh Penguins will put politics aside and visit the White House out of 'respect'...
NBC will reportedly be devoid of NHL game broadcasts between Feb. 7-26

The Winnipeg winger suggests Trump is going after 'the principles the U.S. was founded on'

League gets excited about exhibition matches in Beijing and Shanghai