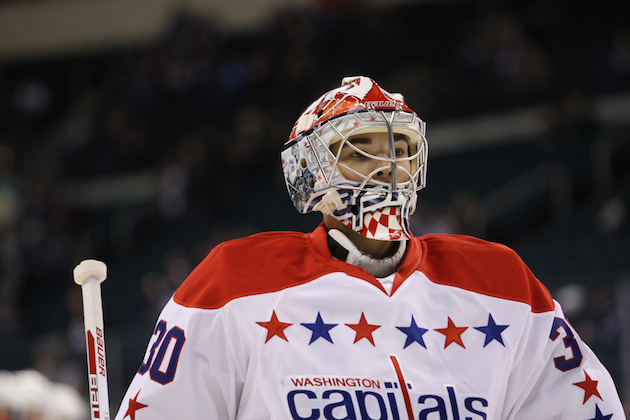 More NHL: Scores | Standings | Odds | Fight-O-Meter | League Leaders | Rumors
The Washington Capitals announced on Saturday morning that the team has signed goaltender Michal Neuvirth to a two-year, $5 million contract extension. That comes out to a salary-cap hit of $2.5 million per season.
Neuvirth, 24, appeared in 13 games for the Capitals this season and posted a .910 save percentage to go with a 4-4-2 record.
His contract will actually pay him more money than Braden Holtby ($1.85 million cap hit over the next two seasons), the goalie who has seemingly taken over Washington's starting job this season after helping lead the Capitals to the second round of the playoffs a year ago. Holtby has appeared in 35 games this season and has been tremendous down the stretch as the Capitals completed their late-season surge to win the Southeast Division.
It's interesting to see the backup (at least the guy who seems to be the backup at this point) get more money than the starter, and $2.5 million for a backup goalie would make Neuvirth one of the more expensive backups in the league.
The Holtby-Neuvirth pairing will count $4.3 million against the cap the next two seasons.
Both have shown they're capable of starting in the NHL, so it should be a pretty good duo for the Capitals over the next two seasons at a cost that isn't going to break their salary cap.