Mike Danton denied visa in England putting pro return on hold
Mike Danton had plans to resume his professional hockey career this upcoming season in England for the Coventry Blaze of the Elite Ice Hockey League. Those plans were stalled when he was denied an entry visa.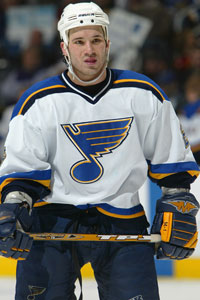 Danton pictured with the Blues in 2004. (Getty Images)
Mike Danton had plans to resume his professional hockey career this upcoming season in England for the Coventry Blaze of the Elite Ice Hockey League. Those plans were stalled when he was denied an entry visa.
With Coventry set to open its season on the 29th of August, Danton, who spent five years in prison for a murder-for-hire plot that failed, was trying to join his team in time for the game in Cardiff, Wales. Obviously that's going to be a struggle now that he has been denied a visa, but the Blaze are posturing for a reversal in the decision to allow Danton into the country to play.
The team posted an update on its website with information on the situation.
At the end of last week, Mike was advised by the UK Border Agency that his initial application for his visa had been unsuccessful.

Since then, we have had further discussions with both Mike and immigration experts and we have been advised to submit a secondary application for further consideration by the UK Border Agency. This will be done in the next few days.
Since his release from prison in 2009, Danton took an incredibly rare honor by winning a national championship at the collegiate level after making his NHL debut, which came in 2000 with the New Jersey Devils, the team that drafted him.
The hope obviously was to get back into professional hockey by playing in England -- on an unrelated note: ice hockey in the United Kingdom? With this stumbling block it will test the patience of the Blaze, but they're willing to wait it out and have a short bench in the meantime. They also continued to advocate for Danton to be granted a visa.
We believe that Mike Danton will be a huge asset to both the Coventry Blaze and the Elite League as a whole. Mike is desperate to play for the Blaze this season and both he and the club are prepared to wait for the outcome of the secondary application, even if it means that we could be one player down for the opening few weeks of the season.

Mike would be a huge asset both on and off the ice for the club. He is an outstanding example of an individual who has turned his life around in recent years. He maintained a near perfect grade point average at University. He has spoken to several thousand children about making good decisions in their lives and not giving up on second chances. He has won awards for his community involvement. He has started his own family. He wants to and would make a tremendous contribution to Coventry's community programmes (which include a focus on giving people second chances). As someone who has played at the highest level of the sport in the world, he would be a player that junior players could look up to and learn from. There are so many positive reasons why we believe Mike deserves to be granted his visa.
Now, just go print that page out and deliver it to the UK border agents for their consideration. That's assuming, of course, that Danton was denied the visa based on his criminal record.
Either way, whether it happens in England or elsewhere, Danton will likely keep trying to play. As Chris Johnston of the Canadian Press notes, the 31-year-old Danton still has dreams of making it back to the NHL.
Even though his criminal record currently prevents him from travelling to the U.S., Danton hasn't completely abandoned his dream of making a return to the NHL. After signing with Coventry earlier this summer, Danton wrote in a blog entry that he hadn't "been this excited for a hockey season since my year in St. Louis."
I don't know how well that will work for Danton, I can't imagine there are too many teams that are willing to sign a guy in his 30s who hasn't played in the NHL for nearly a decade. That has nothing to do with the criminal record part as it is, that would just be another hurdle that teams might have to consider -- specifically the travelling obstacle.
Danton played 87 career games for the Devils and Blues, and five more in the playoffs with St. Louis in 2004 when he was arrested after a game in San Jose. He had 10 goals (nine in the regular season) and five assists over those 87 games while racking up 182 penalty minutes.
For more hockey news, rumors and analysis, follow @EyeOnHockey and @StubitsCBS on Twitter and like us on Facebook.
The former Boston Bruin was the first black player to play in the NHL

Inclement weather led to the Charlotte Checkers and Bridgeport Sound Tigers playing in front...

The NHL chose the Detroit rocker as its All-Star Game entertainment and not everyone is th...
NHL fans from all over seem to agree on one thing: Hating Kid Rock

The team tweeted on Monday that Shaw would be re-evaluated in 7-10 days

The Montreal forward was hospitalized after taking a Zdeno Chara slap shot to the head