Mike Gillis on John Tortorella returning: 'I'm not sure if I'll be back'
It's been a rocky season in Vancouver and many wonder if John Tortorella's job is on the line. GM Mike Gillis doesn't know because he's not sure if he'll even be back.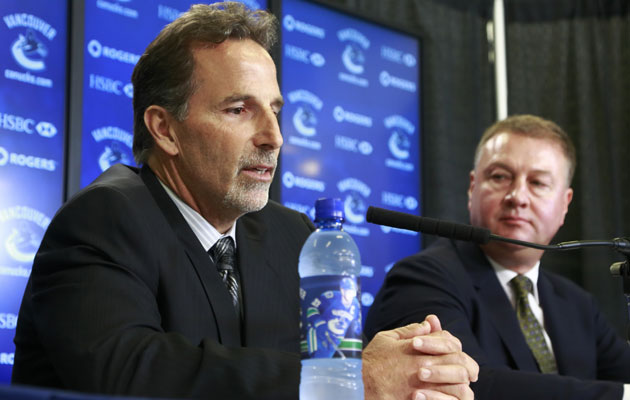 More NHL: Trades | Scores | Standings | League Leaders | Odds  | Power Rankings
It has been a brutal season of relative nature for the Vancouver Canucks. They are going to miss the postseason for the first time since 2007-08 and it's just been rather tumultuous.
One thing it apparently has done is lead to some brutal honesty from GM Mike Gillis. He spoke with Team 1040 Radio in Vancouver on Thursday morning and was almost surprisingly candid with the interviewers.
A big focus of the interview was about John Tortorella in this, his first season in Vancouver. Some have already taken it as a guarantee that he's not even going to make it to see Season 2 behind the Canucks bench.
Gillis was asked about Tortorella returning and he didn't give Torts the vote of confidence. In fact he didn't give himself one either.
"I'm not sure if I'll be back next season," Gillis said. "I think every one is open for evaluation. We've had players who have severely underperformed, our team has underperformed. We're all open to evaluation. Having said that I have a clear vision of where we have to go. I had one six years ago, I have one today. But I think it would be fair to say we will all be under scrutiny and evaluation come the end of this season, which is deserved."
At least you can't say that Gillis is lacking in self-awareness, that's a GM who sounds all-too aware that his seat is getting hot. Of course it doesn't bode very well for Tortorella either. It's pretty standard procedure to re-evaluate everybody after the season but you don't hear GMs remind everybody of that when jobs are secure. We would say it was also possible it was just a way to give a perfectly evasive answer but it didn't sound that way.
Gillis talked about how it's his responsibility to get this team back to the top and that's what he intends to do. Part of that, he said, was returning to their core values, values they got away from as a team in recent seasons. Further to that, he almost had a thinly vailed threat in there.
"Our problems are far reaching and they will be addressed," Gillis said. "If people don't want to get on side with how I view this team and how it's supposed to play then they won't be here, just like six years ago."
Whether that's directed at Torts or nobody in particular, it certainly has the "my way or the highway" feel to it. That's if Gillis is going to be the one still driving the bus next season.
Should be an interesting offseason in Vancouver but then again, aren't they all?
Intrigue is high in Arizona after a wild offseason, but expectations should still be tempe...

Players are set to give personalized messages for Adidas' former hockey equipment brand

The 40-year-old center is returning to the Wild after a successful run in Pittsburgh
Edmonton locks up its 21-year-old RFA a month after McDavid's historic extension

Even with a new coach and added veteran help, the Canucks have a long road ahead

Unlike expansion teams before them, the Knights have enough talent to entertain right away