Mike Ilitch proposes downtown Detroit arena, potential future home for Wings
Red Wings owner Mike Ilitch's development company has made a pitch to state lawmakers for a new multi-purpose arena in downtown Detroit.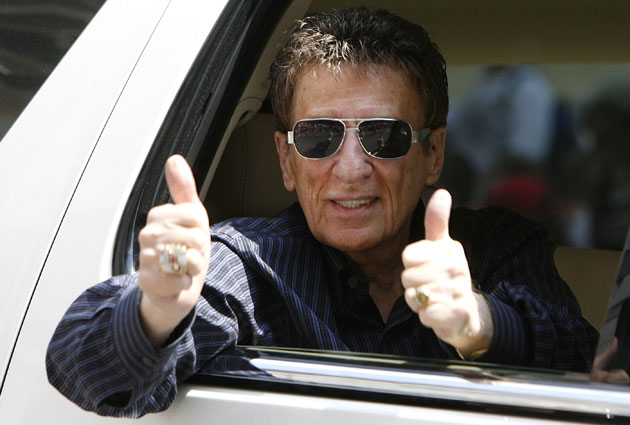 Mike Ilitch is hoping to get the thumbs up for a new arena in downtown Detroit. (Getty Images)
While six NHL owners and 18 players are in New York City trying to work out a new CBA deal for the NHL to end the lockout, Red Wings owner Mike Ilitch was behind a pitch of a completely different sort back in Michigan.
Ilitch's Olympia Development Company presented Michigan lawmakers with plans for a new $650 million arena to go in downtown Detroit. According to the Detroit Free-Press it's being hailed as a "new, state of the art, multi-purpose events center" to go downtown to help liven up a downtrodden city.
"It's always been my dream to once again see a vibrant downtown Detroit," Ilitch said in a press release.
While there has been no specific indication of it serving as a new home to the Red Wings in the pitch, the Free-Press did note that would most likely be part of the picture.
Ilitch obviously loves Detroit and part of the proposed project would certainly be an attempt to revitalize the city, but you know the Red Wings would be on the brain for this project. They play in one of the NHL's most iconic arenas left in Joe Louis Arena, but it's also one of the NHL's oldest and most out-of-date. It stinks to think it's time for the Joe to go, but it's probably the case. A new, state-of-the-art arena would make the already profitable Red Wings a lot more profitable.
The project would also include some commercial and residential angles, but the arena would be the crown jewel. Ilitch has been trying for a while to get a new arena downtown for the Wings to play in -- so much so that a report surfaced earlier this year that an architecht had already been hired to begin designing a new arena. They are a Detroit team and he wants to see the team stay in Detroit instead of emigrating to Auburn Hills like the NBA's Pistons did.
It's still a long ways off and getting the financial structure in place for a new arena is never an easy proposition, but this could be the next step in the Wings getting a fancy new place to play. Ilitch does have experience in getting new arenas/stadiums built in the city before as he helped his Tigers of MLB a new stadium a little more than a decade ago.
For more hockey news, rumors and analysis, follow @EyeOnHockey and @StubitsCBS on Twitter and like us on Facebook.
The former Boston Bruin was the first black player to play in the NHL

Inclement weather led to the Charlotte Checkers and Bridgeport Sound Tigers playing in front...

The NHL chose the Detroit rocker as its All-Star Game entertainment and not everyone is th...
NHL fans from all over seem to agree on one thing: Hating Kid Rock

The team tweeted on Monday that Shaw would be re-evaluated in 7-10 days

The Montreal forward was hospitalized after taking a Zdeno Chara slap shot to the head