Mike Modano intrigued at idea of playing another season
When the Wild signed Zach Parise and Ryan Suter, Mike Modano was excited and tweeted about joining them in Minnesota. Turns out it wasn't entirely tongue in cheek.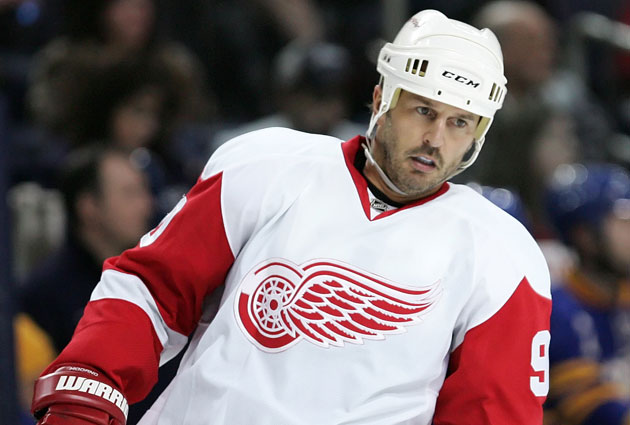 Mike Modano is one of the greatest Americans to ever play. (US Presswire)
When Zach Parise and Ryan Suter signed with the Wild, Minnesotans were obviously excited. That included players who used to ply their trade in Minnesota like longtime Star (and North Star) Mike Modano.
Modano, who retired before last season after finishing his career back in his hometown of Detroit, was so excited that he tweeted this a short while after the news came down.
Can I come back and play in Minnesota too..? #northstars

— Mike Modano (@9modano) July 4, 2012
Kind of funny but his tongue had to be firmly in his cheek, right? Modano is 42 years old, he was just playing with the idea of playing again, wasn't he?
Well, only a little. Modano was asked if he was being serious or not by Mike Heika of the Dallas Morning News.
"I don't know," he said. "You look at things and you wonder what's the worst thing that could happen? I mean, I get in better shape. I don't know what's going to happen with the CBA and everything, but I mean, one more year? That kind of intrigues me.
"It's been hard to let go."
First there was Jaromir Jagr then Dominik Hasek and now Modano talking about (or in Jagr's case, completing) a comeback to the NHL. Who's next, Mark Messier? Perhaps it was as much Jagr and 40-year-old Ray Whitney signing deals with the Dallas Stars as it was the Suter and Parise deals in Minnesota that spurred the idea, or at least gave him the motivation to try and take it another step.
To his credit, Modano is fully aware of the challenge it would be to come back and that his conditioning would have to get back to a level high enough to play in the NHL. But like many veterans looking to get back into the game in any sport he could use the first part of the season continuing to get ready and then latch on with a team halfway through. There are often teams looking for some veteran players to step in and possibly Modano could get that call.
Still, the odds of this happening are long, very long. Again, Modano knows that and right now he isn't making concrete plans to get back into hockey.
After playing his entire career with the Stars organization Modano played the final 40 games of his career with the Red Wings in 2010-11. His production dipped considerably as he scored just four goals with 11 assists and logged just 12:27 ice time per game. If he had finished out his career with some better numbers perhaps there might be a little more interest after Modano has some time to pick up the conditioning. At this point, though, it's hard to imagine there being much if any.
Perhaps the Stars would be intrigued by bringing Modano back and having three 40-year-olds on the ice at the same time. That sounds like it would be more appealing to the audiences in Florida or Phoenix, though.
For more hockey news, rumors and analysis, follow @EyeOnHockey and @BrianStubitsNHL on Twitter and like us on Facebook.
The puck didn't go in the net but the skater did!

Another sign that Houston is a potential destination for an NHL relocation
The two teams combined for 111 penalty minutes and five ejections

The veteran Minnesota goaltender has recorded three consecutive shutouts

The historic start for the NHL's newest team has come largely from unprecedented balance in...