Mike Modano, Jeremy Roenick to play in Blackhawks-Wild alumni game
The 2016 Stadium Series will kick off with an alumni game between former members of the Minnesota Wild and North Stars organization going up against former players from the Chicago Blackhawks. Some of the bigger names include Jeremy Roenick, Mike Modano, Denis Savard and Ed Belfour.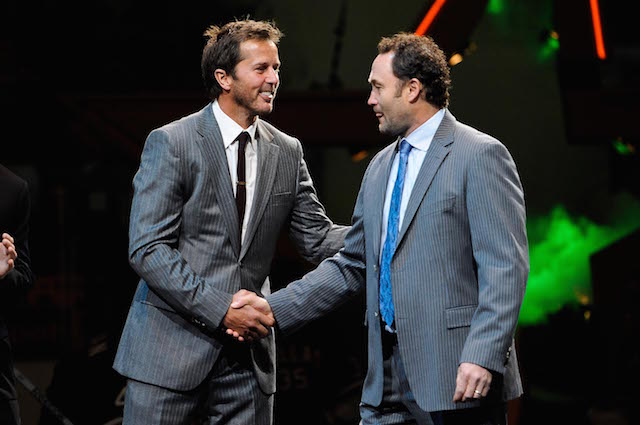 Before the current members of the Chicago Blackhawks and Minnesota Wild face off at TFC Bank Stadium on Feb. 21 for their Stadium Series game, former stars from the two teams will hit the ice on Saturday, Feb. 20 for an alumni game at the stadium on the campus of the University of Minnesota. 
On Wednesday, the Wild announced the rosters for that alumni game and that it will feature former All-Stars Jeremy Roenick, Mike Modano, Denis Savard, Dino Ciccarelli and Ed Belfour, among many others. 
The Minnesota team, which will be coached by Lou Nanne and Tom Reid, will combine past players from the Wild and old Minnesota North Stars organizations, which is how Modano, Ciccarelli and Neal Broten will end up playing in the game. In fact, most of the Minnesota roster is made up of former North Stars players.
The only alumni that played for the Wild are Brad Bombardir, Andrew Brunnette, Jim Dowd, Darby Hendrickson, Antti Laaksonen, Richard Park and Wes Waz.
The Blackhawks alumni roster will be coached by Tony Esposito and Pat Foley.
Here are the complete rosters for both teams.
Minnesota Wild/North Stars
Fred Barrett 
Don Beaupre
Brian Bellows 
Brad Bombardir 
Neal Broten 
Andrew Brunette 
Jack Carlson 
Jon Casey 
Dino Ciccarelli 
Jim Dowd
Curt Giles 
Craig Hartsburg 
Darby Hendrickson 
Antti Laaksonen 
Reed Larson 
Dennis Maruk 
Brad Maxwell 
Basil McRae
Gilles Meloche 
Mike Modano
Richard Park 
Steve Payne 
Willi Plett 
Gordie Roberts 
Bobby Smith 
Wes Walz
Tom Younghans 
Chicago Blackhawks roster
Adrian Aucoin 
Murray Bannerman
Ed Belfour 
Dave Christian 
Denis Cyr 
Eric Daze 
Reggie Kerr 
Steve Konroyd 
Cliff Koroll 
Dave Mackey 
Peter Marsh
Jamal Mayers 
Grant Mulvey 
Troy Murray 
Brian Noonan 
Jack O'Callahan
Jeremy Roenick
Phil Russell
Denis Savard
Reid Simpson
Brent Sopel
Jimmy Waite
The 32-year-old forward tells the media he expects to be back on the ice for the Devils op...

It seems it's all as wild as it sounds, with Canadian actor Zack Ward heading a 'West Coast...

Lots of moving parts may be the biggest hurdle for Carey Price and Co., a defensively geared...
The Penguins have some fun with the names of some Ducks linemen

Rookie Tyler Wong scores a hat trick to lift the NHL's newest team in its exhibition debut

Depth is a concern, but Edmonton is all in on its young, speedy stars with Stanley Cup pot...