Mike Richards ruled out for Kings in Game 3
Mike Richards will miss his second straight game for the Kings as they take on the Blackhawks on Tuesday night.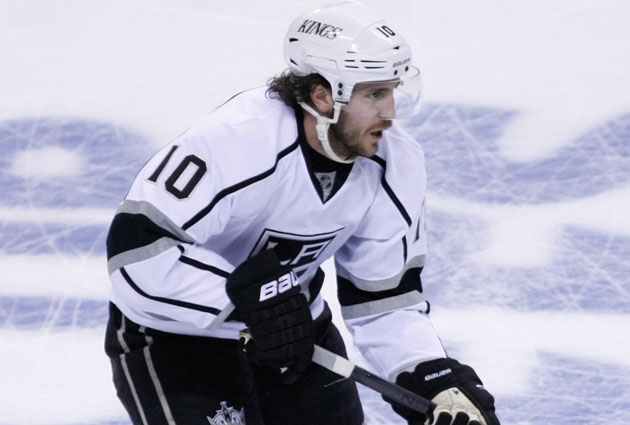 More NHL Playoffs: Scores | TV Schedule | Expert Picks | Odds | Mock Draft | Rumors
Before Game 2, Kings coach Darryl Sutter said center Mike Richards was "fine" after taking a hit at the end of Game 1, but Richards was a surprise scratch when the official lineups were turned in.
There will be no such drama for Game 3 on Tuesday night in LA against the Blackhawks. Richards will not play. Sutter made the announcement on Tuesday morning.
"If it's [up to] Mike Richards, Mike Richards plays tonight," Sutter said. "You've got guys that don't want to play, and you've got guys that do want to play. Mike Richards is a guy that wants to play."
Clearly it's not up to Richards, and the team doesn't think he should play. So no matter if he wants to or not, he won't.
While the Kings haven't said as much, it sure seems as though Richards is suffering from a concussion. There has been talk about "symptoms" acting up before Game 2 as Richards was preparing to play. It stems from a hit from Dave Bolland at the end of Game 1, when it appeared the back of Bolland hit Richards on the jaw, leaving him shaken up as he headed back to the bench.
For a team that has been struggling to score, losing Richards is a blow for Los Angeles. He has been the team's leading scorer this postseason with 10 points. It might not sound like a lot, but given that the Kings only have 29 goals in 15 games, you can see that they will be missing a good chunk of their offense.
Without Richards in Game 2, the Kings slotted Jeff Carter into the center position and filled Carter's spot on the wing with rookie Tyler Toffoli. It was LA's best line of the game, so you shouldn't expect any changes from that in Game 3, a game that the Kings really need to win.
The 45-year-old free agent is taking things patiently as September approaches

The playoff drought might not end immediately, but something is brewing in restocked Buffa...

Former Lightning standout will be guarding the net in style in 2017-18
Devils are still in rebuilding mode, but they have reason for hope thanks to young additio...

Buffalo is in the midst of contract extension talks with Jack Eichel, and the payout could...

Los Angeles isn't rushing to sign the 45-year-old forward any time soon