Mike Santorelli and the other free-agency bargains this season
Free agency isn't all big, bad deals. There are also some great finds like Vancouver had with Mike Santorelli.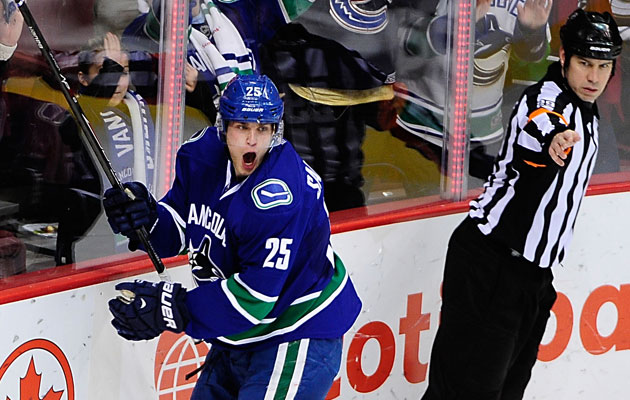 More NHL: Scores | Standings | League Leaders | Odds | Injuries | Power Rankings
Black Friday has come and gone (thankfully) and so has Cyber Monday but chances are the majority of people who are shopping for Christmas still have things to buy (of if you're like me, you still have everything left to buy). Just because the advertised deals aren't as prominent doesn't mean you can't still find some bargains. There are always bargains.
This is something NHL general managers prove every summer -- they also find out just as regularly what it's like to get a raw deal. By and large, free agency isn't a land of difference-makers. There are a couple every year it seems but they go for the big bucks like they were on Press Your Luck. They just about always get what they want, or more.
What's harder to find are those bargain deals. It's tough, but they're out there, they always are. Often it's about good luck as much as anything else but you won't hear any GMs complaining about good fortune. Vancouver Canucks GM Mike Gillis, for example, is likely just thrilled he found a great deal on the cheap.
Over the summer the Canucks were working without much room. They had a lot of money already committed and were relatively close to the cap. They weren't going to be in on any of the bigger names like they were a summer ago when they signed Jason Garrison. They had a couple of small holes to fill and not a lot of money to fill them with. Enter Mike Santorelli.
Santorelli didn't have the NHL track record that led you to believe he would be much of an acquisition. He had one very promising season with the Panthers in 2010-11 when he played all 82 games and finished with 20 goals and 21 assists. His numbers then fell off a cliff and he was claimed on waivers by Winnipeg. In the other 126 games in his career aside from that big season he had 13 goals to go with five assists. He showed he was adept in the shootout but not much more.
Still, Gillis brought in Santorelli on a two-way contract that pays just $550,000 at the NHL level. After 33 games, it looks like a total steal. A native of Vancouver, Santorelli has certainly looked at home on the Canucks. He played well enough in camp and early on that coach John Tortorella has given him minutes on the first line with the Sedin twins. He is averaging more than 18:30 of ice time per game, four minutes above his career average.
All he has done to repay the favor is score eight goals and add 13 assists. He is fourth on the team with 21 points, is a team-high plus-10, has been good in the faceoff circle, is one of only two Canucks to score in a shootout and has drawn more penalties than he has taken. Not bad for a guy on a two-way deal for a very small price.
A few other bargains around the NHL (only counting UFAs from this summer; entry-level deals are steals). Stephen Weiss, Ryane Clowe and David Clarkson just missed.

Raymond's inability to find a deal was one of the more curious cases from free agency. After spending the first six years of his career with the Canucks, he wasn't brought back to Vancouver as his numbers went down while injuries went up. No other team would give him a deal.
That was until old pal Dave Nonis extended an invitation to camp. Not long after, Raymond signed a one-year, $1 million deal. When the deal was done it was tough to imagine how he would fit into the Leafs (more in payroll terms than playing terms) but they've made it work and Raymond has made all the troubles worth it.
He is one of just three Maple Leafs players to appear in all 32 games this season and is one of just three players in double digits in goals. He has 10 goals to go with nine assists, those 19 points good enough for fourth on the team.
Nonis didn't make a ton of shrewd moves over the summer but so far Raymond has definitely looked like one.

Clarke MacArthur, Ottawa Senators
There appears to be a bargain cycle at work here; the Leafs didn't want Raymond, he has worked out well for the Leafs, who didn't want MacArthur and he has worked out really well for the Senators. It's better to give than to receive, right?
It's not as though the Senators found MacArthur on the scrap heap. He was a relatively high-level free agent, but they didn't pay a ton to get him and he has reaped major rewards so far. At just two years and $3.25 million per season, MacArthur was an ideal acquisition for the money-conscious Sens. He has given them bang for their buck.
With his 11 goals and 14 assists this season, MacArthur is on pace to set new career highs in goals (career best is 21 in 2010-11) and points (62 in '10-11). He is playing more than he ever has in his career at more than 18:30 per game and he has been clearly driving possession the right direction. The Senators are recording 54.7 percent of all shot attempts when MacArthur is on the ice. Even better, 65.8 percent of goals scored when MacArthur is on the ice are going in the opposing net.
Hard to ask for too much more.

Nathan Gerbe, Carolina Hurricanes
Like Santorelli, Gerbe didn't attract a whole lot of interest at the NHL level but the Hurricanes decided to give him a shot on a two-way contract. Gerbe hasn't seen a day in the AHL this season.
Gerbe started the season strong but has cooled some since; he has six goals and seven assists in 32 games. Like other players on this list, he is receiving more minutes than he ever has and it has resulted in an uptick in production for the diminutive one. His 13 points might not sound like a lot but in terms of the Hurricanes, it's pretty good. He is fifth on the team in points, tied with the big-contract Jordan Staal, believe it or not.
That is not to put Staal down but when you see those two players with near-identical stat lines (Staal has seven goals, six assists), it makes you look at the contracts in a different light. So far -- and this very likely will not stand but so far -- the Hurricanes have had the same point production from a guy making $550,000 at the NHL level as a player making $6 million. Not bad.

Another team always aware of the bottom line and out to find deals, the Panthers brought in a host of players on camp invites, one of them Boyes. They liked what they saw in camp and gave him a $1 million deal for the one season. It has worked out fine.
Boyes hasn't been perfect (which Panther has?) with two healthy scratches this season but with eight goals he is the team's leading goal-scorer. In the goals department he's on his way to his best season since 2008-09, when he had 33 goals with the Blues.
That's without mentioning that Boyes has continued to perform where he is best -- the shootout. The NHL's career leader in shootout goals, Boyes has converted on four of five attempts this season, helping to make what has historically been the worst franchise in the skills competition an average team.
The Panthers would probably like to see a little more from him in an all-around sense and in the assist department but it's tough to complain when you find your top goal scorer on the bargain bin and sign him for $1 million.

Yes, really, Mr. Pennercakes has been a nice little deal for the Ducks this season.
After a few seasons of being very expensive and falling well short of expectations in LA, Penner's stock had fallen pretty far. After a deal that made him overpaid, it resulted in a much lower cost this past summer for a team willing to take a chance that Penner could regain his old form. He has regained it in Anaheim.
Penner signed a one-year deal for $2 million but has already made it worthwhile for the Ducks. In just 27 games with Anaheim this season he has as many goals as he did in the past two seasons combined with the Kings up I-5. He's on a pace to put up numbers that rival his huge days in Edmonton with nine goals and 14 assists already. For those that love the stat, he's also the NHL leader in plus/minus at plus-19. He is third on the team with those 23 points despite missing seven games with a concussion.
Pretty great deal for a guy who many thought was done.
The expansion Golden Knights officially moved into first place in the NHL on Sunday

The former Boston Bruin was the first black player to play in the NHL

Inclement weather led to the Charlotte Checkers and Bridgeport Sound Tigers playing in front...
The NHL chose the Detroit rocker as its All-Star Game entertainment and not everyone is th...

NHL fans from all over seem to agree on one thing: Hating Kid Rock

The team tweeted on Monday that Shaw would be re-evaluated in 7-10 days