Mikhail Grabovski placed on waivers for buyout by Maple Leafs
The Toronto Maple Leafs have put center Mikhail Grabovski on waivers and will buy the centerman out.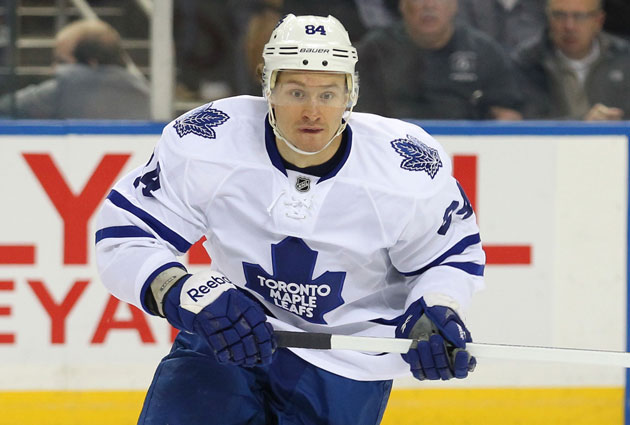 More NHL offseason: Rumors | Top 50 Free Agents 
The Toronto Maple Leafs made a surprise move on Thursday when they placed center Mikhail Grabovski on the waiver wire for the purposes of buying out his contract.
Though this was mentioned as a possibility this week by TSN's Darren Dreger, it still comes as a shock. Grabovski didn't have the best of seasons this year (only 16 points), but he's still a very talented player who had a lot of value to the Leafs going forward.
He also had four more seasons left on a contract with a $5.5 million salary cap hit, certainly a big factor on them electing to use their second compliance buyout on him. Now the Maple Leafs have a lot of salary-cap space, and you'd better believe they will make some noise with it.
It's likely the Maple Leafs are going to try hard to keep free-agent center Tyler Bozak or perhaps go all in on another free-agent forward like former Devil David Clarkson. If that's the case, it's hard to see how the Maple Leafs are going to come out ahead in this.
Grabovski's cap hit is big, and he faced a lot of criticism in 2012-13 because his offensive production dropped. But at least some of that could be attributed to the fact that, under coach Randy Carlyle, the Leafs were using him as a shutdown center and asking him to focus on playing more of a defensive role instead of offense. He was playing some of the toughest minutes in the NHL always going up against other team's top-line players and starting the majority of his shifts in the defensive zone.
That's a tough role to score in.
If he clears waivers (he likely will) and hits the open market, he should be one of the most-sought-after players on the market. He's talented, still on the younger side (29), is a strong two-way player and, when used in the right role, is pretty productive.
The Maple Leafs' success last season was a lot of smoke and mirrors that was anchored by great goaltending from James Reimer and Ben Scrivens. By losing Grabovski and likely allowing Clarke MacArthur to leave in free agency, they're losing two of their best possession players and best all-around forwards.
It's going to be interesting to see if they're any better after all of the moves.
Los Angeles isn't rushing to sign the 45-year-old forward any time soon

The University of Denver star and Hobey Baker Award winner is drawing interest

Intrigue is high in Arizona after a wild offseason, but expectations should still be tempe...
Players are set to give personalized messages for Adidas' former hockey equipment brand

The 40-year-old center is returning to the Wild after a successful run in Pittsburgh

Edmonton locks up its 21-year-old RFA a month after McDavid's historic extension