Miley Cyrus' 'We Can't Stop' is Maple Leafs' choice in victory songs
The Maple Leafs can't stop. They can't stop winning which means they can't stop listening to Miley Cyrus' 'We Can't Stop,' their victory song. Seriously.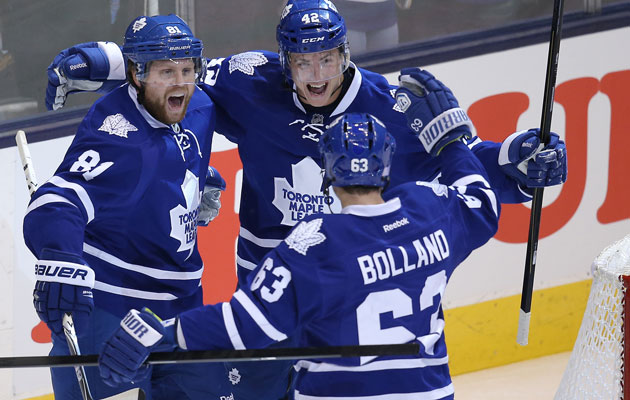 More NHL: Scores | Standings | League Leaders | Odds | Injuries | Power Rankings
Walk into an winning NHL dressing room and you are liable to hear any number of songs. I'll never forget when waiting outside the Senators' room after they clinched a playoff spot last season and they were blasting Hall and Oates' You Make My Dreams Come True. It was interesting but who doesn't mind some 80s pop rock in moments of joy?
Still, I don't think many would expect to walk into a NHL dressing room and hear Miley Cyrus but then again, the Toronto Maple Leafs are always doing things to surprise.
Lupul on Leafs using 'We Can't Stop' as victory song: "Certainly not my choice. Whatever. As long as we keep winning I'll deal with it."

— Mark Masters (@markhmasters) October 16, 2013
Yup, there is a room full of NHL players subjecting themselves to Miley Cyrus music in what is supposed to be moments of joy.
So if Lupul isn't responsible for Hannah Montana's grownup self blaring on their speakers after games, who is? That would be Tyler Bozak and he's not afraid to admit it. He digs him some Miley music.
"@daftpuck: @Bozie42 Can't believe you listen to Miley. She sucks, dude." Sue me, dude.

— Tyler Bozak (@Bozie42) October 16, 2013
Hey @MileyCyrus. You're getting lots of attention here in Toronto! #goodjob #wecantstop

— Tyler Bozak (@Bozie42) October 16, 2013
Hey, whatever works I supposed. More power to Bozak and I guess more power to the team. I mean, the Leafs are 6-1-0 to start the season and the title of the song does seem to fit the team's goals at this point. But if somebody wants to stop Bozak from picking the music going forward, well it wouldn't be the worst thing to happen to the Leafs.
Now, I'll bury the video of Cyrus' song way down here for the few of you who care to subject yourself to it (both the audio and the visual aspects).
Sign up now, and your name can be under the Golden Knights' skates, too!

Pittsburgh coach Mike Sullivan says the team also respects players' right to protest

Some familiar faces are back, but a cap-strapped summer left Chicago a little shakier than...
The Pittsburgh Penguins will put politics aside and visit the White House out of 'respect'...

NBC will reportedly be devoid of NHL game broadcasts between Feb. 7-26

The Winnipeg winger suggests Trump is going after 'the principles the U.S. was founded on'