Minor league baseball team in Mass. to have Speed Dating With Tyler Seguin night
The Lowell Spinners, a minor league baseball team in Massachusetts, will have Speed Dating With Tyler Seguin on August 15. So ladies, get your tickets now.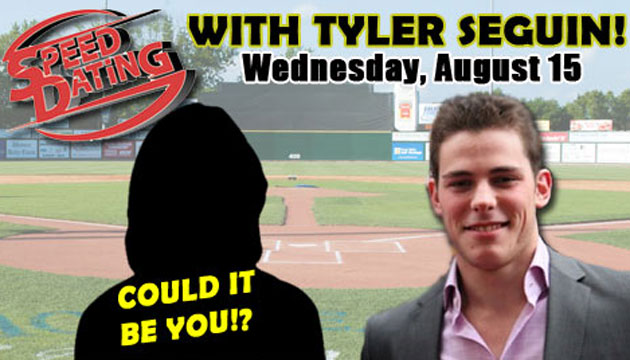 Well, could it be?? (Lowell Spinners)
The best part of minor league baseball isn't scouting the future stars of the sport. Oh no, it's definitely the unique promotions. I mean come on, the craziest things done at sporting events happens at minor league baseball games. If not then they happen at minor league hockey games.
You want proof, don't you? OK, well then here I submit this from the Lowell (Mass.) Spinners and the promotion they have coming up. It's none other than Speed Dating With Tyler Seguin!
Yup, the young forward and eligible bachelor from the Bruins is going to take in a Spinners game. Except he probably won't be taking in much of the game and instead will be yucking it up with fans. From the Spinners' website:
Fans will have the opportunity throughout the evening to win a chance to spend time with the hockey superstar during the game. Each winner and their family will have the opportunity to spend five minutes with Seguin in a private suite, giving them the chance to ask the Stanley Cup Champion and NHL All Star questions, take photos, enjoy the game and who knows even score a phone number.

"When we asked the question "Who would be the one person in the Boston area that a Speed Dating Event Planner would want more than anyone?" The answer to us was Tyler Seguin," said Spinners Vice President of Corporate Communications Jon Goode. "He is one of Boston's most sought after Bachelors."

...


"We want to offer a unique experience to our fans," Goode said. "We are in the business of making memories and this is certain to be a memory that will last a lifetime."
Girls of Massachusetts, rejoice!
Alright, so it doesn't sound like it's going to look exactly like Date-a-Palooza from the 40-Year-Old Virgin, which is a shame. Still, a few fans and maybe some Puck Bunnies will have the chance to say hi and ask a few questions, perhaps hoping Seguin will ask them a question in return.
And hey if nothing else you got to spend a few minutes inside a suite so take advantage of the food and beverages on hand.
For more hockey news, rumors and analysis, follow @EyeOnHockey and @BrianStubitsNHL on Twitter and like us on Facebook.
The team tweeted on Monday that Shaw would be re-evaluated in 7-10 days

The Montreal forward was hospitalized after taking a Zdeno Chara slap shot to the head

Tampa Bay is still No. 1 and Vegas is still up there, but a few others are finally catching...
Army filed an opposition to the use of 'Golden Knights' on the last day that it was permitted...

The NBC rinkside reporter is hoping to return in time for the 2018 Olympics

Here's who wade the cut for the 2018 NHL All-Star Game on Jan. 28 at Amalie Arena in Tampa...