Montreal Canadiens trade rumors, trade deadline outlook
With the April 3 NHL trade deadline looming, are the Montreal Canadiens buyers, sellers or standing pat? And what do they need?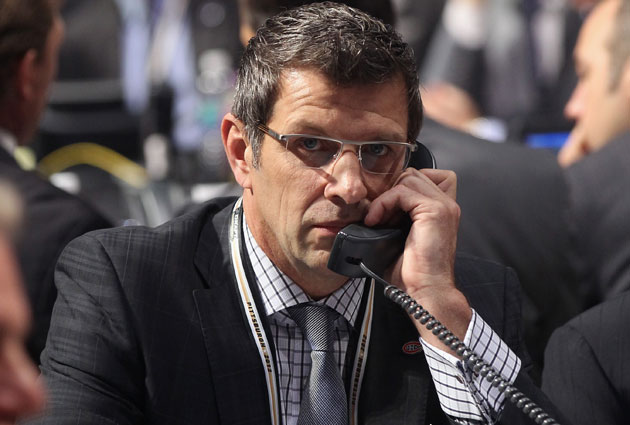 With the 2013 NHL trade deadline at 3 p.m. ET April 3, Eye on Hockey will examine

whether each team is a buyer or seller at the deadline, and who each team should look to sell or receive by the deadline.
Buyers or sellers
The Montreal Canadiens enter this year's trade deadline in a polar opposite spot of where they were last season: comfortably in playoff position.
That normally would put the Canadiens in a position of being buyers as they are looking like a contender this season. Teams could always find a way to patch up their holes here or there and solidify themselves for the playoffs. Montreal doesn't figure to be in that spot.
First off, they have a team that's built pretty well all around. There aren't any glaring gaps to fix. But more importantly, the Canadiens are trying to bring down their salaries in preparation for next season, when the cap drops. They aren't in a position to add unless GM Marc Bergevin can pull another rabbit out of his hat and make an Erik Cole-for-Michael Ryder type of deal.
In other (and imaginary) words, they're stand-patters.
Rumors
Really, all seems pretty quiet surrounding the Habs. There's just not a lot to speak of because they don't seem like your traditional buyers.
Of course, that Cole-Ryder swap came completely out of the blue so maybe Bergevin has completely stopped the leaks in Montreal since he took over.
Top targets
The biggest target the Habs would have if they were to get involved would probably be cap space. Remember, in this new CBA, teams can exchange salary in any trades and get some cap room.
Of course, that would also mean the Canadiens would have to give up something to get it. With a team that is playing so well, I don't think Bergevin would want to mess it up. He has the secondary scoring covered as 13 players have double-digit points. The defense is really shored up now that both PK Subban and Andrei Markov are playing and playing so well.
Anything that the Canadiens might do will more than likely be small, perhaps even AHL moves like their goalie trade earlier of acquiring Dustin Tokarski for Cedrick Desjardins.
More Trade Deadline Rumors: 
For more hockey news, rumors and analysis, follow @EyeOnHockey and @StubitsCBS on Twitter, subscribe to our YouTube account and like us on Facebook.
The city has already received approval from the NHL to file for an expansion team

Bovada says the two nicknames are favored to be used, with Rainiers coming in third place

Here's everything you need to know to watch the NHL's marquee midseason event
The expansion Golden Knights officially moved into first place in the NHL on Sunday

The former Boston Bruin was the first black player to play in the NHL

Inclement weather led to the Charlotte Checkers and Bridgeport Sound Tigers playing in front...