More than just series could be on line for Penguins, Bylsma in Game 7
The Pittsburgh Penguins will get a third and final attempt to close out the Rangers on Tuesday night, facing elimination themselves in Game 7. It's a pretty huge game in Pittsburgh for a few reasons.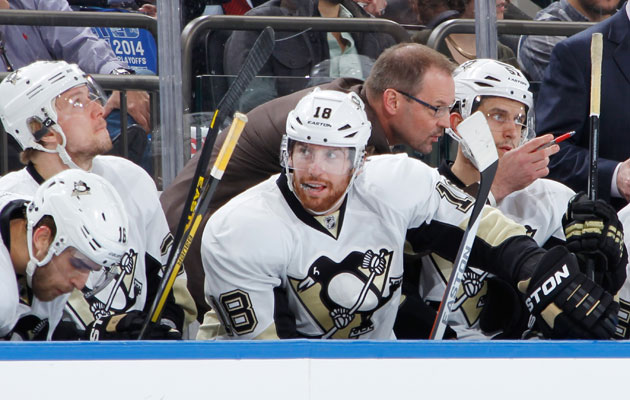 More NHL Playoffs: Schedule, TV listings | Expert Picks | Bracket | Scores | Odds
We learned all too well in the first round that no playoff series lead is safe after the Kings crawled back from being down three games to zero. So it shouldn't be a massive surprise that the Penguins and Rangers are set for the first of what still could be four Game 7s in this second round.
No doubt the series looked over after Game 4, when the Rangers just finished losing a third straight game, second at Madison Square Garden, and just looked lost. They were lifeless, they had no jump and it looked like they had no more hope.
But desperation does a funny thing to a team and so here we are, getting ready for one final showdown at 7 ET Tuesday night in Pittsburgh. All of a sudden the desperation is there for a lot more than just the Rangers.
The Penguins winning the Stanley Cup is really starting to feel like a long time ago. Depending on your vantage point, perhaps that's because it was a long time ago; five years to be exact. They have only been to the conference finals once since then, failing to win a game last season against Boston.
This isn't how Pittsburgh envisioned the prime years of Sidney Crosby and Evgeni Malkin going.
So indeed, the pressure is on in Pittsburgh. Not only is it just about keeping the season alive and making the NHL's version of the final four, but at this point too it's about fighting for jobs. Or more like coaching for one.
Dan Bylsma has had a wealth of success behind the Pittsburgh bench. He coached them to that Stanley Cup and has tremendous regular-season success. But the problem hasn't been the regular season, it's winning the bigger games in the playoffs with more regularity ... and frequency.
Ron Cook of the Pittsburgh Post-Gazette believes this game is kinda important for Bylsma's future if he want to stay in Pittsburgh, and Cook is hardly alone.
But in other ways, Bylsma would deserve to take the fall. It's true, he led the Penguins to 109 points in the regular season -- their second-biggest number in franchise history -- despite losing 529 man-games to injury. It's also true he would be hired by another club in about 3 1/2 minutes. He's that highly regarded around the NHL.

But if the Penguins lose tonight, it will be the fifth consecutive year they will have been eliminated from the playoffs by a lower seed. They will be just 4-5 in postseason series since they won the Stanley Cup in 2009 under Bylsma. This elimination, should it happen, will hurt more than most because the Penguins had what seemed to be a secure 3-1 series edge.

No ownership can be expected to put up with that underachievement. Bylsma will have to go if the Penguins lose tonight even though he has a contract for two more seasons.
It's tough to see it any other way at this point. Losing this series, which seemed so close to over just a few days ago, would be one more straw on the camel's back, likely one too many.
Inarguably, there would be a lot of people to blame, not just Bylsma, but the coach is always the easiest to fall without losing the solid foundation they do have with their core group. Obviously it would be best for everybody involved to make all of it a moot point and just win.
Getting that win is going to be a challenge against a Rangers team that has built up loads of Game 7 experience and, not to mention, has played some very good hockey the past two games. Old Uncle Mo is with the team in white on Tuesday night, if you believe it carries over at all.
This core group of Rangers have won four consecutive Game 7s including one last round against Philadelphia. Henrik Lundqvist? Oh, he just had a tidy goals against average of 1.00 in his five Game 7 starts and a save percentage of .963.
His counterpart, Marc-Andre Fleury? Well he has numbers about in line with his playoff form with a save percentage of .901. After back-to-back shutouts in Games 3 and 4, Fleury has allowed nine goals on 78 shots, an .885 clip.
Game 7 is synonymous with drama and high stakes, Tuesday night should have just a bit more of both.
Some familiar faces are back, but a cap-strapped summer left Chicago a little shakier than...

The Pittsburgh Penguins will put politics aside and visit the White House out of 'respect'...

NBC will reportedly be devoid of NHL game broadcasts between Feb. 7-26
The Winnipeg winger suggests Trump is going after 'the principles the U.S. was founded on'

League gets excited about exhibition matches in Beijing and Shanghai

NHL players are still disappointed they won't be going to skate in PyeongChang