Most disappointing teams, players of the 2013-14 season
It was a rough season for the teams in English-speaking Canada, none of them are going to the postseason. They headline the list of most disappointing teams and players of 2013-14.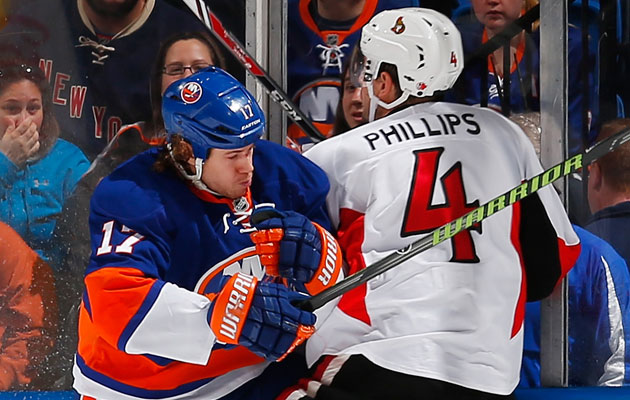 More NHL: Trades | Scores | Standings | League Leaders | Odds  | Power Rankings
Let's just say not everybody is sad to see the 2013-14 season coming to a close. It was hardly sunshine and lollipops for some of the teams and players with high hopes out there.
For every nice surprise (we'll touch on those tomorrow) there was a disappointing bust to counter it. That's how it goes, every action has an equal and opposite reaction; if one team is winning more than expected than some other team is losing more than expected. As much as little leagues want it to be true, not everybody can win.
When we look at the disappointments from 2013-14 in terms of teams and players, there is one way to sum it up pretty well: All of English-speaking Canada. The Great White North has seven teams in the NHL, only the Montreal Canadiens will be partaking in the postseason. Yuck, eh?
The only exception to that blanket over Canada is the Calgary Flames. Given the incredibly low expectations they had this season, the fact that they might finish the season with 80 points cannot be considered a bad season at all. By contrast to their rebuilding rivals in Edmonton and the rest of the Canadian teams sans the Habs, it was a wild success. That's the bar that's been set.
Certainly this list is not comprehensive but here are our biggest disappointments of the season, teams and players division.

Under head coach Paul MacLean the Senators had shown a clear trend in his first two seasons; upward. With a young group that was growing together into NHL roles, a collection of highly skilled players already and great goaltending from Craig Anderson a season ago, hopes were high.
Their place in the standings, though, isn't. The biggest culprit with the Senators is pretty clear; the defense is not good enough. For the Senators, scoring isn't the problem. With Erik Karlsson, Jason Spezza, Milan Michalek, Kyle Turris and the new addition for this season Bobby Ryan, they have the goals part handled pretty well. But they give up too many shots and it caught up to them this season.
It probably should have been expected because Anderson was never going to be able to replicate his .941 save percentage from a season ago and when he came back to Earth with his save percentage, so did the Senators' win percentage. An average of 34.9 shots against per game and regressing save percentages were a bad mix.
This issue of a lot of shots against isn't new to this season, it was there last season too, but play that way and it will catch up to you as their Ontario rivals also learned. It caught up to the Sens and so a trendy Stanley Cup pick in the preseason won't even make a return to the playoffs.

Anticipated regression aside, the Maple Leafs were a playoff team last season and came just minutes away from beating the eventual Eastern Conference champion Bruins in the first round. Missing the playoffs is a disappointment from that regard, period.
But the way it happened? Well that's just a killer. Watching the Leafs lose eight straight games down the stretch to sink like a rock was almost like watching that Game 7 vs. Boston again but instead of it happening in minutes the agony happened over days. Predictable or not, that's a tough pill to swallow.
The way they play has been harped on endlessly this season, everybody knows they are routinely outshot and by a wide margin (an average of 8.0 shots per game, a huge disparity). It's not rocket science to say that's not a path to success. Again, though, that was easily foreseen.
However the disappointing part is that it happens that way because the Leafs certainly have some talented building blocks. There were times this season that no line in the NHL was as good as Phil Kessel, Tyler Bozak and James van Riemsdyk. Nazem Kadri remains a growing player with a bright future as he has 50 points this season. Jonathan Bernier has been all the Leafs hoped for when they made him a No. 1 goalie. Defensively there remain issues though, as well as a few other spots on the roster, including one high-priced forward.

Oh the hopes and dreams of the second coming of Wendel Clark in Toronto, how sweet you were ... and how hard you were crushed.
Normally we would have just folded Clarkson into the discussion on the Leafs but he deserves his own call out after the season he has had. It started so well (sarcasm font off) when he missed the first 10 games of the regular season thanks to leaving the bench to join a preseason brawl and that was more or less a sign of things to come.
Everybody knew when Clarkson signed his seven-year contract with a $5.25 million cap hit that he was going to have an incredibly tough time playing to that deal. Not that he should be blamed for taking what he was offered, the deal was pretty crazy for a player who had only scored more than 16 goals once in a season and has never reached 50 points. Still, by virtue of its massive size (and fanfare) it put a lot of pressure and expectations on Clarkson to deliver.
So what did he do? He has five goals and six assists to his credit this season in 58 games. He has averaged just 15:09 of ice time per game, three and a half minutes less than he did last season in New Jersey. It's the worst season of his career and it's not even close. The Leafs knew they were paying a lot for Clarkson but they seemed to be OK with the potential drop-off in the final years for the production in the early years. I don't think even the harshest critics of the contract could have seen a season this dismal coming.

Three years ago at this time the Vancouver Canucks were beginning their march to the Stanley Cup Final. Two years ago at this time the Canucks were putting the finishing touches on another President's Trophy. This year they were eliminated from playoff contention with a week to go. That's not how they drew it up.
A typically high-scoring team, the Canucks have been unable to light the lamp this season under new coach John Tortorella. Their power play has sagged too (surely Rangers fans are surprised by these developments). It didn't help that the always durable Henrik Sedin and Daniel Sedin had injury woes for about the first time as did a few other players but every team deals with injuries to the point that it can't be used as an excuse. No team was more injured than the Penguins and look where they are.
Realignment did the Canucks no favors, putting them in a division with the California teams, who dominated them this season. But no matter where you are in the West it's going to be tough sledding and this season they couldn't handle it.
Now comes the difficult part; trying to "fix" it. It's potentially dangerous to take a sledgehammer to the organization and build it back up because certainly the Canucks have a lot to work with still, even if they are getting up there in age. They were partially felled by a very low shooting percentage but at the same time they need some work to do and that includes defining their identity as a team. Are they going to be a more defense-first team moving forward or will they do what now-departed GM Mike Gillis wanted and that's open it back up? That's up to new leadership to decide but trying to correct the problem means there's a problem to correct in the first place. That's what this season yielded.

Will the Edmonton Oilers ever take that next step? It's the question hockey fans are all wondering because a team that racks up as much top talent as the Oilers have in recent drafts shouldn't be picking in the top five this summer yet again.
Fans are getting tired of this rebuild that's going as fast as molasses in Edmonton in January, and it's hard to tell them they're wrong. The Oilers brass asked fans for patience but they've given enough already and it's at least understandable some are so upset that they've resorted to throwing jerseys on the ice.
It has been years now and they haven't show much progress if any. We'll take that back; they showed hints of stepping forward last season with an improved record and they were actually much lower in the draft lottery. Apparently that was just a mirage in a short season because they plummeted back to the basement in 2013-14.
The issue is the same as always; defense. They might have found a goalie going forward in Ben Scrivens, whom they landed as they shuffled the goalie deck this season, also adding Viktor Fasth to the equation. Even with Scrivens playing well they still are at the bottom of the league in goals against with 3.28 per game and are 29th in the NHL at even strength, ahead of only lowly Buffalo. The same issues aren't supposed to still be around but they are, leaving the Oilers short of their potential again.

You have to go back to the 2006-07 season and the Glen Hanlon era to find a time when the Washington Capitals weren't a playoff team. Well until now, that is.
Life was cushy in the old Southeast Division and the Caps dominated it to the tune of five division titles in the last six seasons. Well Todo, they aren't in Kansas anymore. But even though realignment made it tougher on the Caps, they still are in the softest of the four divisions in the NHL and they're still going home early.
You can't talk about the Capitals without talking about Alex Ovechkin. He has 50 goals this season but he also has that ugly minus-34 next to his name. It's been a combination of things that have led to that eye sore -- so much of his scoring on the power play where you don't get plusses, awful shooting luck from his linemates, poor save percentages when he's on the ice and, of course, his own shortcomings as a defensive player. But let's be honest; Ovi bears the brunt of focus however he's hardly at the top of the list of their problems.
There is a bit of a recurring theme here among these disappointing teams and that's that the defense is not up to snuff. They too gave up a lot of shots this season, ranking 27th in the league with 33.5 against per game. It was a regular occurrence this season to watch the Caps take the lead and then give it right back, the defensive lapses were far too frequent. It's also great to have an awesome power play but their struggles at even strength were tough. You have to be able to win at 5-on-5 to win consistently and they couldn't.
It has been rare in the Ovechkin era to see the Capitals with an early summer and even in a division that was relatively open they will miss out. Now it could potentially lead to sweeping changes in the front office and behind the bench, the hallmark of disappointment.

OK we're talking about the Islanders here and for a decade now the expectations are always held in check. They live near the salary floor and have so rarely been a playoff team. But last season they were a playoff team. The growth was finally bearing fruit.
Or not. Here we are again with the Islanders finishing up a season after 82 games and taking a step back after a promising showing in 2013. It didn't help to have their superstar John Tavares going down with a season-ending injury in the Olympics but they weren't looking very good for a playoff spot before that thanks largely to an abysmal month of November.
A sign that the Isles had high hopes (of which they fell dramatically short) was their early season acquisition of Thomas Vanek, who cost them a lot in return including Matt Moulson. Then there was the disappointment of him not signing with the Isles and being traded at the deadline for a very meager return. That itself might have been more disappointing than the season, the totality of those deals because now they neither top-line scoring winger at a position that was in pretty good shape with Moulson as it was.
But the real culprit is the goaltending and, what else, defense. That the Islanders came into the season turning back to Evgeni Nabokov as their starter and didn't try to bring in a younger, better goaltender doomed them from the outset. They had hoped he would be good enough for them to ride an offense that last season was strong. Those hopes were dashed. The Isles are just 17th in the league in shots against, respectable, but are 29th in goals against. That speaks to the biggest problem: the goalies sunk the season. Now it feels almost like that 2013 playoff run didn't happen.

Mike Ribeiro was the big move from the new ownership of the Coyotes, the sign that they were going to spend big to get the big production and he was going to fit their bill for a top-six center who would score. He hasn't been anywhere near the disappointment that Clarkson has been in Toronto but he hasn't been a rousing success either.
On the surface his 15 goals and 31 assists in 77 games don't look so bad. But compared to last season in Washington when he had 49 points in just 48 games, it looks way down. Ribeiro hasn't had fewer than 49 points since he was just breaking into the NHL in 2002-03 with the Canadiens. Given the money they paid him and what his track record is, the hope was for more.
The disappointment in Ribeiro was shown recently when, in the midst of a playoff chase, Coyotes coach Dave Tippett made Ribeiro a healthy scratch. His minutes are down as well, at 18 minutes per game after playing more than 20 minutes a night for years in Dallas.
He hasn't been able to deliver on the high hopes. Again, not as though he has been a complete waste of space and money for the Coyotes, he hasn't. But Ribeiro dropping to production levels he hasn't been at in the last decade is grounds for the word disappointing.

There were next to no expectations on the Florida Panthers this season; some thought they might be able to give a bit of a challenge in the new Atlantic Division but nobody forecasted any realistic playoff hopes. Seeing them near the bottom of the NHL standings again isn't a disappointment. Well it is, but it wasn't unanticipated.
What is a bit disappointing and was also unanticipated was the dramatic drop in Jonathan Huberdeau's game. He was the Calder Trophy winner in the league in 2013 as the NHL's top rookie. In 48 games he had 14 goals and 17 assists to win the award and looked to be on his way to being the go-to guy the Panthers have lacked.
The fabled Sophomore Slump found him and it has shown. The Panthers are still struggling to score and his decline to just nine goals and 19 assists in 67 games is part of the reason why. He wasn't able to build on the impressive rookie campaign. In fact, as the season has worn along, Huberdeau has seen his role diminishing to the point that his time on ice has dropped by more than a minute per game from last season.
Florida is relying on a lot of young players who are virtually still prospects so some inconsistency is expected but Huberdeau's production going down so much isn't how they drew it up.
The former Boston Bruin was the first black player to play in the NHL

Inclement weather led to the Charlotte Checkers and Bridgeport Sound Tigers playing in front...

The NHL chose the Detroit rocker as its All-Star Game entertainment and not everyone is th...
NHL fans from all over seem to agree on one thing: Hating Kid Rock

The team tweeted on Monday that Shaw would be re-evaluated in 7-10 days

The Montreal forward was hospitalized after taking a Zdeno Chara slap shot to the head