Most goals scored this season without scoring a power play goal
Scoring goals in the NHL is difficult, especially when you don't get the luxury of getting a lot of power play ice time.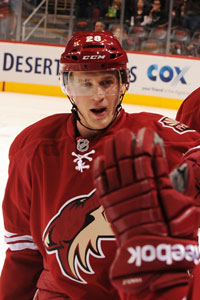 Pucks and Numbers: a weekly statistical look at what's happening around the NHL. This week: a look at the players that have scored the most goals without scoring a single power play goal.
With goal scoring at its current level (it's down ... way down) it's hard enough to score in the NHL. The average game this season features a little less than five-and-a-half goals per game, which is the lowest mark we've seen since the start of the 2005-06 season.
It's even more difficult for players when they don't get the luxury of seeing a lot of time on the power play, and spend most of their time logging tough even strength minutes, or even more difficult, time on the penalty kill.
There have been nearly 500 skaters to play at least 50 games in the NHL this season, and out of that group only 156 have scored at least 15 goals. And out of those 156, only six players have managed to do so without scoring a single power play goal:
Pascal Dupuis
,
Patrik Berglund
,
Lauri Korpikoski
,
Adam Henrique
,
Eric Nystrom
, Viktor Stalberg and
Jannik Hansen
.
The only players on the list that have seen any significant power play time this season are Berglund and Henrique, and all of the players, with the exception of Nystrom, have scored at least one shorthanded goal for their team.
A quick look:
(Update: I mistakenly overlooked Viktor Stalberg the first time around. He has since been added.)
Most Goals Without A Power Play Goal: 2011-12 Season
Player
Team
Goals
ES Goals
SH Goals
PP Time/Game
Pascal Dupuis
 Pittsburgh
23
21
2
0:25
Viktor Stalberg
 Chicago
19
19
0
0:18
Patrik Berglund
St. Louis
18
16
2
2:21
Lauri Korpikoski
Phoenix
17
14
3
0:46
Adam Henrique
New Jersey
16
12
4
1:49
Eric Nystrom
Dallas
16
16
0
0:09
Jannik Hansen
Vancouver
15
14
1
0:08
A lot of these guys, like Korpikoski and especially Dupuis and Hansen, are among the players that are given some of the toughest even strength assignments on their respective teams (both in terms of who they're asked to play against, as well as the number of defensive zone faceoffs they're given), and are also given the task of being a top penalty killer.
So the fact they've been able to provide as much offense as they have is a nice bonus, especially when none of them, with the exception of Berglund, carry a cap hit of more than $1.8 million for this season (Berglund's salary cap hit is $2.25 million for the season).
This is the third straight year Dupuis has been near the top of this list (he hasn't scored a power play goal since the 2006-07 season when he was a member of the Minnesota Wild) and the second consecutive year that Korpikoski has been near the top, having scored 19 last year without a power play tally.
With the way a lot of these guys are trusted defensively they're pretty valuable players to their team and with relatively friendly contracts against the salary cap. Good guys to have around, especially when they can not only eat up some tough minutes to open up favorable matchups for the top-scorers on the team, but also provide a bit of offense on their own.
Just out of curiosity, I went back over the past 15 seasons, all the way back to 1996-97, and found the players that have scored the most goals in a season without scoring on the power play to how the above players stack up.
Most Goals Without A Power Play Goal Since Start Of 1996-97 Season
Player
Team
Goals
ES Goals
SH Goals
Alex Burrows
 Vancouver ('08-09)
28
24
4
Ed Olczyk
L.A/Pittsburgh ('96-97)
25
25
0
Pascal Dupuis
Pittsburgh ('11-12)
23
21
2
John Madden
New Jersey ('00-01)
23
20
3
Rene Bourque
Calgary ('08-09)
21
20
1
Brian Gionta
New Jersey ('03-04)
21
21
0
Magnus Arvedson
Ottawa ('98-99)
21
17
4
Ethan Moreau
Edmonton ('03-04)
20
17
3
Scott Pellerin
St. Louis ('98-99)
20
15
5
Lauri Korpikoski
Phoenix ('10-11)
19
17
2
For more hockey news, rumors and analysis, follow @EyeOnHockey and @agretz on Twitter and like us on Facebook.
The Blackhawks take a stand against racism by banning four fans from future home games

With Brian Elliott and Michal Neuvirth hurt, Philadelphia adds a big name to the net

David Kelly has nailed 35 of 42 NHL picks and he just locked in a selection for the Ottawa-Nashville...
SportsLine's Mike McClure, a DFS pro with more than $1M in winnings, gives optimal lineup...

Vegas ascends to the top of the league, but plenty of formidable contenders are right on their...

SportsLine's Mike McClure, a DFS pro with more than $1M in winnings, gives optimal lineup...