Nashville Predators trade rumors, trade deadline outlook
With the April 3 NHL trade deadline looming, are the Nashville Predators buyers, sellers or standing pat? What do they need?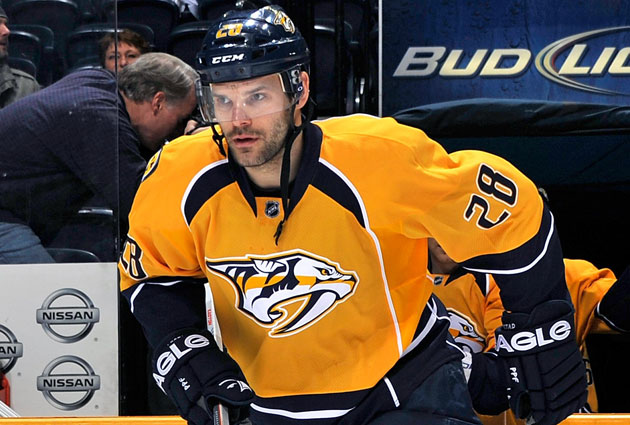 With the 2013 NHL trade deadline at 3 p.m. ET April 3, Eye on Hockey will examine

whether each team is a buyer or seller at the deadline, and who teams should look to sell or receive.
Buyers or sellers
The Predators head toward the trade deadline in the unenviable position of being in no-man's land. Or, perhaps more accurately, no-win land. Make a move to go for it and get criticized for trading away assets. Don't go for it and you're criticized for giving up. Stand pat and get criticized for not buying, not selling or both.
They are square in the mix for what is probably that last playoff spot in the West with a handful of other teams, just one point back of Dallas right now but tied with three others for ninth. So they could go either way or just decide to do nothing. It's all a question mark right now.
Rumors
Last year at this time the Predators were active, getting Hal Gill, Paul Gaustad and Andrei Kostitsyn all while working on bringing back Alex Radulov from the KHL. This year? Crickets.
There has been one hint of what GM David Poile might be thinking, though. Gaustad, who cost the Preds a first-round pick at last year's deadline, could be available, according to Jimmy Murphy of ESPN Boston. That was more than a week ago, and things can change quickly, so who knows if that is even still a consideration if it ever was.
Gaustad excels in the face-off circle and is used for defensive zone draws often by coach Barry Trotz. It's a role a lot of teams would be interested in filling. (Sounds kind of like the hole Manny Malhotra left in Vancouver).
With that said, Gaustad has a no-trade clause in the new deal he just signed with Nashville and carries a $3.25 million cap hit through the next three seasons. In addition to his consent, it would probably take a strong overpayment to get him out of Nashville.
There was a mention from Elliotte Friedman last week that the Preds did explore their possibilities already and found the market not to their liking. That probably doesn't bode well for them buying down the line.
Other than that, Poile is either not working on anything or keeping it close to the vest.
Top targets
If the Predators are going to add on, they're going to look for offense. That's what they had scanned the market for already per Friedman.
A recent uptick in the scoring probably won't change that. Nashville has gone on a tear, averaging 3.7 goals per game over their last seven games, but they would probably feel a lot better about that continuing if they could manage to bring in some forwards who can score. But good luck with that.
In addition, they probably wouldn't mind adding a depth defenseman either. Scott Hannan isn't signed beyond this season and beyond that they have a very young collection of defensemen.
Really, the Predators could use a lot of help but for a team that doesn't spend a lot of money historically there's probably not much they can do about it now. They would be looking to add for the future, not just this season -- and the trade deadline isn't exactly the best time to do that.
More Trade Deadline Rumors: 
Stacia Robitaille says Donald Trump told her in an elevator that she was coming home with...

Vladislav Yeryomenko was the Teddy Bear Toss goal scorer for the Calgary Hitmen

The Golden Knights are finally getting their No. 1 goalie back after a 25-game absence
Washington has won four straight, and the Kings are also on a tear right behind the Lightn...

The NHL says it's only interested in expanding to Seattle, but here's a look at all the moving...

The NHL says it is only looking toward Seattle for the next expansion team