Nazem Kadri, Cody Franson contract stalemates with Leafs continue
Nazem Kadri and Cody Franson remain unsigned while the Leafs insist there's enough room for both, but Kadri wants a Tavares deal.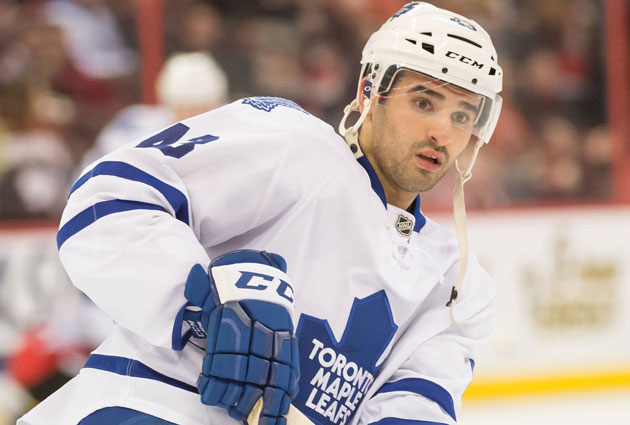 More NHL offseason: Rumors | Top 50 Free Agents | Buyout Tracker | Trades | Transactions
The Toronto Maple Leafs are nothing if not entertaining. This summer has been full of big -- and debateable -- signings and then the contract stalemates with Nazem Kadri and Cody Franson.
It remains a difficult situation because the Leafs don't have a whole lot of money available as they have just about $5 million for both players. Still, management continues to insist there is enough money, something VP of Hockey Operations Dave Poulin said on Tuesday at a team golf outing.
In Kadri's case it seems that the stalemate is at least in part over the length of the next deal as much as the money. Kadri understandably would prefer a longer deal while the Leafs seem more interested in a bridge contract. Either way they have to find common ground on a salary and right now Poulin thinks they are there.
Dave Poulin put some heat on Nazem Kadri, saying the offer from #leafs is "fair" based on body of work and was not made because of cap.

— Chris Johnston (@reporterchris) September 3, 2013
While the Leafs clearly think they have a good offer out there, Kadri is still waiting. This has the look of deadlock written all over it.
Nazem Kadri says he's waiting on the #leafs to make the next move in contract talks.

— Chris Johnston (@reporterchris) September 3, 2013
Determining Kadri's value is very difficult to do and Poulin's remark about a fair deal being based on the body of work does have some merit presumably because they are pointing to a short body of work. Kadri was explosive this past season with 44 points in 48 games but beyond that small sample size, there isn't a ton to draw on.
Right now it's making things very difficult because they are as far apart as it sounds according to TSN's Bob McKenzie. This is quite the gap this close to the season.
Kadri believed to be looking long-term (6 yrs in Tavares stratosphere of $5.5M per). Leafs want short, 2 yrs at P.K. Subban $ ($2.875M per).

— Bob McKenzie (@TSNBobMcKenzie) September 3, 2013
Remember, this is a negotiation so neither extreme is likely to happen and that's not good for the Leafs. Break down the remaining money they have between the two and you're talking about $2.5 million each for Kadri and Franson. Based on where the negotiations are right now, Kadri isn't going to come in at $2.5 million, or maybe even $3 million. It remains a mystery how the Leafs can squeeze both in under the cap.
Then there is Franson, who some have speculated the Leafs will have to try and trade because of the cap constraints. Those contract talks seem to be going better as the sides have been talking. At this point Franson is expecting a short-term deal that would offer him a chance for a raise in a year or two when the Leafs might have some more room under the cap.
Regardless, it doesn't sound like either of them is close to a deal at this point.
Reminder: Camp opens in eight days for the Maple Leafs and neither guy will be present without a contract. So all that time we've been talking about this summer is running short.
Los Angeles isn't rushing to sign the 45-year-old forward any time soon

The University of Denver star and Hobey Baker Award winner is drawing interest

Intrigue is high in Arizona after a wild offseason, but expectations should still be tempe...
Players are set to give personalized messages for Adidas' former hockey equipment brand

The 40-year-old center is returning to the Wild after a successful run in Pittsburgh

Edmonton locks up its 21-year-old RFA a month after McDavid's historic extension