Nazem Kadri, Maple Leafs agree on two-year contract
There will be no holdout for Nazem Kadri as he and the Leafs have come to terms on a two-year contract for a reported $5.8 million.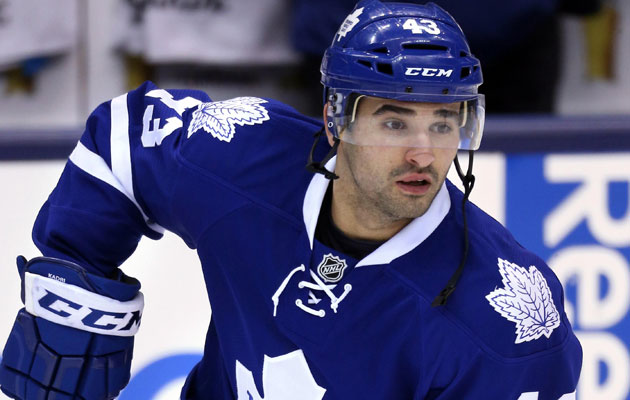 More NHL offseason: Rumors | Top 50 Free Agents | Buyout Tracker | Trades | Transactions
Nazem Kadri won't be holding out afterall. The Toronto Maple Leafs and the young forward have come to an agreement on a new two-year deal on the eve of training camp as multiple outlets reported on Tuesday night.
The negotiations had long been stuck at a stalemate as Kadri had reportedly wanted a long-term deal with a good salary while the Leafs were in favor of a bridge contract that would start with a small salary and leave Kadri to prove he's worth a big deal. At least that's how it was playing out in a very public negotiation and in the end the Leafs got what they wanted.
Nick Kypreos of Sportsnet, who was first to report a deal had been struck, has the contract details.
Kadri and #Leafs 2 yr #NHL contract breaks down 2.7M in yr 1 / 3.1M in yr 2.

— Nick Kypreos (@RealKyper) September 11, 2013
So that's $5.8 million overall or $2.9 million per season. In the end it looks like the Leafs were able to get a deal very close to what they were looking for and now Kadri should come in motivated for the next two seasons to cash in on a big deal.
Now just like that, all the issues of the public negotiation come to a close and Kadri will be with his teammates in Toronto when camp opens on Wednesday. As you would guess, he's happy.
Happy to be with the leafs for the next couple years, looking forward to camp #leafnation #bestnation

— Nazem Kadri (@43_Kadri) September 11, 2013
One of the concerns for the Leafs in dealing with Kadri was the salary cap. Combine Kadri's demands with those of their other restricted free agent Cody Franson and the Leafs didn't have much room. They continued to insist the offer to Kadri was fair regardless of the cap. In the end it is pretty impressive that they did get Kadri in at less than $3 million per season, especially when you consider earlier this summer they gave Tyler Bozak $4.2 million annually.
Then again I shouldn't be too surprised, Kadri didn't have much leverage in these talks other than to try and sit out. That threat didn't seem to have the Leafs too scared, however, so Kadri gave in and got the best deal he could on a two-year term. It's actually pretty typical of bridge deals in today's league; the players don't have much leverage so they sign for what seems like low values.
Now attention will turn to Franson and it doesn't look great on that front. With Kadri coming it at $2.9 million per season, the Leafs are left with around $2 million in cap space (perhaps more with any kind of roster shuffling) and Franson is reportedly looking for much more than that. It will remain a big challenge to get him signed too.
But now at least the Leafs don't have to worry about Kadri, who had a tremendous campaign this past season, his first real test at the NHL level. He finished with 44 points in 48 games for the Leafs with 18 goals and 26 assists while in some pretty limited minutes.
Saturday's showdown will serve as a rematch of one of the NHL's first-ever regular season...

Stacia Robitaille says Donald Trump told her in an elevator that she was coming home with...

Vladislav Yeryomenko was the Teddy Bear Toss goal scorer for the Calgary Hitmen
The Golden Knights are finally getting their No. 1 goalie back after a 25-game absence

Washington has won four straight, and the Kings are also on a tear right behind the Lightn...

The NHL says it's only interested in expanding to Seattle, but here's a look at all the moving...