Nazem Kadri says cap issues not his job, reportedly seeking 'home run'
As negotiations go on between Nazem Kadri and the Maple Leafs, he doesn't think cap concerns are his job and reportedly seeks a home-run deal.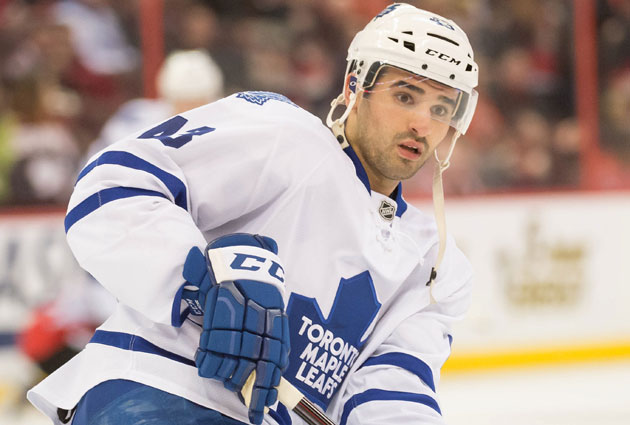 More NHL offseason: Rumors | Top 50 Free Agents | Buyout Tracker | Trades | Transactions
On and on the waiting game goes for Nazem Kadri and the Maple Leafs. The summer has stretched on and no new deal has been reached between the two sides. Worse news, nothing seems imminent.
The Leafs appear to have a salary cap issue as they have less than $5 million in cap space and still have Kadri and Cody Franson to re-sign. GM Dave Nonis said recently that he thinks they have the room to sign both guys even if it doesn't seem all that feasible. The Leafs are in a cap jam.
Just don't expect Kadri to feel for Nonis in this spot.
Kadri on his stalled Leaf contract: "I know I'm being pretty reasonable, taking cap into consideration, when really, that's not my job."

— Lance Hornby (@sunhornby) August 20, 2013
Honesty, isn't that refreshing?
Obviously Kadri has a point, there's no reason that he (or Franson, for that matter) should take a more team-friendly deal than other players because they are the last ones to sign. It's on Nonis that he had a massive amount of cap space earlier this summer but now it's been mostly used up with two key players left to re-sign.
Still, Kadri recognizes it and does seem willing to accept the idea he might not get full value, even if it's not on him. That approach will help keep the narratives turning quickly into Kadri being a selfish player, as wrong as that might be.
As to where the negotiations between the two sides are at this point, Steve Simmons has some info on that.
They want him to sign a bridge contract, the kind P.K. Subban signed in Montreal, the kind Tuukka Rask signed in Boston last year. Rask has already cashed in on a new deal and after winning the Norris Trophy, Subban will too. They think that's fair.

A deal somewhere between $2-3 million a year; a contract workable under their cap restraints.

Kadri and his agent, Brian MacDonald, want to hit the home run now. And if not a home run, something for extra bases.
It's a very tough contract to negotiate, making this so much tougher. Kadri had a fantastic season, scoring 44 points while getting 16:03 of ice time per game, very strong production. But it came in a short season and that's pretty much all the Leafs have seen from Kadri at the NHL level (he played 51 games before this season but produced little). It's not a large sample size but they do know he's talented and a big player for them going forward.
I wouldn't necessarily want to be in Nonis' shoes here, especially if Kadri and his camp are swinging for the fences while he would rather play pepper. At the same time, it shouldn't be up to Kadri to bail Nonis out. Decisions, decisions.
Former Lightning standout will be guarding the net in style in 2017-18

Devils are still in rebuilding mode, but they have reason for hope thanks to young additio...

Buffalo is in the midst of contract extension talks with Jack Eichel, and the payout could...
Los Angeles isn't rushing to sign the 45-year-old forward any time soon

The University of Denver star and Hobey Baker Award winner is drawing interest

Intrigue is high in Arizona after a wild offseason, but expectations should still be tempe...