New Jersey Devils trade rumors, trade deadline outlook
With the April 3 NHL trade deadline looming, are the New Jersey Devils buyers, sellers or standing pat? What do they need?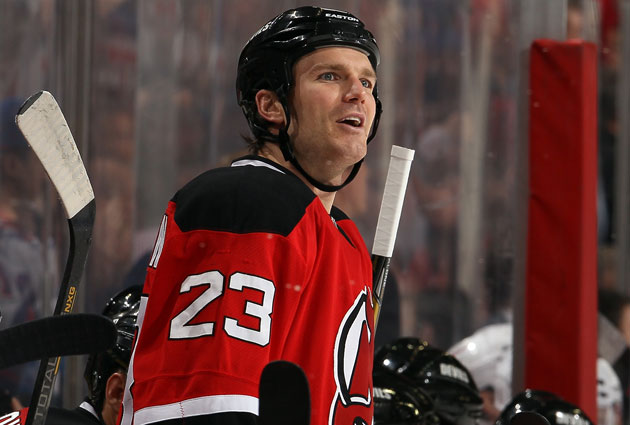 With the 2013 NHL trade deadline at 3 p.m. ET April 3, Eye on Hockey will examine

whether each team is a buyer or seller at the deadline, and who teams should look to sell or receive.
Buyers or sellers
This season started so well for the defending Eastern Conference champs, showing early that they were not dead just because Zach Parise left in free agency. But the Devils' run of late has shown that his absence is at least felt.
It's led to the realization that the Devils are not a Cup contender this season. Get into the playoffs and you never know what could happen, but they are not in the upper echelon of the league. Most didn't consider them to be last year, either, but that team was a touch more complete than this one.
Without a real likelihood of making a deep postseason run -- should they even get there -- it's a safe bet that the Devils will remain quiet, at least in terms of adding. However GM Lou Lamioriello could continue to tinker and has to at least chew on the idea of selling some players.
Rumors
After acquiring Alexei Ponikarovsky and then Matt D'Agostini already this season, it's possible the Devils might be done. It's not always easy finding impact scorers at the trade deadline, especially for a team on the fringe. So, really, things are mostly quiet.
However the Devils have a slew of guys who will be unrestricted free agents after this season, chief among them are David Clarkson and Marek Zidlicky. It leaves Lamoriello with some thinking to do. Does he dare consider trading them away?
I don't think Lamioriello will do it, especially in the case of Clarkson, but it has to be tempting. At this point there is little talk of a contract extension and there certainly is a real possibility that he could walk after the season for nothing. There are a lot who think he could be Toronto-bound or some other city. He's going to get a raise and it very well could not come from the Devils.
The Devils took that shot last year with Parise and got nothing in return. But you could argue the risk was worth it as the Devils made the Stanley Cup Final. Being realistic, that doesn't seem like it will happen again. It's at least a much bigger risk with a lower shot at a reward.
At the same time you pretty much guarantee you won't be re-signing your leading goal scorer if you trade him away and it more or less sends the message of giving up this season. While practical, that might not be best for business. It's a dilemma for Lamioriello, to be sure.
The same goes for Zidlicky, although his level of importance and attractiveness wouldn't be quite as high as Clarkson's, though he has come a long way since last trade deadline when Minnesota traded him to New Jersey after a very rocky final few weeks.
The other potential rental players -- players not signed beyond this season -- are Patrik Elias, Dainius Zubrus, Ponikarovsky, Tom Kostopolous, Tom Sestito and Peter Harrold. You won't see Elias go anywhere and there's been little to no mention of the others.
Top targets
Particularly with the loss of Kovalchuk for a few weeks, the Devils could use more scoring. Like seemingly every team in the league, the would like to add a top-six forward, a winger. That would have been the case even if Kovalchuk were healthy right now.
Also, don't discount the idea that the Devils would like to get some draft picks, because they are hosting this summer's draft. They might like to get their hands on a little more in the first round and I sincerely doubt they are interested in giving up their first pick.
More Trade Deadline Rumors: 
SportsLine's Mike McClure, a DFS pro with more than $1M in winnings, gives optimal lineup...

The NHL will be a no-show in Pyeongchang, and it could be the norm for future Olympics

David Kelly has nailed his past 15 NHL picks and 23 of 26 predictions
Tampa Bay has been a little too goalie dependent lately, but it remains the head of the pa...

It appears New York's leadership is waving the white flag on this current group

The NHL determined that Burrows' play was dirty, dangerous and inexcusable