New York Islanders trade rumors, trade deadline outlook
With the April 3 NHL trade deadline looming, are the New York Islanders buyers, sellers or standing pat? What do they need?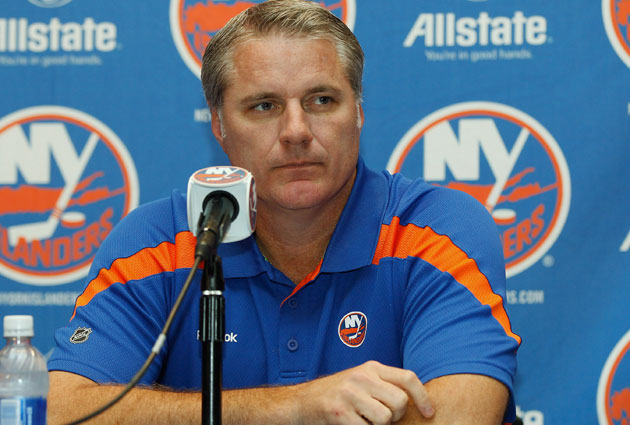 With the 2013 NHL trade deadline at 3 p.m. ET April 3, Eye on Hockey will examine

whether each team is a buyer or seller at the deadline, and who teams should look to sell or receive.
Buyers or sellers
In an annual rite of spring, the Islanders are close enough that they can see the playoffs but are still on the outside. It's like there's a glass ceiling there.
Because they can't reach the postseason, the Islanders are typically in the mold of sellers, and perhaps this year is no different. They are rarely buyers because of the finances they have to work with and the delicate nature with which they are trying to build up a young core.
It's because of that desire to stay the course and continue to build up at glacial speed that you shouldn't anticipate the Islanders being big movers and shakers.
Rumors
It didn't always look like the Isles would do nothing. Scanning up and down their roster, there are a few intriguing names that would fit the bill for rental players; veteran players with expiring contracts at the end of the season. That would be defensemen Mark Streit and Lubomir Visnovsky plus goalie Evgeni Nabokov.
However, the Islanders want to keep all three of them. GM Garth Snow has reportedly been working on contract extensions with each player and sounds determined to get them under new contracts, essentially pulling them off the market before they even got on.
If they were available -- and teams will probably check a few more times before the deadline -- Streit would pique a lot of interest. The Islanders' captain, Streit is a point-producing defenseman and has those beloved intangibles of experience and leadership. But it looks like that will just have to remain a dream for other teams.
Brad Boyes is another potential rental player and indications are that the Islanders would like to re-sign him as well with that $1 million flier really working well so far. He has eight goals and 19 assists in 31 games, well worth the price and more. He has rehabbed his image and with the way he has played this season would be of interest but again, it looks like you can cross him off.
Earlier this season, top prospect Nino Niederreiter expressed his frustration and a desire to be traded, but the Islanders squashed that pretty fast.
Beyond that, the rumor mill is awfully quiet around the Isles, I'm sure by design. Perhaps you could see a veteran like Marty Reasoner go for a draft pick, but that's about all you should expect from the Isles, if that.
Top targets
Much the same as it has been for a few years now, the Islanders would like to get some help on the defensive side of things, hence the desire to at least hold onto Streit and Visnovsky. They have prospects with some promise, but you can never have enough potential defensemen.
I think ideally, too, the Islanders would like to find a little more secondary scoring. The top line has been very good and the second line just all right in terms of offensive production. Kyle Okposo has taken a big step back this season from his 24-goal campaign last year. That has sucked up some of those secondary goals.
They'd also probably like to get an upgrade in the net, too, at least somebody to man the nets for years to come. Obviously, they like Nabokov enough to want to keep him around, but he is no spring chicken. But dealing with the future of your goaltending corps is not something best suited for the trade deadline.
More Trade Deadline Rumors: 
Without the star power of the NHL, America is banking on big contributions from some AHL, KHL...

Lincoln Financial Field will play host to the annual outdoor game on Feb. 23, 2019

The Lightning stay on top as other teams begin to catch fire
The NHL said the Flyers defenseman was 'reckless' and used 'excessive force'

'How you gon' do that hockey?'