NHL 2-on-1: Most surprising players to start the season?
This is 2-on-1 where Adam Gretz and Brian Stubits debate a topic in the NHL. This week: Most surprising individual start.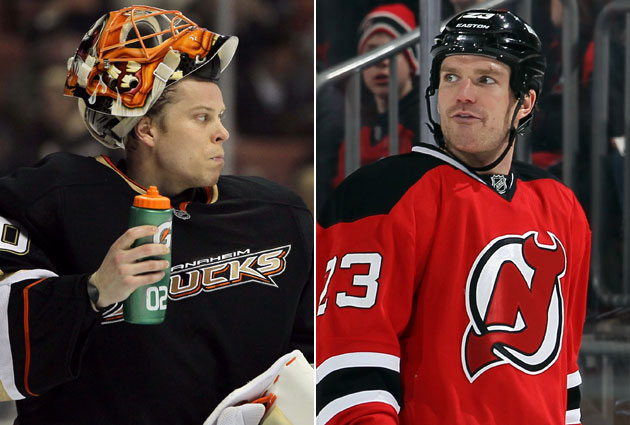 Viktor Fasth and David Clarkson have been fantastic to start the season. (Getty Images)
More NHL: Scores | Standings | Odds | Fight-O-Meter | League Leaders | Rumors
This is 2-on-1, a weekly feature from Eye on Hockey in which Adam Gretz and Brian Stubits debate a topic in the NHL.
We're now more than a quarter into the season, so it's a fair time to ask: Which players have surprised you the most?
GRETZ: I came into this season with little to no expectations for the New Jersey Devils. For one, I thought the loss of Zach Parise was going to be huge. I also had little faith in a pair of 40-year-old goalies, and I didn't think there was any chance 30-goal scorer David Clarkson would come close to matching that sort of production. When it comes to Clarkson, we're talking about a guy who, in his previous four seasons, had averaged about 12 goals. That production last season came out of nowhere. There was no way he could duplicate it, right?
Well, the Devils are still good, Martin Brodeur and Johan Hedberg have been fine, and Clarkson is not only scoring goals at a higher rate than he did last season, he's one of the league leaders through a quarter of the season. And I can't really figure out why. He's a nice power forward and does a lot of good things, but it still stuns me that a guy who was an 8 percent shooter for his career has suddenly exploded over the past season-and-a-quarter. Maybe it's an unsustainable run and he's due to fall off. But either way, he certainly picked the right time to bust out given he'll be an unrestricted free agent after this season. Dollar signs, baby.
STUBITS: Clarkson is a bit surprising as are the Devils to me, but it's not like they have come out of the blue here. You might be surprised that he and the team have sustained the scoring/success, but it shouldn't be a terribly big shock.
Not like, say, Viktor Fasth in Anaheim.
Here is a 30-year-old goalie who never played in the NHL before this season. He is undefeated as an NHL goaltender, a perfect 6-0 mark. And, no, it's not like a pitcher in baseball where those numbers are misleading because of the offense that supports him. He has a .933 save percentage and 1.74 goals against average, too. He is starting to take time away from Jonas Hiller, who was an All-Star not long ago.
GRETZ: Goalies are a complete crapshoot sometimes. Niklas Backstrom is another guy who had to spend some time in Europe before finally getting a chance in the NHL in his late 20s/early 30s.
There is nothing wrong with taking guys like Fasth, signing them in bulk, and seeing who emerges from the pile. The NHL version of throwing a bunch of grapes against the wall and seeing what sticks. NHL teams and scouts still haven't perfected the art of scouting goalies and identifying talent, and I'm not sure they ever will. It's a crazy position. That was a nice low-risk, high-reward signing.
STUBITS: That's certainly true. The scouts never quite nailed down Tim Thomas, and look what happened there.
In fact, Fasth's start this season evokes memories of Thomas, who floated around various leagues for a long time before finally getting a chance in the NHL and running with it. Fasth was in Sweden until this season. And even then, he only played three games in the AHL before getting his chance with the Ducks.
It's not like he's a huge goalie like we're starting to see everywhere. He's only 6-foot, almost tiny by today's standards. It's quite a story that is only magnified by Anaheim's 9-2-1 start. Not too bad of a signing there, Mr. Bob Murray.
GRETZ: While we're on the subject of free agents, let's look at what I thought was a high-risk, low-reward move. Colorado's signing of P.A. Parenteau (four years, $16 million) was one of my least-favorite moves of the offseason. I just hated it. Absolutely hated it. I saw him as the third wheel on that John Tavares and Matt Moulson line (and a product of their success) and wasn't sure how he would do in a different setting. So far with the Avalanche, he's among the league leaders in goals with seven in 11 games.
Nice call, Gretz, you idiot. I have a lot of egg on my face for that one, but I'm not at all sold that he's going to continue it. He's probably due for a huge drop as the season progresses. Yeah, he has seven goals, but the guy only has 25 shots on goal. There is no way he is going to keep converting on 28 percent of his shots. Nobody does (before this season, he was an 11 percent shooter). He's a nice surprise story so far, but the regression monster isn't going to be kind to him in the second half of the season.
STUBITS: No doubt, I don't expect Parenteau to be able to continue scoring goals at this rate -- he has never been a big goal scorer -- but there's not a ton saying he can't continue to facilitate offense. We're used to playmakers being at center, but Parenteau fits that mold on the wing. That's his value, and that's why the Avs signed him, not necessarily for goals coming off his stick.
However, like what I said about Clarkson: It's not like this is coming completely out of the blue, not like it has with Matt Frattin in Toronto. Coming into this season, he had eight goals in his entire career (not long, I grant you; just 57 games). But this season, he already has seven goals to go with three assists. I stress this because it bears being stressed: Frattin is a point-per-game player. Frattin is second on the Maple Leafs in goals scored. Nuts.
Unfortunately for him, he's going to be out for at least a week now and that could stunt any momentum for when he comes back, but it has been a crazy start. I can't think of anybody who would have predicted this outside the Frattin household.
Additionally, and I know you love this stat, Adam, he's a plus-6. Hooray for plus-minus!
GRETZ: Ugh. Plus-minus. The product of luck and goaltending.
When it comes to things that Frattin can actually control, yes, he has been a nice surprise for Toronto. And it took some injuries to finally get him a chance in the lineup (and now he, too, is injured). He was a nice player in college, and he put up some strong numbers in the American Hockey League the past two years. Frankly, I think he probably should have been on the big club from the start. It's not like Toronto was overflowing with talent ahead of him. It shouldn't have taken an injury to get him a look.
STUBITS: Well, he did get a decent look last season by playing in 56 games, compiling just eight goals and seven assists to show for it. Certainly some decent promise, but nothing close to the production rate he had before his recent injury.
The big question with all of these players is will it continue? Maybe; maybe not. We are still in the "small sample size" arena, but there's a decent chunk here to go off. Out of the group, I'd expect Clarkson is the most likely to continue. But I wouldn't discount Fasth. Considering it's Valentine's Day, I figure it's appropriate to finish this by paraphrasing Forrest Gump: Goaltenders are like a box of chocolates; you never know what you're gonna get.
For more hockey news, rumors and analysis, follow @EyeOnHockey on Twitter, subscribe to our YouTube account and like us on Facebook.
Boston gave New York a hefty haul for the 33-year-old winger

We'll be here to keep track of all the deals that go down before the NHL trade deadline

Toronto picks up a versatile depth piece in the 35-year-old Plekanec
SportsLine's Mike McClure, a DFS pro with more than $1M in winnings, gives optimal lineup...

David Kelly has nailed 43 of his last 54 NHL picks and just released a play for Sunday's m...

A look at 10 veterans who figure to be on the market as Monday's deadline draws near