NHL 2-on-1: What is going on with the Rangers?
This week in the NHL 2-on-1: What is going on with the Rangers?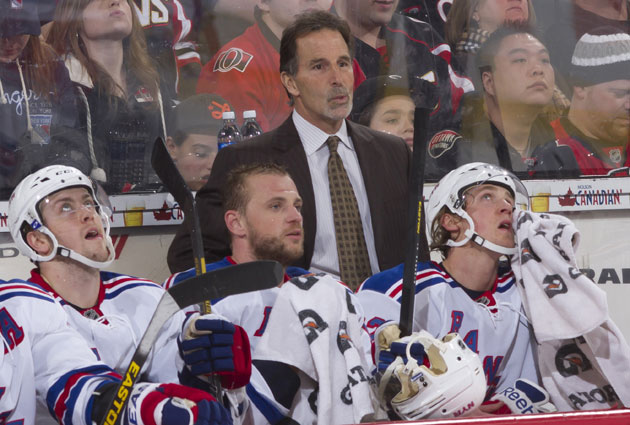 More NHL: Scores | Standings | Odds | Fight-O-Meter | League Leaders | Rumors
This is 2-on-1, a weekly feature from Eye on Hockey in which Adam Gretz and Brian Stubits debate a topic in the NHL.
So, guys ... let's talk about the Rangers
GRETZ: I don't know that there was a more popular Stanley Cup pick in the preseason than the New York Rangers. Coming off a trip to the Eastern Conference finals a year ago they were finally able to add Rick Nash, a move that was supposed to give them the needed scoring punch to get over the hump.
Well, we're nearly halfway through the season and not only do the Rangers not look like a Stanley Cup contender, they're simply fighting for a playoff spot.
What gives? Is it injuries? The loss of some "toughness" and their "identity" over the offseason?
I'm not going to lie, even with their success last year I was never convinced the Rangers were that good of a team overall as they simply relied heavily on Henrik Lundqvist to bail them out most nights. So I'm not totally shocked they're not great this year (I'm more shocked they didn't start to stink a little last season), but I figured they would be better than this.
Can you see a scenario in which John Tortorella is in trouble?
STUBITS: At this point I think you would have to be legally blind in both eyes not to see it. I won't go so far as to say his seat is filling with searing heat, but in the span of a few weeks to start this season I think his job security has become a worthwhile conversation. I can't foresee him not getting the rest of this season, though, that's for sure.
With that said, I'm not sure how much of it is completely on Torts; we all know coaches are too often the scapegoat when things are going wrong. It reminds of one of the few clichés I actually like: You can't fire the whole team.
The fact is they aren't producing results right now and that's causing plenty of consternation. But they're also a team with enough talent and a good enough core that they are capable of overcoming a hole by rattling off five wins in a row or so if they can get it rolling. I don't think it's crazy to say they're just underperforming, not under-talented and that's why there are the increasing rumblings about Torts.
GRETZ: When I watch the Rangers and the way they play I think back to Tortorella's days in Tampa Bay when his team won the Stanley Cup and played with the "safe is death" motto. The Rangers under his watch seem to be the exact opposite of that. Instead of attacking they just seem content to collapse around their own net, block a lot of shots and let Lundqvist bail them out. Last year Lundqvist did that regularly and had a historically great season with a .930 save percentage. That's not a number you should expect a goalie to sustain, and even though the average shot he has faced this season is coming from further out than a year ago (it's about a foot, but it's still a longer distance) his save percentage has seen a drop from all-time great to simply very good. When you're not getting a ton of offense, that's going to hurt a bit.
I think there's a lot going on here with the Rangers. I still question how legitimately good and deep they really are as a team, especially after losing guys like Brandon Dubinsky, Artem Anisimov, Ruslan Fedotenko and John Mitchell. Making matters worse is the fact none of the high-end forwards they do have (Nash, Brad Richards, Marian Gaborik, Ryan Callahan) are really producing much offense, and the young guys like Derek Stepan and Chris Kreider haven't really done much to establish themselves. Heck, Richards is starting to play like a guy who might be worthy of a compliance buyout. They've also had some injuries that aren't really helping things.
I don't know if it's a team that has been poorly constructed or a team that simply has a lot of guys underperforming. And I don't know how much of that falls on the coach. My feelings on in-season coaching changes are well-documented at this point (if you're going to fire the coach, you might as well fire the guy that built the team, too) but this seems like the type of situation where a change sometimes gets made whether it's right or wrong: a team with huge expectations that is falling short.
STUBITS: Well, which is it? They're a good but underperforming team that a coaching change could help or just not a great team? The scary part is, I don't know if even they know.
What I can say, though, is that it doesn't appear that the Rangers are playing incredibly poor hockey or anything. Perhaps that's a sign of a deeper worry as you allude to. Because when you start to look at the advanced metrics, they are ninth in the league in Fenwick Close, which measures the amount of shots directed on net in a one-goal or tie game. In other words, the Rangers are doing a good job directing more shots than they are taking in tight games when both teams are presumably playing their games.
So they aren't sitting back in the shell that some assume they are, is the point. The Rangers are getting shots on goal but they're only scoring on eight percent, which ranks in the bottom half of the league. I think there's too much talent for that not to come up a bit eventually.
But I think you are spot on with the depth argument. Everybody laughed at the Blue Jackets for that trade, said they were absolutely swindled, but the Rangers gave up multiple players and that can be tough to handle. I think they're also missing a little bit of that grit. You don't have to have fighters but toughness will certainly help. A guy like Brandon Prust -- who left in free agency -- wouldn't be so bad to still have around.
GRETZ: Look at you bringing the Fenwick percentages. That's actually very interesting; I would have never guessed they were that high (and they're in a similar area in FenTied, as well). So maybe they are playing at least little better than their record would appear.
What's really interesting -- and a little concerning -- about that is the percentages don't really seem to be working against them right now. If they had an abnormally low shooting percentage/save percentage as a team, I might even be tempted to say they were due for a bounce-back at some point but both percentages are right around the league average so it's not like they're riding a huge cold or unlucky streak here when it comes to shooting. I guess it's possible Lundqvist could still play a little better. (Don't take that as a criticism of his play -- he has been very good; he just hasn't been what he was last year. And I don't expect him to be, either.)
They still have enough time and enough games in hand to get back into the playoff picture, but I think we can put to rest the idea the Rangers are a Stanley Cup favorite in the Eastern Conference. I think Tortorella lasts the season, but if they should happen to miss the playoffs? That's when I think a change gets made. And if that happens I wouldn't be feeling too secure if I were Glen Sather, either.
STUBITS: Hey, I'm trying. I can see the merit in the advanced stats.
But, yes, as you point out the numbers don't scream unlucky, and that's why it's tough to point to exactly what the problem is. Well, other than the special teams, that is, in particular the power play. How can a team with so many talented offensive players have the league's worst power play (tied with Buffalo)? It has been a problem in New York for some time now so there's a little more where I think you can point to the coaching.
That's where Richards' struggles are felt the most, I think. They could use somebody to really quarterback the power play, drive the possession. That and a net-front presence.
I am still not ready to bury the Rangers one bit; I think they can and will still get to the postseason. But I'm not feeling too good about my preseason pick to win the Cup one bit, that's for sure.
For more hockey news, rumors and analysis, follow @EyeOnHockey and @StubitsCBS on Twitter, subscribe to our YouTube account and like us on Facebook.
The former Boston Bruin was the first black player to play in the NHL

Inclement weather led to the Charlotte Checkers and Bridgeport Sound Tigers playing in front...

The NHL chose the Detroit rocker as its All-Star Game entertainment and not everyone is th...
NHL fans from all over seem to agree on one thing: Hating Kid Rock

The team tweeted on Monday that Shaw would be re-evaluated in 7-10 days

The Montreal forward was hospitalized after taking a Zdeno Chara slap shot to the head