NHL 2013 season preview: Gretz's five bold predictions, award picks
Adam Gretz offers five predictions for the 2013 season and makes his individual award preseason picks.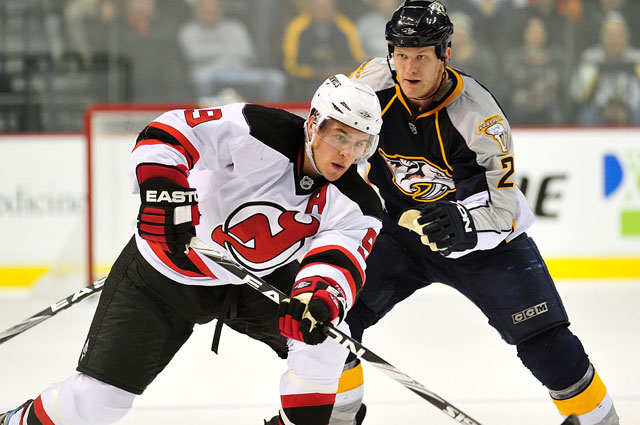 Zach Parise and Ryan Suter team up in Minnesota this year. Will it be enough to get the Wild in the playoffs? (Getty Images)
Preview: Team-by-team | Picks | 50 things to watch | Top 50 players | All-NHL
We had to wait for it, but the NHL season is finally here, and while it's not going to be perfect (especially in the early going with teams jumping right into real games with almost no training camp to speak of), 48 games is still going to be better than the alternative of zero games.
Fellow Eye On Hockey blogger Brian Stubits already gave you his five bold predictions and individual award picks for the season on Thursday, and now it's my turn.
Some of them might even prove to be correct. Some of them most definitely will not.
One prediction you won't be getting from me: How crazy the 48-game season will be and how important a fast start is because "every game matters," because I don't necessarily believe it to be true. It's no more important to get off to a start this season than it would be in any other season (a fast start is always a must, whether the season is 48 games or 82 games).
So with that said, let's get to it.
1. The Minnesota Wild will not make the playoffs: I'm not sure how "bold" this is given the fact that the Minnesota Wild stunk last season. And don't let the first 30 games of last season fool you -- that "success" was smoke and mirrors and was never going to hold up over the season (and obviously, it didn't).
Even so, there seems to be a bit more buzz around them heading into 2013. (Take, for example, ESPN's Barry Melrose, who went as far as to pick them to win the Stanley Cup. That's simply crazy talk). Most of that excitement obviously comes from the free-agent signings of Zach Parise and Ryan Suter.
Parise and Suter will obviously make the Wild better, and the duo will get them closer to respectability, but they're not going to be enough to put them among the NHL's elite. Or even among the NHL's playoff teams.
This isn't the NHL version of the Miami Heat dream team coming together in free agency. This is two very good free agents going to one of the worst teams in the league and making them slightly competitive.
There are still at least eight teams in the Western Conference better than them. Maybe even nine or 10.
2. The Carolina Hurricanes will not only make the playoffs, they will advance past the first round: Now here is a team whose offseason moves (Jordan Staal and Alexander Semin) might actually get them into the playoffs. And out of the first round.
The addition of Staal gives the Hurricanes one of the best two-way centers in the NHL, and he will have an opportunity to blossom offensively now that he will get a top-line role.
Semin has his critics (and his flaws), but he's a highly skilled and extremely productive player who makes the Hurricanes stronger -- and since they signed him away from a division opponent (Washington), it weakens one of their top competitors.
And the division itself is still the most winnable in the league. (Another way of putting it: the worst division in the league).

3. Evander Kane will finish in the top-10 in goals scored: Winnipeg seems to be constantly looking for a reason to criticize him (like not showing up early for a training camp that hadn't started yet), but the simple fact of the matter is Evander Kane can flat out play.
He's already proven it, and the Jets seem to agree based on the six-year, $30-million contract extension they gave him over the summer.
He's one of just 11 players during the past 20 years to score at least 60 goals in the NHL before his 21st birthday, and he already has a 30-goal season on his resume. He generates a lot of shots, a skill he's improved every year he's been in the league. He's also still at the point in his career where he's improving and just maybe entering his prime, and he's the lone big-time goal-scoring threat on a team that will need to force the puck to him to score.
That could all add up to a huge season offensively.
4. Tomas Vokoun will take playing time away from Marc-Andre Fleury: People in Pittsburgh love Marc-Andre Fleury and view him as an elite, franchise netminder.
People outside of Pittsburgh tend to view him for what he is: A good but not great goalie who is sometimes prone to long slumps, bad-angle goals, and is coming off three consecutive dismal playoff performances, including a nightmare series against cross-state rival Philadelphia in 2012. Regarding the latter point, just consider this: Over the past three years, there have been 27 goalies to play in at least seven postseason games, and Fleury has a better postseason save percentage over that stretch than one of them (Sergei Bobrovsky).
That's not good enough.
The Penguins addressed their backup goalie position this offseason by acquiring Tomas Vokoun and signing him to a two-year, $4-million contract extension. You don't give a backup goalie that sort of money -- especially one as good as Vokoun, a guy who is still capable of starting for a lot of NHL teams -- if you're not planning on him pushing your starter, and perhaps even taking playing time away from him.
And Vokoun will.
5. Taylor Hall will be a top-five scorer and compete for the Art Ross Trophy: The Edmonton Oilers have been stockpiling No. 1 overall draft picks for three years now and are slowly but surely building an entertaining and exciting team. They're probably not ready to make the playoffs just yet, but they should play some exciting games with the offensive talent they've assembled.
The best of the bunch is third-year forward Taylor Hall, and he's ready to have his breakthrough season.
Injuries have been the only thing that's really slowed him down over the first two years of his career, and if he stays healthy he will not only finish in the top five in the NHL in scoring, he will at least compete for the Art Ross Trophy as the league's leading scorer.
Individual awards predictions
Hart Trophy -- Sidney Crosby

Of course, it's going with the obvious, but he's the best player in hockey and he finally appears to be healthy. I hate to turn this into one of those "[insert player name here] is in the best shape of his life" articles, but Sidney Crosby really does appear to be in better shape than he's ever been, and he's finally healthy after missing significant parts of the past two seasons due to neck and concussion issues.
He's entering his age 25 season, which is oftentimes the peak year for goal-scorers, and his per-game averages have been trending upward over the past few seasons. In 22 games last season he averaged a career-high 1.68 points per game when he was clearly less than 100 percent.
When he's healthy, he's the best player in hockey, and by the end of the season he should be the runaway favorite for the MVP award.
He could be ready to have his best season yet.
Vezina Trophy -- Pekka Rinne

Not only should Nashville's Pekka Rinne be a favorite for the award this season, he probably would have been a worthy winner last season as well. Actually, he's been one of the best goalies in the league for about four years now. Since the start of the 2008-09 season only three goalies in the league have a higher save percentage than the .921 mark that Rinne has produced.
The Predators leaned heavily on Rinne, asking him to appear in a league-high 73 games and he never showed any sign of slowing down, helping Nashville advance to the second round of the Western Conference playoffs.
Not only did he play more games than any other goalie in the league, he did so behind what was one of the worst possession teams in the league, one that gave up more than 30 shots per game. That workload probably shouldn't be expected to get any easier this season now that his former backup, Anders Lindback, is gone via an offseason trade to Tampa Bay, and Ryan Suter bolted to Minnesota in free agency. Still, if there's a goalie in the league who has proven he's up to that task, it's Rinne.
And if he gets Nashville into the playoffs, he should be rewarded for it.
Norris Trophy -- Oliver Ekman-Larsson

This would also fit in the "bold predictions" portion of this post, but if you're not up to speed on Oliver-Ekman Larsson you probably haven't been paying enough attention to the NHL's Western Conference.
Or the Phoenix Coyotes.
In his first full season in the NHL a year ago, Ekman-Larsson finished with 32 points (13 goals, 19 assists) and did it while playing top-pairing minutes. Usually young defensemen get sheltered by their coaches and aren't given tough assignments, but Coyotes coach Dave Tippett was willing to throw Ekman-Larsson right into the frying pan and put him up against some of the NHL's best forwards. Among the players he spent the most minutes playing against last season were Ryan Getzlaf, Anze Kopitar, Dustin Brown, Joe Thornton, Corey Perry, Patrick Kane, and Mike Richards.
That's not an easy task for any defenseman, let alone a 20-year-old in his first full season in the NHL.
He not only held his own, he often outplayed them. And not only that, his own teammates were better with him on the ice than they were without him.
He's ready to take a huge jump forward this season and become a star.

Calder Trophy -- Vladimir Tarasenko

This year's crop of rookies is absolutey loaded, and while Edmonton's duo of Nail Yakupov and Justin Schultz will get most of the attention, St. Louis is also prepared to unleash one of the best young prospects in hockey, Russian forward Vladimir Tarasenko.
He was the Blues' first-round pick, No. 16 overall, back in 2010 and has been in the KHL the past two seasons. Before the lockout came to a close, he was averaging a point-per-game for SKA St. Petersburg and was their fourth-leading scorer despite being the youngest regular on the team.
He is loaded with skill and could be one of the more exciting rookies in the league.
For more hockey news, rumors and analysis, follow @EyeOnHockey and @agretz on Twitter and like us on Facebook.
Vladislav Yeryomenko was the Teddy Bear Toss goal scorer for the Calgary Hitmen

The Golden Knights are finally getting their No. 1 goalie back after a 25-game absence

Washington has won four straight, and the Kings are also on a tear right behind the Lightn...
The NHL says it's only interested in expanding to Seattle, but here's a look at all the moving...

The NHL says it is only looking toward Seattle for the next expansion team

The 33-year-old defenseman hopes to help find a cure for serious head injuries in athletes