NHL 2013 season preview: Stubits' five bold predictions, award picks
Brian Stubits makes his picks for the 2013 NHL season, including the Canucks finally winning the Cup and Sidney Crosby taking the Hart.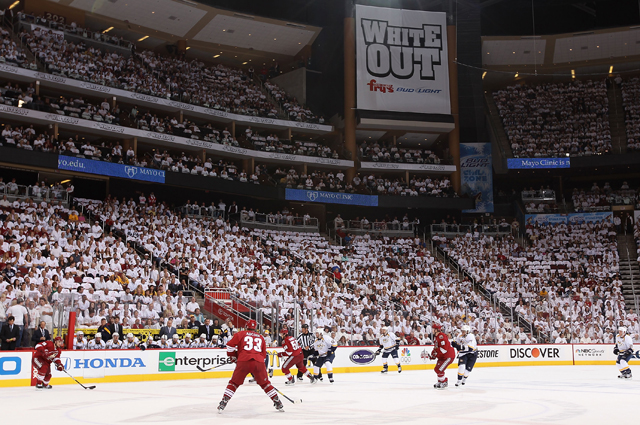 Brian Stubits predicts the Coyotes will host more WhiteOuts this year. (Getty)
Preview: Team-by-team | Picks | 50 things to watch | Top 50 players | All-NHL
Here are my five bold predictions for the 2013 NHL season: 
1. Canucks will win the Stanley Cup:  I believe this to be pretty bold.
2. The Phoenix Coyotes will make the playoffs: Again. They do this every season, starting with predictions of being near the bottom of the Western Conference and then they defy the prognosticators and reach the playoffs. I see no reason why this season will be any different.
3. There will be no coaches fired during the season: But there will be the usual slew of firings once the season is finished. NHL franchises usually go through coaches like a kid through candy, and the temptation to fire coaches with slow starts this season might be even greater than normal with so little time to make it up. But that's exactly it -- there's so little time. Rushing through a coaching decision probably isn't worth it.
4. Roberto Luongo won't be traded this season: GM Mike Gillis is not required to trade Luongo after the politest trade request known to sports. It's a slightly uncomfortable situation with two guys who can be No. 1 goaltenders, but they have both handled it well. In the condensed season, having two excellent goalies is a tremendous luxury that Gillis would be wise to hang onto. Besides, he hasn't dealt him yet. Are the offers going to get that much better?
5. The Southeast will be the most interesting division in hockey: It will give the Pacific a run for its money, but things are as wide open as can be in the Southeast. It might still not have the top-heavy teams -- in other words, don't confuse this with best division in hockey -- that other divisions like the Atlantic do, but they are getting better and are all on about the same level. You can look at three different predictions and see three different winners for the division between Washington, Tampa Bay and Carolina. That's not even mentioning the defending division champions in Florida or the Jets with their home-ice advantage and having done nothing that makes them nothing but better this offseason. From a pure drama standpoint, the Southeast shouldn't be such a bore this time around.
Bonus prediction: My predictions are going to be waaaay off. It's why I'm not a gambling man.
Individual awards predictions
Hart -- Sidney Crosby 

As far as individuals go, no way there is a player I'm more interested in watching this season than Sidney Crosby. For the first time in what seems like ages, he's going to start a season healthy. And based on what we saw last season when he was on the ice, that's not a good sign for the rest of the league.
A lot of people have begun dreaming about the possibilities of Steven Stamkos chasing 50 goals in 48 games, but I'm not holding my breath on that one at all. The more interesting race for me will be to see how many points Crosby can rack up.
At 25 years old, this should be the prime season of his career. He was showing that last season when he had a crazy 37 points in only 22 games, or a career-best 1.68 points per game. The goal-scoring wasn't there, but the play-making certainly was. And just as it took him a little time to grow into a huge goal-scorer (in relative terms) in his career, it might take him a little more time to find the goal-scoring form again. After the long break, it should be back.
Undeniably, the Hart is as much a team award as it is an individual award -- like an MVP honor in any sport. There, Crosby obviously has a big advantage with the Penguins expected to be contenders once again for the Stanley Cup.
When Crosby is on the ice, it's almost impossible to deny that he's the best player out there -- even if some fans, mostly from Philadelphia, will try. He'll show why this season.
Vezina -- Jonathan Quick

The King, Henrik Lundqvist, finally broke through last season and took his seat on the throne as best goaltender in the game, even if it was just barely over Jonathan Quick of ... the Kings. The two figure to be in a tight battle again this season for the award.
What could end up being a deciding factor in the race is how many games they will play. With a shorter schedule, that means there will be more games close together, and you figure the backups are going to be even more important this season. The shift in recent years in New York already has been to diminish the number of games that Lundqvist has been playing to keep him fresher for the playoffs.
In L.A., meanwhile, Quick is still in his youthful days and has had a long offseason to recover from the big playoff run, meaning he should be good to go. Though the Kings have a very capable backup in Jonathan Bernier, you can expect Quick to get a lot of action in net for L.A. -- he's that important for them.
For that reason, I'm going to pick the guy whom I felt should have won the award last season: Jonathan Quick.
Norris -- Alex Pietrangelo

For years, Shea Weber has been waiting for his coronation as the best defenseman in the NHL, and here's saying he'll have to wait another year at least.
He was late to the race last season and was ultimately unable to get enough attention to become a serious contender, but Alex Pietrangelo is the best defenseman on the best defensive team in the NHL. The St. Louis Blues were as stingy as stingy gets last season, and it's probably not going to change much this year as long as Ken Hitchcock is still behind the bench (which he is).
As we all learned last year with Erik Karlsson in Ottawa, offensive numbers certainly do matter in the Norris race, and Pietrangelo can do that, too. Last season, he set career highs in goals (12) and assists (39) to break the 50-point plateau at just 22 years of age. He's also a minutes-eater, playing almost 25 minutes per game last season.
As mentioned with the Hart, team success does nothing but help one's candidacy for an award like this, and the Blues will do their part. Though they were trounced in the playoffs by the Kings, I don't think the Blues were a fluke last season. And for the record, everybody was trounced by the Kings. The Blues will be Presidents' Trophy contenders again, and Pietrangelo will start to get his due.
Calder -- Justin Schultz

This rookie class is stacked beyond belief, as I touched upon previously. But the safest bet of all is to lay your Monopoly money down on an Edmonton Oiler winning the award.
The natural assumption is that the best Oiler on the ice will be the best player in last summer's draft, No. 1 overall selection Nail Yakupov. While I wouldn't blame you for going in that direction, the better option is on the Oilers' blue line in Justin Schultz.
Never can I remember such hype being made about a player who had never even played in an NHL game. He had his own mini free-agent circus last summer after he became a free agent by not signing with the Anaheim Ducks after being drafted. The established teams like the Canucks were in the hunt, but Schultz ultimately decided on the up-and-coming Oilers -- and here we are.
His numbers while playing at the University of Wisconsin were impressive enough. That's why so many teams were tripping over themselves to try to sign him. And what he did in the AHL during the lockout with the Oklahoma City Barons was eye-popping. He was second in the entire league in points, behind only his Edmonton teammate, Jordan Eberle. Keep in mind, that was his first taste of professional hockey.
To expect Schultz to be able to put up numbers like 48 points in 34 games as he did in the AHL is unreasonable. But even at a more modest pace than that, he'll still be able to impress enough to win the Calder.
For more hockey news, rumors and analysis, follow @EyeOnHockey and @StubitsCBS on Twitter and like us on Facebook.
Stacia Robitaille says Donald Trump told her in an elevator that she was coming home with...

Vladislav Yeryomenko was the Teddy Bear Toss goal scorer for the Calgary Hitmen

The Golden Knights are finally getting their No. 1 goalie back after a 25-game absence
Washington has won four straight, and the Kings are also on a tear right behind the Lightn...

The NHL says it's only interested in expanding to Seattle, but here's a look at all the moving...

The NHL says it is only looking toward Seattle for the next expansion team