NHL 2013 season preview: Top rookies to watch in a loaded class
In terms of rookie classes, you'll be hard-pressed to find one that has as much potential as this season's. It's too bad we'll only get to see the Calder Trophy race for only 48 games.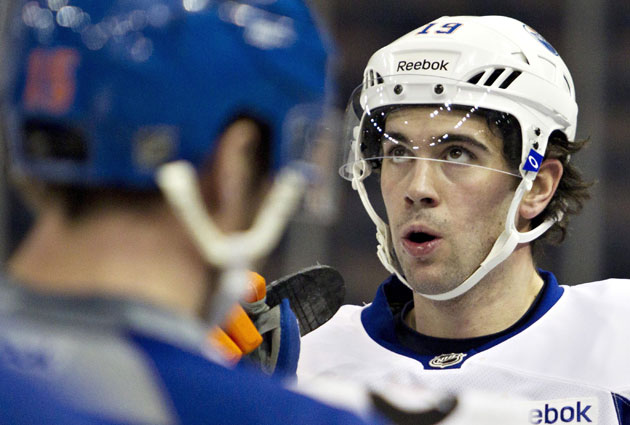 Justin Schultz put up monster numbers in the AHL during the lockout. (AP Images)
Preview: Team-by-team | Picks | 50 things to watch | Top 50 players | All-NHL
In terms of rookie classes, you'll be hard-pressed to find one that has as much potential as this season's. It's too bad we'll only get to see the Calder Trophy race for only 48 games.
In this year's class, you have a guy who was drafted No. 1 overall, others who were in the top 10 of their drafts and you even have a player who was a highly coveted free agent before he ever played an NHL game. There are junior champs, NCAA stars and foreign sensations.
So when I set out to tab the top-10 rookies of this season, it became apparent how hard it would be to cut it down to only 10. To boot, there is likely to be a couple of surprises that come off the radar. They can't all be first-round picks who are heralded all the way through the system.
As camps move along at a cheetah's pace, here are 10 rookies whom you should try to watch this season, 10 names who at some point or another will likely be mentioned in the Calder race. They are in no particular order.

Jonathan Huberdeau, Florida Panthers: The third overall pick by the Panthers two summers ago, Huberdeau was their place player in camp last season but the Panthers elected to go the patient route and return him to his junior squad.
Versatile enough to play on the wing (likely) or at center, Huberdeau should bring some much-needed offense to Florida. In 2011-12 with the Saint John Sea Dogs of the QMJHL, Huberdeau had 30 goals and 42 assists in just 37 games.

Mark Scheifele, Winnipeg Jets: The Jets surprised some when they took Scheifele No. 7 overall in the 2011 draft; he wasn't projected to be a first-round pick by most. But the Jets were familiar with him and gave him a shot; it looks like it might pay off.
Scheifele made the Jets' team out of camp last season, lasting through the first seven games in which he turned in just one goal. He was returned to his junior team in the OHL. This season in just 30 games with the Barrie Colts, Scheifele has 22 goals and 27 assists.

Chris Kreider, New York Rangers: You remember Kreider, the player who made the jump from winning the NCAA championship with the Boston College Eagles to joining the Rangers to start the playoffs. He has yet to actually play in a regular-season game but already has seven points as an NHL player. In 18 postseason games, Kreider had five goals with two assists while getting a modest 13:09 of ice time per game.
The hopes were really high for Kreider, and they skyrocketed with his flashes of promise in the postseason. But the first-rounder in 2009 has struggled this season in the AHL with the Connecticut Whale. In 33 games, he has just five goals and seven assists. He might end up staying with the Whale to get more time in the pro game as the top two lines in New York are getting crowded and Kreider doesn't seem particularly suited to play on a checking line.

Nail Yakupov, Edmonton Oilers: Here is your No. 1 overall pick in this year's rookie class. He joins an increasingly potent group of Oilers forwards. That tends to happen when you pick first in three consecutive years.
Believe it or not, there were some questions about Yakupov, mostly given that he's Russian. They mostly concerned fears about him wanting to play in Russia instead of in the NHL, which is silly. He proved playing for the Sarnia Sting in the OHL that he would not only play in North America but that he could play really well. He did spend the lockout with a KHL team, though, and showed well. He had 10 goals and eight assists in 22 games playing against grown men. He disappointed some at the World Juniors, but Yakupov is going to fit right in with the electric cast in Edmonton.

Justin Schultz, Edmonton Oilers: Here's the funny part; Yakupov probably won't even be the best rookie on his team. Schultz was selected No. 43 overall in the 2008 draft by the Anaheim Ducks but he never actually signed and, after three years of playing at the University of Wisconsin, he was a free agent. The battle for his services was fierce, but he elected to head to Edmonton, and are they glad he did.
Schultz is next in the line of scoring defensemen in the NHL. His numbers at Wisconsin were one thing, but what he did during the lockout with the Oklahoma City Barons was another altogether. He was second in the entire league in points scored, only three behind teammate Jordan Eberle. As a defenseman. He had 18 goals with 30 assists in 34 games. If that's any indication, the Oilers are in for a treat. No wonder the hype was so great.

Dougie Hamilton, Boston Bruins: Hamilton fell a little further than many anticipated in the 2011 draft, but the Bruins were more than happy to scoop him up there. The 6-foot-5 defenseman has the makings of being a very good player for a long time.
Throughout his junior career, he has provided plenty of offense -- in 50 games last season with the Niagara Ice Dogs, he had 17 goals and 55 assists -- but he is expected to be a solid two-way player. He did struggle some in the World Junior Championships with Team Canada, causing some to wonder if he's ready for the NHL, but GM Peter Chiarelli has said he expects Hamilton will be on the team.

Alex Galchenyuk, Montreal Canadiens: Galchenyuk was the No. 3 overall pick in last summer's draft to the Canadiens though he only played two games in 2011-12 before the draft because of injury. But there's no doubting Galchenyuk's ability.
He is obviously healthy again. In 33 games with the Sarnia Sting in the OHL -- without Nail Yakupov, who was in Russia -- he had 27 goals and 34 assists. He also was part of the gold medal-winning American squad at the World Juniors. While he didn't seem to stick out, he still finished with eight points in seven games. He has impressed thus far in Canadiens camp, but there's no guarantee he'll make the team yet. The Habs could use him and his offensive ability, though, so look for him to be with the big club.

Sven Baertschi, Calgary Flames: The NHL got a taste of what Baertschi can bring to the table last season, when he was an emergency call-up from the Portland Winterhawks of the AHL. In just five games with the Flames, he took Calgary by storm, scoring three goals. That was while he was having a monster campaign with the Winterhawks, racking up 94 points in just 47 games, or exactly two points per game.
Baertschi, from Switzerland, was the No. 13 overall pick in the 2011 draft by the Flames. He figures to bring a level of production and energy that they could really use with an increasingly aging roster in Calgary. While his impressive start last season probably can't be expected to be duplicated, he has already shown he can be electrifying at the NHL level.

Mikael Granlund, Minnesota Wild: Everybody is waiting to see what Zach Parise and Ryan Suter look like with the Minnesota Wild, but Granlund is equally intriguing. Reports on this kid's ability rave about his offensive skills, another one of the great players to come from Finland.
You know you're good when they make a stamp with one of your goals.
Already a star back in Finland, the No. 9 overall pick in 2010 could become one in short order in Minnesota, too. They have a need for offense, which they obviously tried to address with Parise and Suter, but they could still use more. In 21 games with AHL Houston during the lockout, Granlund was a point-per-game player.

Vladimir Tarasenko, St. Louis Blues: Tarasenko was selected No. 16 overall in the 2010 draft by the Blues. Ever since, the fans have been waiting on news of his every move to see when he would be coming to the NHL. This would appear to be the time.
Tarasenko has been playing in the KHL since being drafted, the last two seasons with SKA St. Petersburg -- the team that employed Ilya Kovalchuk during the lockout. In 31 games this season, he had 31 points -- 14 goals, 17 assists -- and figures to be a jolt in the arm for an offense that could use one. He has raw offensive potential that could make the Blues even more dangerous if it translates right away. Keep in mind, though, this will be his first experience playing in North America.
Others to consider: I told you it was tough to limit this to just 10. Also on your radar should be Cory Conacher in Tampa Bay, Jamie Oleksiak in Dallas and Mikhail Grigorenko, who might make the team in Buffalo.
That doesn't even include these two who might stick with their NHL clubs this season: Ryan Strome with the Islanders and Morgan Rielly in Toronto. As I said, this class is ridiculously stacked.
Just missed the cut: Two guys who feel like they should be rookies don't technically qualify. Cam Atkinson in Columbus seems set to have a breakthrough but he played in 27 games last season, two above the rookie cutoff. In Detroit, there will be a newcomer in Damien Brunner. But, at age 26, he's too old to be considered a rookie. The same goes for Roman Cervenka in Calgary, at 27.
But considering they are all new or relative babies to the NHL scene, they are rookies in spirit.
For more hockey news, rumors and analysis, follow @EyeOnHockey and @StubitsCBS on Twitter and like us on Facebook.
NHL fans from all over seem to agree on one thing: Hating Kid Rock

The team tweeted on Monday that Shaw would be re-evaluated in 7-10 days

The Montreal forward was hospitalized after taking a Zdeno Chara slap shot to the head
Tampa Bay is still No. 1 and Vegas is still up there, but a few others are finally catching...

Army filed an opposition to the use of 'Golden Knights' on the last day that it was permitted...

The NBC rinkside reporter is hoping to return in time for the 2018 Olympics