NHL All-Time Teams: Chicago Blackhawks
When it comes to making a first-team all-time Blackhawks squad, a couple picks are easy: Bobby Hull and Stan Mikita. Defense is tougher.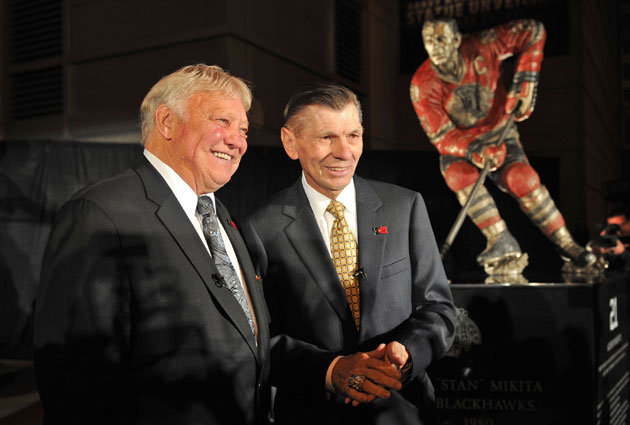 More NHL offseason: Rumors | Top 50 Free Agents | Buyout Tracker | Trades | Transactions
Ah, hockey in the summer, where things come to a grinding halt for about two months in between one long season and another. To fill the void we at Eye on Hockey thought it would be fun to make an all-time team for each of the 30 organizations in the NHL today.
The ground rules: The teams will consist of a center, two wings (regardless of which side), two defensemen and a goaltender. A player must have spent at least 200 games with a franchise to be considered. So Bobby Orr won't be on the Blackhawks' roster or Wayne Gretzky for St. Louis.

We get this series started with a bang by going with one of the Original Six squads steeped in history: the Chicago Blackhawks.
The Blackhawks are on top of the hockey world now, but that hasn't always been the case. They certainly had their golden years but there were plenty of lean years in between under the ownership of "Dollar" Bill Wirtz. Still, between the great teams of the 60s and the Blackhawks' run in the late 80s/early 90s, they have some of the best names the sport has ever seen.
The past stars are so good that the players on the roster today, as good as they are, aren't going to crack this all-time list. Perhaps when their careers are all said and done, guys like Jonathan Toews, Patrick Kane and Duncan Keith will be in the conversation, but that will be one heck of a conversation because as you'll see, the Hawks have had some greats.
Denis Savard: We had to get a little creative here to squeeze Savard in, but it just felt wrong to have an all-Blackhawks team with Savard on the ice. He was part of those Blackhawks teams in the 1980s that were offensive monsters. Five times from 1981 to 1988 he had at least 105 points, topping out at 131 in 87-88 (44 goals, 87 assists). He made a couple of stops in Montreal and Tampa Bay before returning to Chicago to finish out his career.
Despite playing just 904 games as a Blackhawk, Savard is third all time in franchise history with 1,096 points and second with 719 assists. From a points-per-game standpoint, there has never been a more productive Blackhawk.
For the record, we're just going to forget that he coached the Blackhawks for 147 games from 2006-08 with no playoff appearances. We'll choose to remember him for being a star. That and basically patenting the spin-o-rama.
Bobby Hull: When it came to constructing this team it was a lock that Hull would be on it with Mikita. The Hall-of-Famer played until he was 41 years old and the Blackhawks got the bulk of that career -- and the best of it. He spent 15 seasons in Chicago and was a scoring monster in those years. In seven of his 15 seasons in Chicago he led the NHL in goals, breaking the 50-goal mark four times.
It should be no surprise then that Hull is the franchise's leader in goals scored with 604 in 1,046 games, a pretty incredible 0.58 goals per game.
I'm not sure that Hull is the best player to ever put on a Blackhawks sweater -- that honor probably goes to Bobby Orr and maybe Phil Esposito over Hull -- but as far as players who you identify with the Hawks, Hull is the man.
Stan Mikita: Mikita is one of the best centermen to ever play the game and is the Mr. Blackhawk in franchise history. The man is revered in Chicago still to this day and for good reason; he played his entire career with Chicago and it was spectacular. He was at his best when centering Chicago's famed Scooter Line in 1959 and then played on the wing some near the end of his career, allowing me to move him over to the wing and make room for Savard at center here.
In terms of the franchise records, Mikita is at or near the top of each of them. His 1,394 career games, 926 assists and 1,467 points all rank first in franchise history while his 541 goals are the second most in Chicago. He is in the conversation of not only best Blackhawks ever but best players ever. It just makes it all that much better he spent his whole career with Chicago.
Plus, anybody who was immortalized in Wayne's World has to be on the team, no questions asked.
Chris Chelios: Chelios might not be the most popular player in the Windy City these days but there's no denying how good he was for his seven seasons in Chicago. He had a strike against him from the start when the Blackhawks acquired him from Montreal as it cost them Savard in a trade. But it didn't take long for the hometown kid to win people over.
Chicago didn't get Chelios until he was 29 years old but they still got some of the man's best hockey. He won the Norris Trophy twice in his seven-plus seasons with the Blackhawks and put up some monster point numbers (twice above 72) while playing ferocious and pestering defense. There was never a season in his time with Chicago that he didn't take part in the All-Star Game repping the Hawks.
Unfortunately for him he was in Chicago when things went way south with the franchise and he found himself out of town to the hated Red Wings, something fans carry a resentment over still today. But there's no doubt that Chelios was great as a Hawk and should be on this squad, hands down.
Doug Wilson: Known today as the general manager of the San Jose Sharks and that organization's first star and captain, Wilson was quite the star defenseman in Chicago before the Sharks even came to be. He was simply outstanding as an offensive player from the back end, scoring a career-best 39 goals in 1981-82. Fittingly, he won the Norris Trophy that season, showing that it's not just a new phenomenon that great offensive prowess will get you the award as the league's top defenseman.
In total Wilson spent 938 games playing on the Chicago blue line, second among Blackhawks all-time behind another current NHL GM, Bob Murray. In total, he's the fifth all-time leading scorer in Hawks history with 779 points in those 938 games. It bears repeating; he was a defenseman.
This was the one position where I thought hardest about putting a current-era player into the mix in Duncan Keith. He might be here when his career is all said and done, or even when winding down. Murray and Pierre Pilote were also in consideration -- strong consideration on Pilote's end.
Tony Esposito: There were some tough decisions on this team. This wasn't one.
Esposito spent 13 games in Montreal to begin his career before he was claimed by the Blackhawks and he never looked back. From his first season he was a star in Chicago, truly. He not only won the Calder Trophy as the league's best rookie in 1969-70, but he also took home the Vezina as the top goaltender. He would go on to win the Vezina twice more with the Blackhawks. Of course he's the Hawks' all-time leader in victories with 418 (he's also tops in losses with 302, an inevitability for a long-time tender).
Esposito backstopped the Hawks from 1969-70 until his career came to an end in 1983-84, serving as the No. 1 for almost the duration of that time. As a result, Esposito is far and away the best goalie in franchise history. He was such a mainstay that he cracks the organization's top 10 in games played, a rarity for goaltenders.
Notable omissions
Steve Larmer, Jeremy Roenick, Ed Belfour, Phil Esposito, Bob Murray, Pierre Pilote, Jonathan Toews, Patrick Kane, Duncan Keith
Saturday's showdown will serve as a rematch of one of the NHL's first-ever regular season...

Stacia Robitaille says Donald Trump told her in an elevator that she was coming home with...

Vladislav Yeryomenko was the Teddy Bear Toss goal scorer for the Calgary Hitmen
The Golden Knights are finally getting their No. 1 goalie back after a 25-game absence

Washington has won four straight, and the Kings are also on a tear right behind the Lightn...

The NHL says it's only interested in expanding to Seattle, but here's a look at all the moving...