NHL All-Time Teams: Detroit Red Wings
With two long golden eras, the Red Wings have a lot of candidates for their all-time team. Stevie Y and Gordie Howe were locks, however.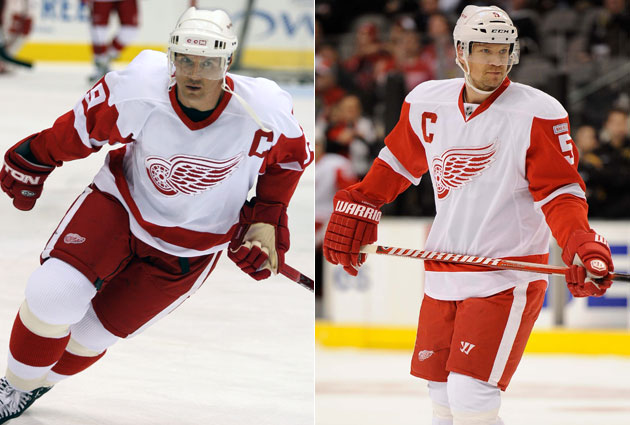 More NHL offseason: Rumors | Top 50 Free Agents | Buyout Tracker | Trades | Transactions
Ah, hockey in the summer, where things come to a grinding halt for about two months in between one long season and another. To fill the void we at Eye on Hockey thought it would be fun to make an all-time team for each of the 30 organizations in the NHL today.
The ground rules: The teams will consist of a center, two wings (regardless of which side), two defensemen and a goaltender. A player must have spent at least 200 games with a franchise to be considered. So Bobby Orr won't be on the Blackhawks' roster or Wayne Gretzky for St. Louis.

The Detroit Red Wings are the third Original Six team we've had in this series so far and are easily the toughest to build an all-time roster. Why? Because they have so many choices, so many guys who excelled in Detroit for long periods of time through a couple of glorious eras of Red Wings hockey.
Making things even more challenging is the fact that the Wings did it over a couple of different time periods. No other team so far has really pushed the difference between the game of yesteryear and the game of recent years. Comparing across the eras is already tough. Take the amount of great players from different eras the Wings have had and it's as tough as it gets.
What will be even tougher is in a few years from now when this most recent group of Red Wings stars reach the end. Until then, here's how it shakes out and I hardly expect this will yield total agreement.
Steve Yzerman: Goodness, there are some good choices here. Only one can make it and how can it not be Stevie Y? If it weren't for some guy known as Mr. Hockey then Yzerman would be known as the greatest Red Wing of all time. He was simply a monster for years, spending his whole career in Detroit and missing the playoffs only twice. He was the captain and leader of the team through the glorious 1990s and into the 2000's.
Yzerman reached his peak pretty early, hitting the 100-point mark as a 22-year-old, starting a string of six straight seasons with at least 100 points that included a whopping 155 in 1988-89 (65 goals, 90 assists). Excluding the strike-shortened 1994-95 season, Yzerman only had fewer than 40 points twice in his career; in 2002-03 when he played just 16 games due to injury and his final season. His trophy case is stuffed too, holding the Ted Lindsay, Conn Smythe, Selke and Masterton trophies as well as three Stanley Cup rings.
There are a ton of great choices down the middle for the Wings. None are better than Yzerman with his 692 goals, 1,755 career points, all in the winged wheel.
Gordie Howe: Mr. Hockey is also Mr. Red Wing. The man, the myth and the legend played 25 seasons in Detroit starting in 1946 and ending in 1970-71. Even at 42 years old he still had 23 goals and 29 assists in 63 games. He led the NHL in goals five times, the NHL in scoring six times in his time with the Wings.
Oh, it only gets better. He was a 23-time NHL all-star, 22 coming in Detroit (and the 23rd coming in 1980!). He is a six-time Hart Trophy winner as the MVP of the league in addition to his six Art Ross trophies and winning the Stanley Cup four times. I mean the guy finished in the top five in scoring in the NHL for 20 seasons in a row -- 20! He was even more than a scorer too, having his own type of hat trick in the NHL: a goal, an assist and a fight in one game. Without a doubt one of the most remarkable careers -- if not the most remarkable -- and the vast bulk of it was spent with the Red Wings. No surprise he's the franchise leader in games played (1,687), goals (786) and points (1,809).
He was so popular he was even recognized on What's my Line.
Ted Lindsay: Filling out the second wing spot was definitely a lot harder to do but you can't really go wrong with a guy who has an award named after him today. Lindsay was a linemate with Howe during the Wings' run during the 1950s, part of the famed Production Line. He didn't quite put up the same numbers as Howe but he was absolutely not a slouch, beginning his career with the Wings a couple of years before Howe and leading the NHL in goals in 1947-48 with 33.
One of the remarkable things about Lindsay was that he took five years off at age 34 after three seasons with the Blackhawks and then came back at 39 to play one last season for the Wings, scoring 14 goals and 14 assists in 28 games. He was also instrumental in founding the NHL Players Association, an additional job to his one on the ice. Further, he's part of the reason elbowing and kneeing were made penalties ... because he was guilty of doing them a lot himself. Why do you think they called him Terrible Ted? He has many legacies from his hockey days.
Despite not playing as long as some of the other Red Wings, Lindsay is still eighth in franchise history with 728 points and fifth in goals at 335. He and Howe made quite a team.
Nicklas Lidstrom: It's back to the modern era we come for Lidstrom, a very easy selection to be on this or just about any other team you could make in hockey. The man, who could probably still play right now at a high level, dominated the game from the defensive position for years. This one is fresh in fans' minds today since he retired so recently but Lidstrom was so dominant that he won the Norris Trophy seven times in his career, six in a span of seven seasons.
Talented at both ends of the ice -- he is fourth all-time in points as a Red Wing with 1,142, third in assists -- Lidstrom was a stalwart for some excellent Red Wings teams. He was part of four Stanley Cup champions and he won the Conn Smythe in 2001-02. Simply put, Lidstrom is one of the very best to ever play and that's not limiting the conversation to just defensemen.
His jersey will join these guys soon enough.
Red Kelly: It wasn't just about Howe and Lindsay during the '50s for the Red Wings. Guys like Kelly played a pretty big role as well. At this point in his career Kelly was still playing on defense, something that would change when he was traded to Toronto. That shows the kind of versatility and overall skill Kelly had.
As a member of the Wings, Kelly was a Lady Byng winner three times and took home the Norris in 1953-54. He also appeared in nine All-Star Games with the winged wheel on his chest. Kelly also won the Stanley Cup four times with the Wings -- and four more with the Maple Leafs! -- helping him to earn his spot in the Hall of Fame. Oh, he also found time to go into politics (although that was while in Toronto). Quite a career.
Terry Sawchuk: Finally from those golden years in the '50s for the Red Wings was the last line of defense, Sawchuk. It was until relatively recent times that Sawchuk was known as the greatest goalie ever -- and some will still say as much -- and he spent the majority of his career in Detroit with three separate stints as a Wing. He backstopped them to three of those four Stanley Cup titles in that era.
Sawchuck began his career with the Calder Trophy as the top rookie and then won the Vezina three times as a Wing (four overall). He had a stretch of five straight seasons from 1950-51 through 1954-55 where he never had a goals against average above 2.00 in any season. As a result he's fifth all-time in the NHL in wins (and obviously is Detroit's leader) and did have more shutouts than any player in NHL history until this fella named Martin Brodeur came along and passed him in 2009.
Now as a bonus, here's some footage of Sawchuk in action in 1958 against the Leafs -- and a few other players on this here team as well. This is pretty awesome to watch.
Alex Delvecchio, Marcel Pronovost, Sergei Fedorov, Sid Abel, Brendan Shanahan, Pavel Datsyuk, Norm Ullman, Henrik Zetterberg, Paul Coffey, Brian Rafalski, Reed Larson, Tomas Holmstrom, Chris Osgood, Kris Draper
Players are set to give personalized messages for Adidas' former hockey equipment brand

The 40-year-old center is returning to the Wild after a successful run in Pittsburgh

Edmonton locks up its 21-year-old RFA a month after McDavid's historic extension
Even with a new coach and added veteran help, the Canucks have a long road ahead

Unlike expansion teams before them, the Knights have enough talent to entertain right away

Brian Lawton says he 'would not be surprised' if Boston deals its young star to end contract...