NHL All-time teams: Los Angeles Kings
The Kings have been in LA for more than 40 years but have won the Stanley Cup just once. That's not a sign of a lack of talent, especially at center.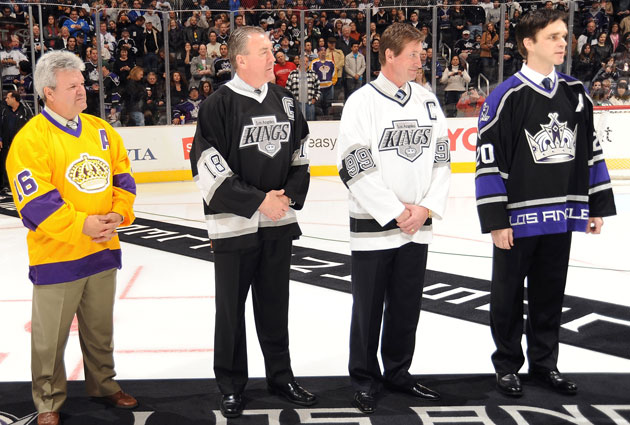 More NHL offseason: Rumors | Top 50 Free Agents | Buyout Tracker | Trades | Transactions
Ah, hockey in the summer, where things come to a grinding halt for about two months in between one long season and another. To fill the void we at Eye on Hockey thought it would be fun to make an all-time team for each of the 30 organizations in the NHL today.
The ground rules: The teams will consist of a center, two wings (regardless of which side), two defensemen and a goaltender. A player must have spent at least 200 games with a franchise to be considered. So Bobby Orr won't be on the Blackhawks' roster or Wayne Gretzky for St. Louis.

It was until just last year that the Los Angeles Kings were riding one of the longest Stanley Cup droughts in the NHL. Despite coming into existence in the 1960s, they had never won the Cup until they ran from the eighth seed through the Western Conference and to the Cup with nary a speed bump.
But don't mistake that for a franchise that hasn't had some of the all-time greats pass through. When it comes to centers, two of the absolute best to ever play both called LA home for times during their career. There's only room enough for one of them here.
And while we're on it, their Twitter feed deserves a mention as being the best around. Nobody will ever forget this tweet.
To everyone in Canada outside of BC, you're welcome.

— LA Kings (@LAKings) April 12, 2012
Marcel Dionne: Through the length of this summer series I have not had a tougher call to make at one position than this and I'm surely going against the conventional wisdom on this one. How can it not be Wayne Gretzky?!?
While I won't dispute that Gretzky is the greatest player to ever put on a Kings sweater, let's not act like Dionne wasn't something special before Gretzky came along. He was the face of the franchise when the team was still wearing gold and purple every night. A damn good face of the franchise.
Ultimately, despite the fact that Gretzky had a couple of better seasons in LA, I couldn't pass up on Dionne because of how long he was a King and how strong he was while there. His 550 goals are only seven behind Luc Robitaille for most in franchise history -- and 304 more than Gretzky -- while his 757 assists and 1,307 points are the most in LA's history.
The impact that Gretzky had on the franchise is unparalleled, making this decision oh so very hard. I'm going out on the limb for Dionne over Gretzky for the sheer fact that he came first and was big in LA for much longer. His Kings' on-ice career is a touch more impressive to me. It just doesn't feel right to have the franchise leader in points not on the team. Besides, it's not as if a 1.42 points-per-game average is anything to sneeze at.
You can scroll down to the bottom of the page and find a comments section to point out just how wrong I am but the fact is one of the franchise's two best players of all time was going to miss this list.
Luc Robitaille: There were no such conundrums at the first wing spot. It's Robitaille in a runaway. It's a pretty good thing the Kings were insistent that they wouldn't trade Robitaille to land Gretzky from Edmonton, now isn't it? It's not as if Robitaille was a product of Gretzky's play-making abilities -- he had 53 goals and 58 assists in 1987-88, before the trade -- but it sure didn't hurt Robitaille's career.
All Robitaille did in LA was play 1,077 games, score a franchise-best 557 goals and finish with 1,154 points, not bad for a guy who had three separate stints with the Kings. He just couldn't quit the Kings and still can't as he remains very involved with the franchise today.
Dave Taylor: When you scan the top of the Kings record books there's another name that will keep on showing up, a name that doesn't have the words "Hall of Famer" before them: Dave Taylor. He played more games as a King than any other player -- 1,111 -- and is third with 431 goals, 638 assists and 1,069 points for a career that was all spent in Los Angeles.
Taylor had the somewhat remarkable fortune of playing with both of the Kings' great centers in his time there. He teamed up with Dionne and Charlie Simmer on the Triple Crown Line, a line where all three players eclipsed the 100-point mark in 1980-81 (Taylor had 47 goals and 65 assists).
He was still in LA when Gretzky came to town and hung around long enough to join the Kings on their first run to the Stanley Cup Final. Oh, and he later became the GM and brought Robitaille back for stint No. 2. All in all, a pretty great King, evidenced by his No. 18 hanging in the rafters.
Rob Blake: Another player who had a couple of stints with LA and is now back in the front office, Blake had some great years in LA, coming onboard just when the Gretzky era began. It didn't take long for Blake to establish an offensive presence from the blue line, netting 46 points in his first full NHL season and then scoring 20 goals with 48 assists (and career-high 68 points) in 1993-94.
Blake didn't stop there, though. He became the first (and remains the only) Kings defenseman to win the Norris Trophy in 1997-98 when he had a career best 23 goals in nearly 25 minutes per game. Blake then went to Colorado to win the Cup only to return to LA for two seasons before finishing his career in San Jose.
Blake was always about a bit more than offense though, especially in his younger days. His first four full seasons in the NHL resulted in triple-digit penalty minutes. All told he is seventh in assists and points in franchise history while sitting fourth in games and, yes, penalty minutes. The guy could obviously hit.
Drew Doughty: This is another spot that was very tough to make a call on but unlike center, it's not choosing between obviously great players here. Really it came down to Doughty, Jay Wells, Mark Hardy and Bob Murdoch. Obviously, I'm going youth.
Doughty is only 23 so it speaks well to how he has performed in his short career. He has the look of an elite two-way defenseman for a long time to come. In just his second season he had 16 goals with 43 assists and while his offensive numbers have gone down a bit in the seasons since, his play hasn't. He averages more than 25 minutes per game and has become very reliable at both ends of the ice. Considering he has a new eight-year contract, it's only a matter of time before Doughty runs away with this spot compared to the rest of the field.
Jonathan Quick: Another tough decision as both Rogie Vachon and Kelly Hrudey are squarely in the conversation. Already Quick has shown enough to warrant this spot and he should have many more years to add to it. What he did in the Kings' Stanley Cup run in 2012 was simply awesome, really good in the regular season and somehow almost twice as good in the postseason.
It's about more than that one run, though. Quick has a career .915 save percentage, which is best in franchise history among those with save percentages on record, and something that we can tell on any goalie in history -- goals against average -- Quick leads there, too. He's already nearing Vochon in wins and shutouts. I am using a little forecasting here, yes, but I think already Quick has done enough to be worthy of the spot.
I can tell you he's pretty excited to be here, too (NSFW language warning).
Wayne Gretzky, Bernie Nicholls, Dustin Brown, Anze Kopitar, Rogie Vachon, Kelly Hrudey, Charlie Simmer, Butch Goring, Ziggy Palffy, Jim Fox, Mark Hardy
NHL players are still disappointed they won't be going to skate in PyeongChang

With Artemi Panarin in the mix and a Vezina winner headlining the defense, Columbus can be...

The league's crackdown on faceoff infractions and slashing penalties isn't without some cr...
Joffrey Lupul spent last season on long-term IR but seems to be saying he's healthy

Early playoff trouble has been evident, but the Wild tout an offense capable of making another...

Why walk with skate guards when you can rollerskate instead?