NHL All-Time Teams: Ottawa Senators
For a team that hasn't been around long and has not won a Stanley Cup, the Ottawa Senators have had an impressive roster over the years.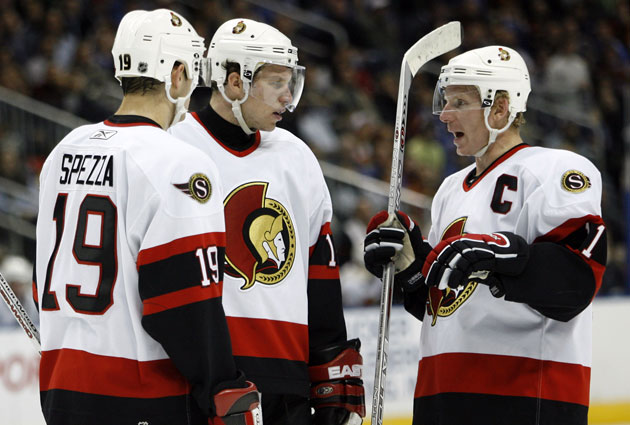 More NHL offseason: Rumors | Top 50 Free Agents | Buyout Tracker | Trades | Transactions
Ah, hockey in the summer, where things come to a grinding halt for about two months in between one long season and another. To fill the void we at Eye on Hockey thought it would be fun to make an all-time team for each of the 30 organizations in the NHL today.
The ground rules: The teams will consist of a center, two wings (regardless of which side), two defensemen and a goaltender. A player must have spent at least 200 games with a franchise to be considered. So Bobby Orr won't be on the Blackhawks' roster or Wayne Gretzky for St. Louis.

The Ottawa Senators are a relatively new franchise, reborn again from the original team that won the Stanley Cup seven times way back when. But since the current edition of the Senators are a completely new and different franchise, this team will only include the new incarnation.
It's actually a pretty strong group of players the Senators have, particularly if you go a little deeper. For a team that has only made one Stanley Cup Final appearance in its 20 years of operation, it's impressive, especially after the absolutely dreadful start the Senators had when they began. But those terrible seasons, like the 10-70-4 initial campaign, helped them stock up some very good talent with high draft picks, yielding most of the roster below.
Indeed, the Sens did a good job with a lot of their picks and additions to the franchise. They just missed when they tried to add the Spartan.
Jason Spezza: There is some pretty good competition here with Alexei Yashin, Radek Bonk -- who makes the all-name team for the Sens, that's for sure -- and even Mike Fisher, but it has to be Spezza. He is one of two players in franchise history who has been better than a point-per-game player with 621 points in 611 games. While he's just seventh in games played as a Senator he's second in goals, assists and points.
Keep in mind that is still only 30 years old and has a long time to try and catch Alfie's numbers should he remain in Ottawa as he has since being drafted No. 2 overall in 2001. When healthy you can chalk him up for a consistent point production level, around 30-35 goals and 80-90 points. He was in that range in 2011-12 when he had 34 goals and 50 assists in 80 games.
The only thing that nearly knocked Spezza out of the top center spot was that laugh of his. Oh who am I kidding; I never get tired of it.
Daniel Alfredsson: Duh. Even though the feelings are raw and there is some anger/resentment over Alfie leaving Ottawa this summer, Alfredsson is and forever will be a Senator. He was their long-time captain and up to this point, has played his entire 17-year career in Ottawa and thus owns just about every franchise record there is and it's not really close.
He's tops in Sens history with 1,178 games played, 426 goals, 682 assists and 1,108 points. That point total is nearly 500 more than Spezza on the all-time list. It's a shame that Alfredsson won't be able to finish his career where it began but that won't erase all the great years, especially 2005-06 when Alfredsson had 43 goals and 60 assists.
Dany Heatley: The Senators are a tougher team to pick than perhaps you'd think based on their relatively short and largely inglorious time as a franchise, but that's not the case. This is one of a couple of very tough decisions, who takes the second wing because Alfie was a given. It came down to Heatley vs. Marian Hossa and despite less time in Ottawa, I'm going with Heatley.
Interestingly enough, these two were traded for each other as Hossa was sent to Atlanta to land Heatley, who then gave the Sens a few spectacular seasons. Despite playing only 317 games as a Senator in four seasons, Heatley is fifth in franchise history in goals with 180, just eight behind Hossa who had the benefit of 150 more games. That's what happens when you have back-to-back 50-goal seasons as Heatley did.
Still, it was a tough call between Heatley and Hossa but the tie-breaker for me ultimately came down to the fact that Heatley is tops in franchise history with 1.14 points per game. He was simply electric in Ottawa, even if they REALLY don't like Heatley after he demanded a trade out of town.
Wade Redden: Today people associate Redden with being a disappointment with the Rangers and having his contract bought out, but he was a pretty great player for the Senators for a long time before going to New York. The Senators drafted Redden second overall in 1995 and had reaped the rewards for years.
In total, Redden is actually third in Sens history in games played with 838, is third with 309 and fourth in total points with 410. He had three straight seasons with at least 43 points and four out of five. When the Senators were having their best seasons in the mid-2000s it was when Redden was playing big and productive minutes on the back end to lead the way.
Like any breakup it wasn't great, but looking back on it now it's clear to see that Redden deserves a spot on this list and perhaps the Sens fans can be thankful for how it all worked out in the end anyway.
Chris Phillips: Soon enough this could be the franchise's all-time leader in games played, surpassing Alfredsson in that department. Phillips has been with the Senators since they took him first overall in 1996 and has been reliably in the lineup since. Consider in the last seven seasons he has missed a total of three games.
However he's not here just for the longevity, though that certainly helps his case for me. He has been a consistent scorer over the years, even if not a terribly high-scoring defenseman. typically landing in the high teens or low 20s in points every season. He has also been to play between 20-22 minutes per night for years. You don't play that kind of role for a franchise for that long by being bad. Still, the long tenure is the biggest reason he gets a spot and why he beats out this pretty good player who is known as Big Z and had a brief put productive tenure in Ottawa.
Patrick Lalime: The Senators are strong at all the positions except goal. There really isn't even another option for this spot other than Lalime, the Sens haven't been able to hold on to a goalie for long periods of time so far in their history with Lalime getting by far the longest stretch. He's the only goalie the Sens have that would meet the 200-game criteria but that does have some latitude for goalies anyway. With another season or two this spot will probably belong to Craig Anderson but right now it's Lalime vs. Ron Tugnutt and Ray Emery.
Really, Lalime's the only choice. He has more than twice the amount of wins as Tugnutt (146 vs. 72), is tops in shutouts, tied with Tugnutt for the best goals against average at 2.32 and is second to Anderson in save percentage at .908. He's not a sexy choice in net but he's the best choice right now. Again, a couple of more seasons like the ones Anderson has had and it probably won't be that close anymore.
Besides, until Anderson has his own action figure, it's Lalime's spot.
And no, Dominik Hasek's 43 games in Ottawa just aren't enough even if he's one of the very best to ever play the position.
Radek Bonk, Alexei Yashin, Mike Fisher, Zdeno Chara, Martin Havlat, Shawn McEachern
Saturday's showdown will serve as a rematch of one of the NHL's first-ever regular season...

Stacia Robitaille says Donald Trump told her in an elevator that she was coming home with...

Vladislav Yeryomenko was the Teddy Bear Toss goal scorer for the Calgary Hitmen
The Golden Knights are finally getting their No. 1 goalie back after a 25-game absence

Washington has won four straight, and the Kings are also on a tear right behind the Lightn...

The NHL says it's only interested in expanding to Seattle, but here's a look at all the moving...