NHL Award Races: Conacher atop crowded Calder race; Norris update
The CBSSports.com NHL Award Races checks in on the Norris and Calder this week where Oliver Ekman-Larsson and Cory Conacher lead -- barely.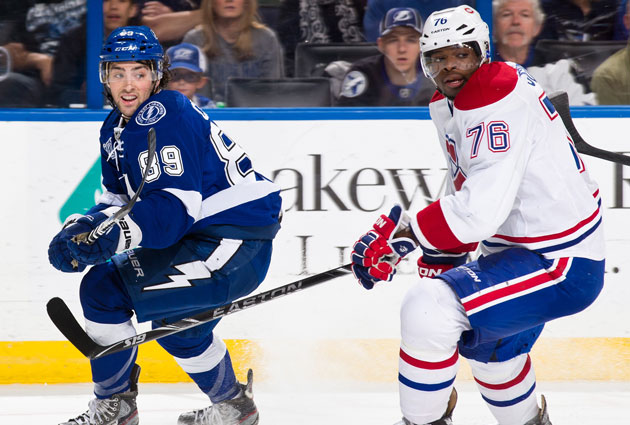 Welcome back to Award Races. Every other week during the remainder of the season, we will break down two of the awards races at a time and see how they are stacking up as the NHL season hits the home stretch. This year it will be done with a panel of voters, that panel being me (Brian Stubits), Adam Gretz and Chris Peters.
Sometimes you have to stop and look at this short season and just say "what a shame" that it's not a full 82 games. I feel that way when looking at the Calder Trophy race.
Before the season, it was incredibly difficult to pin down just 10 players for a rookie watch list and we knew there would likely be some names making the list we didn't even see coming. The class thus far hasn't disappointed.
Making the class even more impressive is that it's not being overwhelmed by the two Oilers rookies many expected to see atop the list. Nail Yakupov, the No. 1 overall pick, and Justin Schultz were thought to be perhaps co-favorites. It's not that they have been bad -- especially Schultz -- but the rest of the class has been great.
Adding just a little more fun is that there is by no means a clear front-runner. As you can see below, there is no shortage of players who can win the award this season. The last few weeks of the season will be fun to watch at least in terms of seeing which rookie will step up and take the Calder.
It's just too bad we don't get to see the race go for a full 82 games.
(Point totals are in parentheses. Points are awarded as follows: five points for a first-place vote, four for a second-place vote and so on down to one for a fifth-place vote.)
Award watch
Norris
Calder
Oliver Ekman-Larsson (13)
Ekman-Larsson has been on the fast track to stardom and now the 21-year-old is squarely in the conversation as the best defenseman in the game. It's not like he's a beneficiary of Dave Tippett's "system" in Phoenix, either. The team is giving up a lot, but Ekman-Larsson isn't really the reason. He also has three goals, 14 assists in 30 games while playing tough defensive minutes.
Cory Conacher (12)
Under the radar his whole career (he was undrafted and signed with Tampa Bay out of Canisius), the spotlight is on Conacher now. He has a lot of offensive talent around him in Tampa, and that helps. But he's gone cold, going without a point in eight of the last 11 games. Still, he leads rookies in scoring.
Ryan Suter (11)
The season didn't start off so kindly for Suter in his new surroundings with the Wild, but he has really settled in. He is carrying a heavier workload than any other skater in the NHL, averaging roughly 45 seconds per game more than Jack Johnson in Columbus, not to mention he's now second among defenseman in scoring with 24 points (22 assists).
Jonathan Huberdeau (11)
Among goal-scoring rookies, Huberdeau has a comfortable margin. It's no stretch at all to say he's been the Panthers' best player this season (even if that's not saying much). Along with fellow rookie Drew Shore, he's produced a lot of offense and has 12 goals to show for it. But like Conacher, he has gone cold, giving the rest of the field a chance to catch up.
Kris Letang (10)
As a whole, the Penguins defense isn't going to be confused for the best in the league, but individually Letang is right up there. He is the NHL's leading scorer among defensemen with 28 points (and yes, that means something; look at Erik Karlsson last season) and is eating more than 25 minutes per night. A recent injury might hurt matters, though.
Jonas Brodin (five)
Brodin has been the big beneficiary of playing with Ryan Suter in Minnesota this season. Or perhaps it's the other way around? Either way, the Wild have a strong defensive pairing here. Brodin is just one of many top prospects the Wild will be introducing in the coming years and he's not disappointing.
P.K. Subban (four)
Do people realize how good Subban has been since he came back from his contract dispute? He is fourth in the NHL for points among defensemen and leads with seven goals despite playing just 23 games thus far. Between him and Andrei Markov, the Habs have to be loving how their blue line is finally taking the shape they envisioned.
Jake Allen (five)
There is no bigger individual reason why the Blues have regained their footing and it's been Allen. A complete afterthought before the season because of the duo of Jaroslav Halak and Brian Elliott, Allen has been the lifeline for St. Louis. His record this season in St. Louis is 8-2-0; the combined record of Halak and Elliott is 8-9-1.
Alex Pietrangelo (three)
Like Ekman-Larsson, Pietrangelo is a name we're probably going to have to get used to seeing in the Norris conversation for years to come. He plays tough minutes every night, he is St. Louis's top defenseman and he can chip in some offense to boot. He might, however, get docked for St. Louis' defensive downturn and the fact that

<span data-shortcode=

" data-canon="Kevin Shattenkirk" data-type="SPORTS_OBJECT_PLAYER" id="shortcode0"> is playing well for the Blues.
Brendan Gallagher (four)
Before the season we expected that the Canadiens would have a rookie of the year candidate, we just all thought it was going to be Alex Galchenyuk. Galchenyuk has been good, Gallagher has been better. He isn't playing a lot at just 13:13 per game, but he's making the most of it with eight goals and nine assists all while irritating the snot out of opponents.
Not quite making the top five in the Norris vote was Sergei Gonchar, who checked in with two points. The Calder field has a much wider scope with Justin Schultz (three points), Nail Yakupov (two), Jake Muzzin (two) and Vladimir Tarasenko (one) also receiving votes. And for a quick look at the rest of the races that we'll be checking in on every week.
Hart: Sidney Crosby (15), Patrick Kane (12), Steven Stamkos (eight)
Vezina: Craig Anderson (11), Tuukka Rask (10), Antti Niemi (six)
Jack Adams: Paul MacLean (12), Bruce Boudreau (11), Michel Therrien (seven)
Top GM: Marc Bergevin (nine), Jim Rutherford (nine), Chuck Fletcher (seven)
For more hockey news, rumors and analysis, follow @EyeOnHockey and @BrianStubitsNHL on Twitter.
Stacia Robitaille says Donald Trump told her in an elevator that she was coming home with...

Vladislav Yeryomenko was the Teddy Bear Toss goal scorer for the Calgary Hitmen

The Golden Knights are finally getting their No. 1 goalie back after a 25-game absence
Washington has won four straight, and the Kings are also on a tear right behind the Lightn...

The NHL says it's only interested in expanding to Seattle, but here's a look at all the moving...

The NHL says it is only looking toward Seattle for the next expansion team