NHL Award Races: Quick overtakes Lundqvist for Vezina
In the final edition of Award Races this season, we break down the Hart (Malkin has it wrapped) and Vezina where there's a great battle.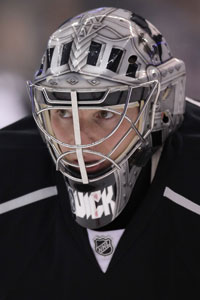 In the final edition of Awards Race, Quick has the Vezina. (Getty Images)
Welcome to Award Races. For every week the remainder of the season, we will break down two of the awards races at a time and see how they are stacking up as the NHL season hits the home stretch.
Most all of the award races this season are tight all the way to the finishing line. There are arguments that you can make for any number of candidates, all good ones to be sure.
The Hart Trophy isn't one of those. It's Evgeni Malkin 's already, I doubt there's much disagreement on that.
The Vezina, though, is one of them. A few months back when this feature started running, I talked about how the race for the top goaltender was Henrik Lundqvist and everybody else. One of those everybody elses, Jonathan Quick , has not only caught Lundqvist but passed him in my poll.
Consider this: Quick has passed Lundqvist in goals against average and is even with him in save percentage. The one statistical edge that Lundqvist does have is in the wins department. But that's actually what tips the scales for Quick in my mind. Huh?
The fact that Quick has 35 wins this season with a very inept offense playing in front of him is remarkable. He has 10 shutouts this season in 67 starts. Ten! He has had 13 more games this season where he gave up only one goal. That's 23 starts with one goal or fewer allowed and he only has 35 wins? The fact that the Los Angeles Kings are in position to win the Pacific is all thanks to Quick.
Based on that you can make the argument of Quick for the Hart. As mentioned, nobody is going to beat Malkin out for that award but perhaps to be in the conversation? That's fair. That's how much he has meant to the Kings this season with their struggles to score.
But just because I think Quick has pulled ahead of Lundqvist doesn't mean I don't think Lundqvist won't win. Call it an East Coast bias, I don't know. I think a lot of voters have had it engrained in their brain all season that Lundqvist was the choice. And really, it's not like he's an unworthy choice at all. Of course he's not.
Remember, this is just one man's opinion. You have your opinions too, share them below (as if you needed that invitation).
Award watch
Hart
Vezina
Evgeni Malkin
He has 10 more points than anybody else in the league, he's second in goals with 48, seven more than third-place

Marian Gaborik

. Nine of his goals have been game-winners. He carried the

Pittsburgh Penguins

through injuries to two other centers for chunks of the season. Any questions? Didn't think so.
Jonathan Quick
Pretty much covered why I have him No. 1 in the season-ending edition, there might not be one single player more responsible for his team's playoff position today than Quick for the Kings. He has shut out foes once every 6.7 starts this season. I'd say that fits the billing for dominant.

Claude Giroux

Giroux has only three fewer assists than league-leader

Henrik Sedin

in four fewer games. But where he really separates himself is the fact that he has 28 goals as well, compared to 13 for Sedin. Don't think he doesn't deserve a lot of the credit for

Scott Hartnell

's 37-goal breakout season.
Henrik Lundqvist
He might get the chance for 40 wins if he starts the season finale on Saturday against the

Washington Capitals

. That would just be a neat feather in the cap of a great, great season. While I installed Quick as my favorite, I'm thinking Lundqvist is still the favorite for the Vezina.

Ilya Kovalchuk

I continue to feel like I'm going against the grain with Kovalchuk, but why not him? His game has evolved to become a lot closer to all-around, an amazing turnaround from the pure scorer he was in Atlanta. He's still not

Patrice Bergeron

back there or anything, but he is improved and as a result so are the

New Jersey Devils

.

Mike Smith

He is on one of those streaks again. After a 54-save night this week, Smith has posted three consecutive shutouts and put the

Arizona Coyotes

back in the Pacific Division crown picture. This has been his first chance to be a starting goaltender and he's taken full advantage with 36 wins and a .929 save percentage.

Jason Spezza

He has been as solid -- and healthy -- this season as he was four or five seasons ago. That's a really good thing for the

Ottawa Senators

, obviously. He has been the pacesetter for the Sens' surprising playoff season, along with defenseman

Erik Karlsson

, with 33 goals and 50 assists. He'll finish as a better than a point-per-game player.

Brian Elliott

If he only were the starter and had been given a few more games, he might be running away with this because his numbers are obscene. A 1.49 goals against average and .943 save percentage? Holy smokes! But only 37 starts and

Jaroslav Halak

's success mean he's not a contender who stands a real shot.

Steven Stamkos

He'll win the Rocket Richard, that is his recognition for the personal season he has had in my books. If it weren't for the lack of some more obvious candidates I probably wouldn't have Stamkos here. Yes, he's been excellent but I value playoffs in an MVP. Maybe you don't, that's fine. Without him, they're not in the playoffs. With him, they're not in the playoffs.

Pekka Rinne

He leads the league in wins but hasn't been quite as good in the past few weeks, perhaps being a bit overworked this season. Still, his 2.43 goals against and .922 save percentage aren't too shabby, especially when juxtaposed with his 42 wins to just 21 losses (three beyond regulation).
And for a quick look at the rest of the races we'll be checking in on every week (and yes, I added the Lady Byng this week).
Calder: Gabriel Landeskog , Ryan Nugent-Hopkins , Adam Henrique
Norris: Shea Weber , Erik Karlsson, Alex Pietrangelo
Selke: Patrice Bergeron, David Backes , Ryan Kesler
Jack Adams: Ken Hitchcock, Kevin Dineen, Paul MacLean
Top GM: Dale Tallon, David Poile, Doug Armstrong
Lady Byng: Brian Campbell , Matt Moulson , Loui Eriksson
For more hockey news, rumors and analysis, follow @EyeOnHockey and @BrianStubitsNHL on Twitter.
Los Angeles isn't rushing to sign the 45-year-old forward any time soon

The University of Denver star and Hobey Baker Award winner is drawing interest

Intrigue is high in Arizona after a wild offseason, but expectations should still be tempe...
Players are set to give personalized messages for Adidas' former hockey equipment brand

The 40-year-old center is returning to the Wild after a successful run in Pittsburgh

Edmonton locks up its 21-year-old RFA a month after McDavid's historic extension