NHL Award Races: Welcome to the Hart conversation, Alex Ovechkin
This week in Award Races: Alex Ovechkin enters the Hart race and deservedly so. Also: Bobrovsky!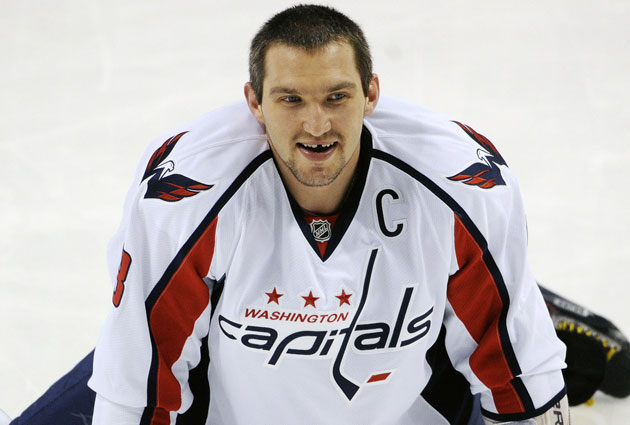 Welcome back to Award Races. Every other week during the remainder of the season, we will break down two of the awards races at a time and see how they are stacking up as the NHL season hits the home stretch. This year, it will be done with a panel of voters, that panel being me (Brian Stubits) and Adam Gretz. Chris Peters was part of the panel but is on assignment in Russia with USA Hockey.
We have a new, familiar face to the Hart conversation this week, a name that you all know well: Alex Ovechkin .
The captain of the Washington Capitals is on one of the hottest streaks that you'll ever see in today's NHL, scoring 17 goals in his last 15 games. In total, he has 24 points in that span. Not coincidentally, the Capitals are 11-3-1 in that same time frame. If that doesn't speak to a Hart candidate, I'm not sure what does.
Well, OK. I might have another idea: Ovechkin now is also tied for the league lead in goals. His burst has pushed him into a deadlock with Steven Stamkos at 26. Slice it any way you want -- that's impressive.
Believe me, people are trying to slice it. Did you know that almost all of Ovechkin's goals have been scored against non-playoff teams? Some think that's grounds for criticism, that Ovechkin has got cheapies or something. News flash, folks: NHL players are good, even if they play for bad teams. It's not easy to score a goal in the NHL. It might be easier to do against some teams more than others, but that doesn't mean it's easy. You still have to get the puck into the net.
Ovechkin should not take a hit in the conversation here because he plays in the Southeast Division. His numbers are his numbers, and the team is winning. That trumps talk of his schedule. If you want to point to the lack of goals against playoff-caliber teams and use that to suggest he will not do much in the playoffs, OK. I'll accept that. But that has little bearing on a regular-season award.
Another knock you're going to hear is that Ovechkin hasn't done this for the whole season, that he was absent for the first half. This is pretty true and one that I can't argue too much against. He's riding a ridiculously hot streak while other guys in the conversation have been consistently good.
That said, there is some precedent for a great streak to end the year and getting the Hart Trophy as the MVP. Corey Perry did it just a couple of seasons ago for Anaheim with a crazy goal-scoring run that allowed him to reach 50 and catapult the Ducks into the playoffs. He rode a strong finish to the award; there's no reason Ovechkin can't do the same.
Ovechkin still has work to do, and the Capitals have to finish strong and win the division. But you'd better believe the Great Eight will be drawing MVP interest when the ballots are cast.
Oh, yeah. We also look at the Vezina this week. BOBROVSKY!
(Point totals are in parenthesis. Points are awarded as follows: Five points for a first-place vote, four for a second-place vote and so on down to one for a fifth-place vote.)
Award watch
Hart
Vezina

Sidney Crosby

(10)
Is it possible for a player's Hart credentials to go up while he's injured? The

Pittsburgh Penguins

haven't quite been the same since he's been out -- of course, they're missing a few others as well -- and despite missing this time, he has remained atop the points race. It's going to be close because his body of work is probably complete this season, but right now he holds on.

Sergei Bobrovsky

(9)
If I told you before the season that a

Columbus Blue Jackets

goalie would be the leader in the Vezina race, would you have thought that 29 teams folded? Bobrovsky has been a great surprise this season for Columbus with his .930 save percentage, second in the NHL, most among goalies with at least 20 games. His four shutouts are tied for second.

Patrick Kane

(8)
Before the season, Kane said he was going to take things more seriously and it shows. He leads all Western Conference players in points with 46 in 39 games, he has been money on the power play and -- oh, yeah -- the

Chicago Blackhawks

are good. Don't be fooled -- team success matters.

Antti Niemi

(7)
When it comes to pure statistics, Niemi isn't quite up to snuff with the other candidates here, but a .922 save percentage and 2.20 goals against average isn't bad or anything. So why is he up here? Because Niemi has been consistent all season long, and the

San Jose Sharks

have leaned on him as much as any team leans on a goalie.
Alex Ovechkin (5)
Well, hello, Ovi. The two-time Hart winner is back from the dead (death from exaggeration) and is seriously making noise in this conversation as he has shot to the league lead in goals (tied with Stamkos). The Caps are surging, and there is a pretty direct correlation between Ovi soaring and the team soaring.

Craig Anderson

(5)
Anderson is back now, but he missed an awful lot of time due to injury. That said, his numbers are still so impressive that he is impossible to ignore. His .946 save percentage and 1.62 GAA are well above the rest of the field, even if it has only been in 17 games. If he can finish strong, he could stand a chance, but I think that lack of games will hurt.

John Tavares

(5)
The

New York Islanders

are in playoff position, and somebody should be recognized for that, right? Perhaps, but this is not a token recognition for Tavares. The former No. 1 overall pick -- OK, these Hart candidates are ALL former No. 1 picks -- has been doing his thing on Long Island for a few seasons. But now that the team is winning, it's being noticed. His 24 goals are third in the league. He's still not a complete player, but he is so strong at the offensive end.

Henrik Lundqvist

(4)
Where would the

New York Rangers

' playoff chances be right now if it weren't for Lundqvist? In the crapper, that's where. We have come to take Lundqvist for granted a bit, but he once again has sterling numbers with a .926 save percentage and 2.12 GAA. More impressive still is that the Rangers lean on him the way the Sharks lean on Niemi. He has played 35 games. King Henrik still reigns.
Steven Stamkos (1)
This might be Stamkos' lot in life; in a race for the Rocket Richard but hardly a mention in the Hart. Again, team success does matter in this conversation at least a little. Still, Stamkos is as good as it gets in terms of goal scorers in the NHL and he is the one closest to surpassing Crosby in the points race.

Tuukka Rask

(3)
For some reason I haven't quite figured out yet, Rask is getting very little attention for what he has done but he has been nothing but solid. His save percentage is at .928 and his GAA at 1.95. He has had a little help from Anton Khudobin but has still taken the bulk of the time. He has put concerns about his ability as a No. 1 to rest.
Sharing the fifth spot with Stamkos in the Hart race this week was is Nazem Kadri from Toronto Maple Leafs while the Vezina had one more vote left for both Corey Crawford in Chicago and Cory Schneider in Vancouver Canucks . And for a quick look at the rest of the races that we'll be checking in on every week:
Norris: P.K. Subban (9), Oliver Ekman-Larsson (8), Ryan Suter (5)
Calder: Jonathan Huberdeau (10), Cory Conacher (6), Jonas Brodin (5)
Jack Adams: Paul MacLean (9), Joel Quenneville (7), Bruce Boudreau (5)
Top GM: Peter Chiarelli (7), Chuck Fletcher (5), Stan Bowman (5)
For more hockey news, rumors and analysis, follow @EyeOnHockey and @BrianStubitsNHL on Twitter.
Players are set to give personalized messages for Adidas' former hockey equipment brand

The 40-year-old center is returning to the Wild after a successful run in Pittsburgh

Edmonton locks up its 21-year-old RFA a month after McDavid's historic extension
Even with a new coach and added veteran help, the Canucks have a long road ahead

Unlike expansion teams before them, the Knights have enough talent to entertain right away

Brian Lawton says he 'would not be surprised' if Boston deals its young star to end contract...