NHL Award Races: With season at end, who should win the hardware?
With the end of the season coming in days, who will win the hardware in the NHL? An age-old question is back: Ovechkin or Crosby?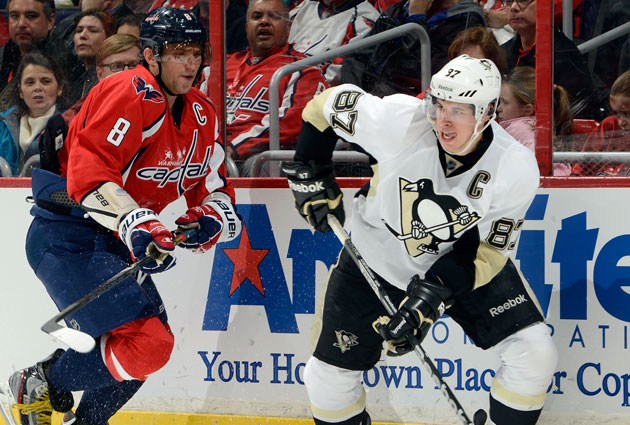 Welcome back to Award Races. Every other week during the remainder of the season, we will break down two of the awards races at a time and see how they are stacking up as the NHL season hits the home stretch. This year it will be done with a panel of voters, that panel being me (Brian Stubits), Adam Gretz and Chris Peters.
This is it, the final edition of the NHL Award Races, so we're going all out. The six awards we keep track of here -- sorry to the Lady Byng and Selke, who could very well end up going to Jonathan Toews -- are all reviewed this week.
I won't get into it much other than to say that isn't it nice and nostalgic to have the Crosby vs. Ovechkin debate back? It's still not too much of a debate of who is the better player, I think most everybody would still say Crosby, but value is another discussion. The Penguins have continued to win without Crosby while the Caps have ebbed and flowed with Ovechkin.
At this point, the Hart will depend on each voter's definition of "most valuable." Some will see that Crosby was just overwhelmingly the best player in the NHL this season despite injury while others will see Ovechkin's streak coinciding with the Capitals' streak and make the connection.
Really, you can't go wrong with either guy at this point, can you?
(Point totals are in parenthesis. Points are awarded as follows: 5 points for a first-place vote, 4 for a second-place vote and so on down to 1 for a fifth-place vote.)
Award watch
Hart
Vezina
Sidney Crosby (14)
There's no doubt that Crosby is the best player in the game today. It took him being out for nearly a month to be caught in the points race.
Sergei Bobrovsky (15)
A unanimous winner amont the panel here, it really is shaping up to be a runaway for Bobrovsky in the Vezina. What's not to like with a 2.06 GAA and .930 save percentage ... for Columbus?
Alex Ovechkin (12)
When you talk value, it's hard not to say Ovechkin. He leads the league in scoring now and as he goes so go the Caps. He's been going really well and they have to.
Antti Niemi (10)
Niemi has been carrying the massive burden in San Jose this season to the point that he is the league leader in wins. He might not have the best stats in the league otherwise, but he has meant so much to San Jose.
Patrick Kane (8)
Kane makes it from the Blackhawks but Jonathan Toews could just as easily be in the conversation. However you can't ignore that Kane is fourth in the NHL in points, one ahead of Ovechkin.
Craig Anderson (6)
Anderson certainly has the stats (1.71 GAA, .941 save percentage, both best in the league) but the thing that hurts him is he was hurt for so long. The lack of games is what is keeping him from competing with Bobrovsky.
Jonathan Tavares (5)
The Islanders are going to the playoffs and somebody will get recognized for that seemingly monstrous achievement. Of course that is Tavares who is the third-leading goal scorer in the NHL.
Henrik Lundqvist (4)
Considering how the Rangers have struggled to score this season, there's no telling if the Rangers would be a playoff team with another goalie. It hasn't seemed like his best season but Hank is always reliable.
Sergei Bobrovsky (5)
It shows how good Bobrovsky has been that he's in the Hart conversation as well. Even if the Jackets aren't able to sneak into the playoffs, the fact that they are here is a massive tribute to the man they call BOB.
Corey Crawford (4)
There's little room to gripe about Crawford's numbers but similar to Anderson, the big thing that is going to hold him back is the lack of games. In Crawford's case it's because they were split with Ray Emery, who also had strong numbers.
Wrapping up the votes on these two awards, Steven Stamkos did receive one fifth-place vote for a point. In the Vezina, Tuukka Rask finished tied with Crawford with four points while James Reimer had two points.
Award watch
Norris
Calder
P.K. Subban (12)
Despite missing the first few games because of a contract dispute, Subban is the leader in points among defensemen. Until late, the defense was a massive reason for the Habs' success, both what they did in their own end and the offensive zone. Subban leads in that regard.
Jonas Brodin (14)
The Wild defenseman has proved to be more than seasoned enough for the NHL already. He has been partnered with Ryan Suter and, well, that has worked out. Really well. As a rookie he is playing as a top-pair D and is averaging more than 23 minutes a night.
Ryan Suter (11)
After a slow start, Suter has become all the Wild hoped when they paid big bucks. He is one of the top-scoring defenseman and has made a great top pair with Brodin.
Jonathan Huberdeau (13)
Huberdeau is still the leading goal scorer among rookies with 14 and has a matching 14 assists. The thing that's impressive about that is he has had very little help in Florida.
Kris Letang (9)
Letang's presence is so important to the Penguins, he brings some stability to an otherwise questionable blue line in Pittsburgh. Not to mention he's so valuable on the power play.
Cory Conacher (6)
Conacher makes for an interesting candidate seeing how he was traded mid-season and that is rare in a Calder candidate. He has slowed in scoring but the strong start has left him hanging in the conversation. Tied with Huberdeau for rookie points lead.
Oliver Ekman-Larsson (6)
The 21-year-old showed this season that he is going to be a great one for years to come. He has averaged 25 minutes of ice time per game and has played a lot of really tough minutes. He does enough offensively with 3 goals, 20 assists, to get consideration. Remember, scoring is important.
Brandon Saad (5)
Saad is more sheltered than any other rookie here playing with the stacked Blackhawks but something still must be said for producing in a smaller role with 10 goals and 16 assists.
Alex Pietrangelo (2)
It perhaps hasn't quite been the season the Blues defense was expecting, same for Pietrangelo, but that doesn't mean he's been bad. In more than 25 minutes per game he does the tough defending and pinches in offensively with 24 points.
Brendan Gallagher (4)
This isn't the Canadiens rookie most people expected to be in the conversation but Gallagher still has a chance to win the goal-scoring race in the final few games. He's one behind Huberdeau with 13.
There were a few others to receive votes for the Norris. Duncan Keith and Zdeno Chara were each tied with Alex Pietrangelo, receiving two votes. Shea Weber also picked up one point. In the Calder race the only two other rookies listed wereNail Yakupov , who picked up two points, and Jake Muzzin received one point.
Award watch
Adams
GM
Paul MacLean (10)
The Senators have remained in playoff position despite injury after injury. That reflects on a coach getting the most out of his guys, many of whom are injury fill-ins.
Ray Shero (7)
Shero is at the top but this is a three-way tie. However adding Jarome Iginla, Brenden Morrow, Douglas Murray and Jussi Jokinen at the deadline was strong work.
Bruce Boudreau (9)
The Ducks have faded a bit as the season has worn on but that doesn't change the fact that Boudreau took over a team that was at the bottom of the league a season and a half ago and now they are the two seed in the West.
Bob Murray (7)
The Ducks GM handled the situation with two pending free agents in Ryan Getzlaf and Corey Perry perfectly, getting both under new deals before it was a distraction. Some smaller moves have paid dividends too.
Adam Oates (8)
Oates came in with little training time to try and rework a system. It was very tough as the Caps started 2-8-1 but they never deviated and the rookie coach led the Caps to an somewhat improbable Southeast title.
Doug Wilson (7)
Wilson really earned marks at the deadline when he traded Douglas Murray for two second-round picks and got a comparable defenseman in Scott Hannan for one low-round pick. The addition of Raffi Torres was also quietly nice.
Joel Quenneville (6)
Just because the Blackhawks are stacked doesn't mean Quenneville deserves no praise for what he has done on the bench. He has given the players the best chance to succeed and they have.
Peter Chiarelli
The Bruins didn't get Jarome Iginla but it might have worked out better in the end when the landed Jaromir Jagr instead. The rest of the team has been built in a pretty cap-friendly way for how many lines they can ice.
Michel Therrien (4)
Things aren't ending well for the Habs, which drops Therrien down the list but the turnaround they have had has been very impressive this season so a lot of credit goes to Therrien.
Chuck Fletcher (5)
The big signings in the offseason seem like they are going to be able to get the Wild into the playoffs and I liked the addition of Jason Pominville even if it was costly.
These two categories were full of candidates. Not making the top five among the top coaches were Dan Bylsma with three points, Darryl Sutter and Todd Richards with two points and Jack Capuano receiving one point. Among GMs not making the cut above were Stan Bowman, who tied Chuck Fletcher with five points, Dean Lombardi with four points and Marc Bergevin had three points.
For more hockey news, rumors and analysis, follow @EyeOnHockey and @BrianStubitsNHL on Twitter.
The former Boston Bruin was the first black player to play in the NHL

Inclement weather led to the Charlotte Checkers and Bridgeport Sound Tigers playing in front...

The NHL chose the Detroit rocker as its All-Star Game entertainment and not everyone is th...
NHL fans from all over seem to agree on one thing: Hating Kid Rock

The team tweeted on Monday that Shaw would be re-evaluated in 7-10 days

The Montreal forward was hospitalized after taking a Zdeno Chara slap shot to the head