NHL Awards: Bergevin, Bob Murray, Shero finalists for Top GM
The finalists for the GM of the Year are Marc Bergevin of Montreal, Bob Murray from the Ducks and the Penguins' Ray Shero.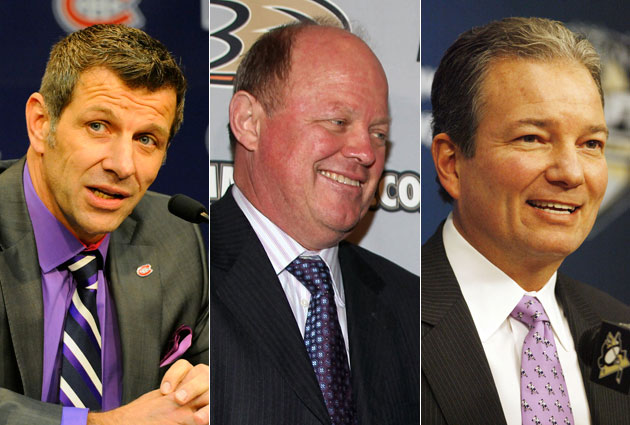 More NHL Playoffs: Scores | TV Schedule | Expert Picks | Odds | Mock Draft | Rumors
Names of the finalists for the NHL's awards continue to be released. On Monday, the final three for the GM of the Year were announced. They are Canadiens GM Marc Bergevin, Anaheim's boss, Bob Murray, and Ray Shero from the Penguins.
Believe it or not, they are all first-time finalists. That's a given in the case of Bergevin, who is a rookie. Murray isn't a terribly big surprise as a first-timer, but it seems like Shero has had the honor before.
The voting panel for the GM of the Year is all the general managers across the league along with a panel of other team executives, print and broadcast media members. In other words, it's not the PHWA's award to vote on.
This is always a difficult award to try to evaluate. It's not often that you can truly judge a GM in one season. All three finalists for the award last year had teams that failed to make the postseason this time around. One of them, Dale Tallon's Panthers, had the worst record in the NHL. Point is, just like it's hard to judge a trade until a few years down the line, same goes for all moves by GMs.
That said, the award exists and judgments have to be made.
Bergevin impressed in his rookie season largely because the Canadiens were a mess when he was hired and they ended up earning the No. 2 seed in the East. Everything that could have gone wrong for Montreal in 2011-12 did, but between hiring Michel Therrien and making some roster moves, Bergevin emerged with a strong future ahead for the Habs. Perhaps his best moves involved preparing the Canadiens for the cap decrease next season, when he pushed through an early amnesty buyout of Scott Gomez and somehow was able to trade Erik Cole for Michael Ryder. The early exit in the playoffs takes away some shine, but it was a solid rookie campaign.
Bob Murray also oversaw a strong turnaround for his Ducks this season, landing the No. 2 seed in the Western Conference. The hiring of Bruce Boudreau has worked pretty well, though that was last season so I suppose that doesn't count. What he did do for this season, though, was bring in a couple of veteran defensemen in Bryan Allen and Sheldon Souray. The big moves though were re-signing stars Corey Perry and Ryan Getzlaf to big extensions. That was starting to become a distraction, but he nipped both in the bud. In a few years possibly, those deals will be looked at differently, but for this season, it looks good.
Then there's Shero, who has been overseeing the Penguins through their recent high points. What earns him this nod is the fact that he has been a busy GM since last season ended. He got it all started by trading Jordan Staal, who wasn't going to be around much longer, and got a really nice return featuring Brandon Sutter. He really made his hay when he landed Brenden Morrow, Jarome Iginla, Douglas Murray and Jussi Jokinen at the trade deadline, giving the Penguins a lot to supplement their core of stars. He did pay a bit to get Morrow and Murray especially, but this team is designed to win now. Perhaps his biggest, most unheralded move was signing Tomas Vokoun to back up Marc-Andre Fleury. That's looking pretty good right about now.
Of course, there are GMs out there who can feel like they were shunned. A lot of them, frankly. With the way the Islanders finished this season, Garth Snow could have earned a nomination. How he built a playoff team given the shoestring budget and restraints on him is very impressive. Doug Wilson in San Jose also had a very nice year. The acquisition of Raffi Torres at the deadline was quiet. And while Torres carries a bad reputation with him, he has been a very good player for San Jose.
Like the other NHL awards this year, the GM of the Year will be crowned during the Stanley Cup Final.
Stacia Robitaille says Donald Trump told her in an elevator that she was coming home with...

Vladislav Yeryomenko was the Teddy Bear Toss goal scorer for the Calgary Hitmen

The Golden Knights are finally getting their No. 1 goalie back after a 25-game absence
Washington has won four straight, and the Kings are also on a tear right behind the Lightn...

The NHL says it's only interested in expanding to Seattle, but here's a look at all the moving...

The NHL says it is only looking toward Seattle for the next expansion team