NHL Awards: Bergevin, Lombardi, Bob Murray finalists for top GM
The finalists for the GM of the Year Award were finally announced on Friday with Marc Bergevin, Dean Lombardi and Bob Murray making the cut.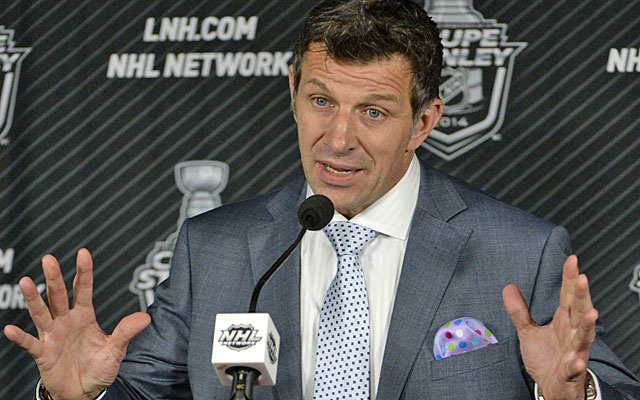 More NHL Playoffs: Schedule, TV listings | Expert Picks | Bracket | Scores | Odds
Finalists for all of the NHL Awards were announced weeks ago except for one: the General Manager of the Year. Those finally came down on Friday.
The three finalists are Marc Bergevin of the Montreal Canadiens, Dean Lombardi of the Los Angeles Kings and Bob Murray of the Anaheim Ducks.
Bergevin oversaw a Habs team that improved on last season's mark and reached the 100-point barrier in his second season on the job in Montreal. He didn't do a ton in the offseason leading into the year, adding Daniel Briere with Douglas Murray and George Parros. Bergevin's big move was acquiring Thomas Vanek at the trade deadline for nearly a bag of pucks as well as Mike Weaver and Dale Weise. You could argue Bergevin did a lot more work when he first came to Montreal by cutting payroll some and getting the Canadiens a little breathing room under the cap, breathing room that will go to P.K. Subban this summer after Bergevin elected for the short, bridge contract two years ago, a decision that will cost the Canadiens money.
When it comes to pure intelligence, there might be few in the league who top Lombardi. He is open about his and his organization's use of analytics to help create a winning team and the Kings are just that, sitting in the Western Conference finals for a third consecutive season. He had to get thrifty last summer with his moves and decided to keep just about everything in house by re-signing young defensemen Alec Martinez, Jake Muzzin and Slava Voynov to friendly deals. His biggest move also came at the deadline, though, when he was able to land Marian Gaborik from Columbus for a very small return, a deal that looks even sweeter with Gaborik's nine goals this postseason.
Murray, meanwhile, built a Ducks team that just had its best regular season in franchise history, a history that includes two previous trips to the Stanley Cup Final. The Ducks won a very tough Pacific Division and finished with the best record in the West while setting numerous franchise records along the way. Murray was pretty active, re-signing a lot of players while getting busier on the trade market. Key players that he brought in via trade include Mathieu Perreault, Mark Fistric, Stephane Robidas and Jakob Silfverberg, whom they landed for Bobby Ryan along with a top-10 draft pick from the Sens. Murray also dealt one of his goalies away in Viktor Fasth and will likely part with another in Jonas Hiller, a testament to his drafting with Frederik Andersen and John Gibson in the pipeline.
The voting for the GM of the Year is done by all 30 NHL GMs plust NHL executives and some media members. Like the rest of the awards, it will be handed out on June 24 at the NHL Awards Show in Las Vegas.
While it's always nice to win, the GMs here probably won't be too bummed if they miss out. Two of the past three winners (Mike Gillis in 2010-11, Ray Shero in 2012-13) were fired this summer.
The team tweeted on Monday that Shaw would be re-evaluated in 7-10 days

The Montreal forward was hospitalized after taking a Zdeno Chara slap shot to the head

Tampa Bay is still No. 1 and Vegas is still up there, but a few others are finally catching...
Army filed an opposition to the use of 'Golden Knights' on the last day that it was permitted...

The NBC rinkside reporter is hoping to return in time for the 2018 Olympics

Here's who wade the cut for the 2018 NHL All-Star Game on Jan. 28 at Amalie Arena in Tampa...