NHL Awards: Boudreau, MacLean, Quenneville finalists for Jack Adams
Bruce Boudreau, Paul MacLean and Joel Quenneville are the finalists for the Jack Adams Award, given to the NHL's top coach.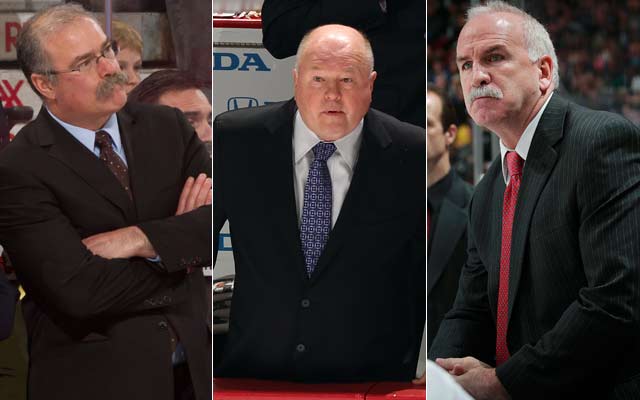 More NHL Playoffs: Scores | TV Schedule | Expert Picks | Odds | Mock Draft | Rumors
The NHL's awards announcements continued Friday with the unveiling of the three finalists for the Jack Adams Award. Bruce Boudreau of the Anaheim Ducks, Paul MacLean of the Ottawa Senators and Joel Quenneville of the Chicago Blackhawks are the three finalists.
The Jack Adams is awarded annually to the head coach who has "contributed the most to his team's success" and is selected by the NHL Broadcasters' Association. This year offered some tough decisions as several coaches engineered big turnarounds for their teams or contributed to unexpected success.
Boudreau, who may feel some vindication after he was fired by the Capitals last season, helped turn around the Ducks in leading the team to its best regular-season finish in franchise history. The Ducks were 25th overall in the league in 2011-12, but had the third-best record in the NHL this season. Boudreau will be gunning for his second Adams, as he won the award in 2008.
MacLean and the Senators seemed to have the chips stacked against them all season with a litany of injuries to key players like goaltender Craig Anderson, defenseman Erik Karlsson and forwards Jason Spezza and Milan Michalek. Undaunted by a youthful roster, MacLean guided the Sens to a Stanley Cup playoffs berth. MacLean is in just his second season as head coach in Ottawa and has been a Jack Adams finalist in each of his first two years behind the bench.
Quenneville, the Jack Adams winner in 2000 with the St. Louis Blues, guided the Blackhawks to a record-breaking season. Chicago started the season with a streak of 24 consecutive games with at least a point and ended up capturing the Presidents' Trophy with the league's best regular-season record. The Blackhawks were the top-ranked team in the league in total defense and second in scoring.
There were a lot of coaches who could have made an argument for the Adams, particularly Michel Therrien, who helped engineer a big turnaround in Montreal in his first season back behind the Habs' bench. Pittsburgh's Dan Bylsma also kept the Penguins on track in another season rife with ill-timed injuries.
That said, it looks like the voters did a solid job in whittling down a tough list. Boudreau got the most out of a roster that was somewhat running in place or even going backwards the last few seasons, while MacLean weathered one of the worst injury storms a coach could face and Quenneville took the Blackhawks to historic heights.
The University of Denver star and Hobey Baker Award winner is drawing interest

Intrigue is high in Arizona after a wild offseason, but expectations should still be tempe...

Players are set to give personalized messages for Adidas' former hockey equipment brand
The 40-year-old center is returning to the Wild after a successful run in Pittsburgh

Edmonton locks up its 21-year-old RFA a month after McDavid's historic extension

Even with a new coach and added veteran help, the Canucks have a long road ahead