NHL Awards: Letang, Subban, Suter finalists for Norris Trophy
The three finalists for the Norris Trophy given to the best all-around defenseman are Kris Letang, P.K. Subban and Ryan Suter.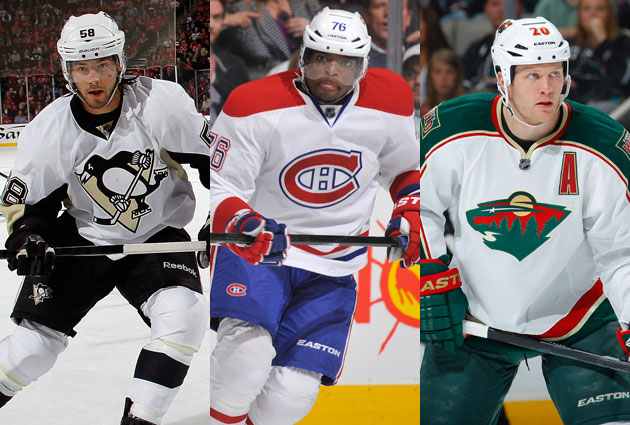 More NHL Playoffs: Scores | TV Schedule | Expert Picks | Odds | Mock Draft | Rumors
Finalists were announced on Tuesday for the Norris Trophy, given annually to the league's best defenseman. The final three standing are Pittsburgh's Kris Letang, Montreal's P.K. Subban and Ryan Suter of the Wild. For each, it is the first time being named a finalist for the award.
Letang was a proficient offensive player on the Penguins blue line this season. Despite playing in only 35 games he finished with 38 points (five goals, 33 assists). Not to mention his presences was missed defensively when he was out due to injury.
Subban missed the first few games of the season because he did not have a contract, but when the Canadiens finally got him signed, he stepped right in as if he'd been with the team all along. He was tied with Letang for the league lead in points for defensemen with 11 goals and 27 assists in 42 games.
Then you have Suter, who is probably the favorite to take home the trophy when it's awarded. He was a monster on the Wild blue line this season, his first in Minnesota. He clocked an average of 27:16 of ice time per night, the most in the NHL. All the while, he was teaming with rookie Jonas Brodin to form a strong top pair and was able to contribute offensively with four goals and 28 assists.
It's no surprise that these three were the top three in defenseman scoring in the NHL this season. As was proven last season with the selection of Erik Karlsson, points matter when people vote for the best all-around defenseman in the league. It's hard to quantify some things defensemen do, but points are easy to see in the box score.
Some of the mainstays that we've seen in Norris voting in recent years are missing from this trio. Shea Weber and Zdeno Chara have become popular selections but miss out this season. Also missing is Nicklas Lidstrom, the great Red Wing who retired before the season began. In a way it represents a small changing of the guard perhaps, though Weber is going to remain in the picture for years yet, I'm sure.
The winner will be announced this season during the Stanley Cup Final instead of at an awards show like the NHL usually hosts.
'How you gon' do that hockey?'

The puck didn't go in the net but the skater did!
Another sign that Houston is a potential destination for an NHL relocation

The two teams combined for 111 penalty minutes and five ejections

The veteran Minnesota goaltender has recorded three consecutive shutouts