NHL Daily Fix: Closed-door meeting for Blues, update on ear piece
The NHL Daily Fix is your morning wakeup call, with news and notes for the day's hockey action. Here's what's going on Wednesday: Wayne Simmonds and the Flyers had a bad night, so did the Blues and an update on that 'ear piece' toss in Boston.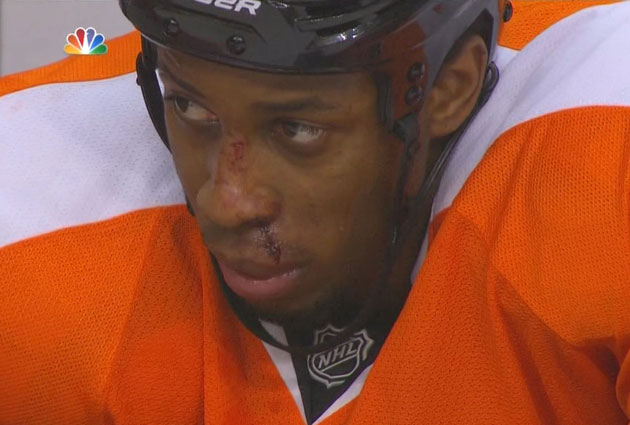 More NHL: Scores | Standings | Odds | Fight-O-Meter | League Leaders | Rumors
The NHL Daily Fix is your morning wakeup call, with news and notes for the day's hockey action.

Morning buzz
•  Think Wayne Simmonds had it tough on Tuesday night? Not only did the Flyers lose a crucial game to the Rangers, he took a puck to the face and then later a stick to the face and ended the night looking like that above.
Did I mention he also came back after this puck to the face to score a goal? #Hockey (GIF via SB Nation)
•  So what about that Flyers loss? It was pretty embarrassing. According to Jakub Voracek, "we weren't ready to play." Oh no. (Philly.com)
•  Then there was the St. Louis Blues who were pretty much in control of the Oilers on Tuesday night, outshooting Edmonton, 43-19. They also lost 3-0. Afterward they had the dreaded closed-doors meeting for some 22 minutes. (In The Slot)
•  Jon Cooper coached his first NHL game last night -- a 2-1 Lightning win -- but his quote before the game was exceptional. (TampaBay.com)
"I'm coming here to make the playoffs. I probably shouldn't say this out loud, but when Steve [Yzerman] offered me the job, I said, 'Are you sure you want to do this?' He said, 'I want to do this.' Because if you do this I'm going to try to screw up your draft pick. That's where we're at."
•  Panthers defenseman Erik Gudbranson, just 21 and in only his second season in the NHL, might be the youngest player in the league not wearing a visor. He's starting to consider joining the converts. (National Post)
•  Wayne Fleming, a longtime NHL assistant coach and also an assistant for Team Canada, died on Tuesday at 62 from brain cancer. (Associated Press)
•  Patrick Sharp is getting closer to a return for Chicago but to shoot for Friday would be "a stretch." (Tracey Myers)
•  Could the NHL learn something from NASCAR? Please say no. Please say no. (The Score)
•  An update on that story from Tuesday of the Bruins coach throwing his earpiece and it looking like it landed in a fan's beer. Turns out it wasn't his ear piece but Tyler Seguin's smelling salts. The timing on that is beyond incredible.
Wednesday's schedule
Montreal at Boston (7:30 ET, NBC Sports Net)
Phoenix at Minnesota (9 ET)
Colorady at Calgary (10 ET)
Anaheim at San Jose (10 ET)
The Pittsburgh Penguins will put politics aside and visit the White House out of 'respect'...

NBC will reportedly be devoid of NHL game broadcasts between Feb. 7-26

The Winnipeg winger suggests Trump is going after 'the principles the U.S. was founded on'
League gets excited about exhibition matches in Beijing and Shanghai

NHL players are still disappointed they won't be going to skate in PyeongChang

With Artemi Panarin in the mix and a Vezina winner headlining the defense, Columbus can be...