NHL Draft Lottery: Mock drafting the lottery teams
The NHL Draft Lottery took place Monday with the Colorado Avalanche winning the top pick.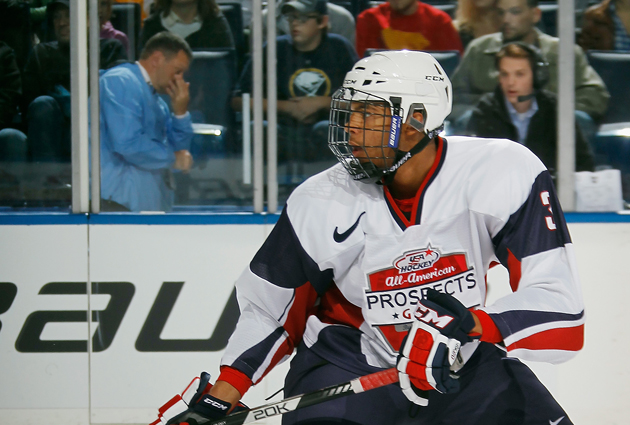 The NHL Draft Lottery took place Monday, with the Colorado Avalanche winning the lottery.
This year's draft class looked good at the beginning of the year. But as the season progressed, it looks like the 2013 NHL Entry Draft could go down as one of the best in the last decade. With a pool of 50 or so players who have an argument to be first-round selections, the top end of this draft is elite.
Looking at the very top of the draft, the race for No. 1 is still somewhat up in the air, though many scouts are beginning to pencil in American defenseman Seth Jones as the clearest choice for the top pick. The Halifax Mooseheads duo of Nathan MacKinnon and Jonathan Drouin are still widely considered threats for No. 1. But as the season progressed, Russian sensation Valeri Nichushkin began to climb the charts and appears to have a very good case for No. 1. Aside from the recently intensified "Russian factor" that makes some teams scared, Nichushkin is an immense talent and is beginning to push MacKinnon and Drouin as the draft's top forward.
Without further ado, here is a mock draft for the 14 teams awaiting their Draft Lottery fate. The order is based solely on record and did not take into account the possibility of certain teams jumping ahead thanks to the lottery. 
2013 NHL Mock Draft by Chris Peters
1. Colorado Avalanche  – Seth Jones (WHL) -- D

Jones might be one of the best defensive prospects available in the NHL draft in some time. He's the kind of player whom teams can comfortably build around and also expect immediate contributions from. The Avalanche already have a number of talented forwards including Matt Duchene, Gabriel Landeskog and Ryan O'Reilly. While any one of the top forwards available would be tempting here, Jones can bring immediate help to Colorado's weak defensive core. More importantly, a long-term impact. He's mature beyond his years on the ice, already making pro-level reads. He handles the puck well, has a heavy shot, plays physical and can take over games at times.

2. Florida Panthers  – Jonathan Drouin (QMJHL) -- LW

He is easily the most creative offensive player in the draft and could be an excellent point producer for the Panthers in the very near future. MacKinnon is probably the better player right now, but Drouin might be the better player in the long term. His ability to generate offense through creativity, vision and hockey sense suggest he can bring his highly productive ways to South Florida.

3. Tampa Bay Lightning – Nathan MacKinnon (QMJHL) -- C

Believe it or not, this might not be the easiest decision for Steve Yzerman. MacKinnon seems like the safest choice in this slot, but Yzerman has to at least be intrigued by both Aleksander Barkov and Valeri Nichushkin. Still, MacKinnon would appear to be the most logical choice. He'd be a great No. 2 center of the future behind Steve Stamkos and would give the Lightning a devastating 1-2 punch. MacKinnon is a tenacious, competitive player with explosive speed. The hype and expectations were perhaps too big for MacKinnon coming into this year, but that doesn't take away from the fact that he is an elite talent with a bright future. He could blossom into a superstar with a team like Tampa Bay's.

4. Nashville Predators – Valeri Nichushkin (KHL) -- LW

Nashville's bad season has led to this prime pick. David Poile has two or three really great options in this slot, but I think the biggest home run potential lies in Nichushkin. He has a pro body already at 6-4, 203, great speed, terrific hands and a knack for scoring. After just watching him at the World Under-18 Championship last week in Sochi, he is not far from NHL ready. The Russian factor might scare the Preds away after the Alex Radulov soap opera, but it shouldn't. Nichushkin seems like he'd be the most impactful player of those remaining over the course of his career.

5. Carolina Hurricanes – Aleksander Barkov (SML) -- C 

Any pick in the top five this year really is like winning the lottery. I think Barkov is as NHL ready as any player in this draft. As a 17-year-old, he finished second on his Finnish pro team with 48 points, despite missing time with injuries. It takes a special player to do what he did this season at Tappara. He's a good two-way center with offensive creativity and tremendous physical strength. His skating and conditioning are moderate concerns, but he looks like a future NHL star. The Hurricanes might need help on D, but passing over a player like Barkov right here would be unwise.

6. Calgary Flames – Elias Lindholm (SEL) -- C

One of the headier players in the draft, Lindholm might not be ready to hop into an NHL lineup tomorrow, but he's not far off. He has good offensive instincts, plays responsibly in his own end and has a good understanding of the game overall. The skill level is incredibly high for Lindholm, and his distribution skills make those around him better. He had 30 points in 48 games in Sweden's top pro league this year. Calgary needs to start building a good core of forwards, and Lindholm would be ideal in this range.

7. Edmonton Oilers – Darnell Nurse (OHL) -- D

There are some solid offensive players available in this range, but the Oilers have been loading up on forwards with their treasure trove of first picks. It only makes sense to go after a solid defensive prospect. And with the way that Nurse plays D now and the upside that he possesses for the long term, I don't think the Oilers would let him go by. Nurse, who plays for the Soo Greyhounds, is a nasty, defensively-sound blueliner. He oozes toughness. But beyond that, he skates well, makes a good first pass and might have a little more to give offensively than he has shown in junior. There's an element of risk in selecting Nurse this high. But as one scout told me, Nurse plays the kind of style that every NHL team wants and needs to be successful.

8. Buffalo Sabres – Rasmus Ristolainen (SML) -- D

The Sabres helped build up their forward crop in the last draft, which leads me to believe the team could look to address its relatively light defensive pipeline. That's what makes Ristolainen very attractive at this position. He has already played two years in Finland's top pro league and projects as a solid defender with puck-moving capabilities. Ristolainen is big and strong, moves fluidly and has a calmness on the blue line that makes him especially effective.

9. New Jersey Devils – Sean Monahan (OHL) -- C

Lou Lamoriello might be thanking his lucky stars if Monahan is available. He's a near-pro-ready forward who has great two-way instincts and can impact the game in a variety of ways. He had back-to-back OHL seasons with 78 points for the Ottawa 67's. With a 6-2, 170-pound frame that he's still growing into, the upside is quite high. Monahan might have an outside shot of cracking the New Jersey lineup next season, but odds are one more year of junior and he'll be ready to contribute at a potential Calder level. This might end up being a pipedream as Monahan plays a style a lot of teams will love.

10. Dallas Stars – Hunter Shinkaruk (WHL) -- LW

The most dynamic scorer available at this point, Shinkaruk would add a load of skill to Dallas' relatively light forward pipeline. He's average sized and saw a slight dip in production this year, but the upside remains. He's shifty with the puck on his stick and has a nose for the net. He scores a lot with a quick release and the ability to separate from opponents with good speed. When he's at his very best, Shinkaruk can be electric. He'll bring something the Stars don't really have.

11. Phoenix Coyotes – Max Domi (OHL) -- C

Undersized but offensively dynamic, Domi is a moderate-risk, high-reward pick in this range. The Coyotes have a so-so prospect system, and Domi would bring a lot more skill than they have. The son of former pugilist Tie Domi is lighting the OHL up this year, and he's developing well with the stacked London Knights. There are a lot of solid skill guys available in this draft, but Domi has that little extra wow factor that would make him tough to overlook here.

12. Philadelphia Flyers  – Nikita Zadorov (OHL) -- D

With most NHL-ready talent at forward gone, the Flyers have an opportunity to look for upside. With Zadorov, there's a lot of it. The London Knights defenseman might be a bit of a reach here, but his size (6-5, 229) and his potential make for a very attractive option for the Flyers, especially if Nurse isn't available. Zadorov is only beginning to tap into his full capabilities. If he can get a bit nastier and bring a consistent physical presence nightly, he'll be a top-pairing guy assuming he reaches his full potential.

13. Winnipeg Jets – Ryan Pulock (WHL) -- D

To be quite frank, the Jets' prospect system needs a lot of work. Poor drafting in the Thrashers years has left the depth of the pipeline mostly barren. So this is a position where the Jets have to take the best player available. Good thing is, there will be a lot of quality options. For me, Ryan Pulock makes a lot of sense. He's a high-upside defenseman who puts up a lot of points, defends adequately and looks as though he could be a solid top-four guy down the road. He's not the biggest guy at 6-0, 209, but he has good physical strength, a rocket shot and a poise to his game. Despite battling injuries this year, he still put up 45 points for the Brandon Wheat Kings.

14. Columbus Blue Jackets – Pavel Buchnevich (KHL) - LW

This is a bit off the board here. If Buchnevich wasn't Russian, he'd be in a lot of teams' top 15. An elite scorer with a pro-ready shot, crafty skill and strong skating, Buchnevich has big potential. A team would have to feel comfortable that they would eventually be able to sign him away from the KHL, but he's the type of player who could one day be a consistent 30-goal threat in the NHL. It would take guts to take him here, but he's an elite talent who's only going to get better as he gets bigger and stronger.
CBS Sports HQ Daily Newsletter
Get the best highlights and stories - yeah, just the good stuff handpicked by our team to start your day.
Please check the opt-in box to acknowledge that you would like to subscribe.
Thanks for signing up!
Keep an eye on your inbox for the latest sports news.
Sorry!
There was an error processing your subscription.
Emery, 35, spent time with the Senators, Flyers, Ducks and Blackhawks

The 33-year-old veteran goalie signed a three-year, $21 million extension to stay in Vegas

Chicago frees up immediate cap space to use in another deal, but it comes at a price
Hellebuyck, a restricted free agent, has a deal that will be worth $37 million

The new Maple Leafs star penned an essay explaining the struggle of making a decision in free...

The NHL star and skiing legend have made this their summer