NHL Draft: Sabres have best odds to win Tuesday's lottery
The Buffalo Sabres' reward for the worst record in the NHL? They have a 25 percent chance of winning the lottery on Tuesday night for the right to draft No. 1 overall.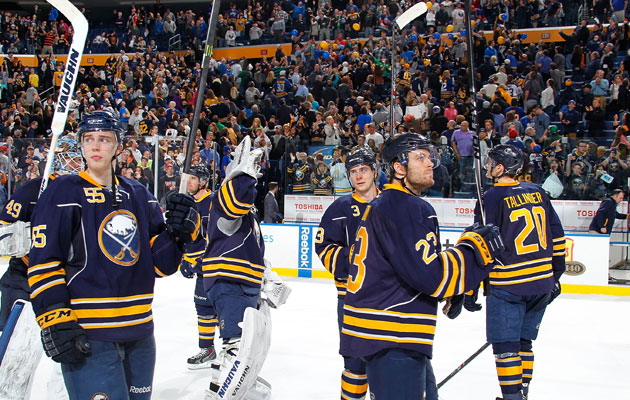 More NHL Playoffs: Schedule, TV listings | Expert Picks | Bracket | Scores | Odds
While the teams that qualified for the postseason get ready for the Stanley Cup playoffs, all of the non-playoff teams are turning their focus toward the offseason rebuilding. That will begin with the draft lottery on Tuesday.
Remember, the draft lottery in the NHL changed with the new CBA. Where as before the winner of the lottery could only move up a maximum of four spots, now it's a true lottery where whichever team's name is picked, they will get to draft No. 1 overall and the odds were slightly altered. What it did was lessen the chances the team with the worst record -- this season that's Buffalo -- would pick first.
So here are the odds for this year's lottery.
Buffalo Sabres -- 25.0 percent
Florida Panthers -- 18.8 percent
Edmonton Oilers -- 14.2 percent
Calgary Flames -- 10.7 percent
New York Islanders -- 8.1 percent
Vancouver Canucks -- 6.2 percent
Carolina Hurricanes -- 4.7 percent
Toronto Maple Leafs -- 3.6 percent
Winnipeg Jets -- 2.7 percent
Anaheim Ducks (from Ottawa) -- 2.1 percent
New Jersey Devils -- 1.5 percent*
Nashville Predators -- 1.1 percent
Phoenix Coyotes -- 0.8 percent
Washington Capitals -- 0.5 percent
*The Devils are in the lottery but cannot win as part of the reinstatement of their first-round draft pick from the Ilya Kovalchuk penalty. If the Devils do win, a re-draw will take place. New Jersey will select 30th overall regardless.
It's a pretty usual cast of characters near the top there with the Panthers, Oilers, Flames and Islanders being relative staples near the top over the past few seasons, joined of course by the rebuilding Sabres. New additions to the mis are the Canucks and Capitals, even with their miniscule percentage.
Last season's lottery winner, the Colorado Avalanche, selected Nathan MacKinnon No. 1 overall and just finished as the winners of the Central Division, arguably the best division in hockey.
This year's draft is not considered to be the best we've seen, particularly after last season. Sam Bennett from OHL Kingston is rated the top North American skater by Central Scouting while defenseman Aaron Ekblad is ranked No. 2, forward Sam Reinhart No. 3.
The lottery will take place on Tuesday evening at 8 ET and will air on TSN in Canada as well as NBCSN in the USA.
The 33-year-old veteran was diagnosed with Guillain-Barré syndrome

The NHL says it is 'completely satisfied' with its investigation into what Shaw said in the...

It may not be the most effective stickhandling training method, but it's certainly the most...
Steven Stamkos and Tampa Bay are soaring above all, while Montreal continues to dig its own...

Rage is all the rage in Montreal

Buffalo's 20-year-old phenom pulls off the highlight of the night against Vancouver