NHL Expert Picks: Why this might be the year for the Sharks
The San Jose Sharks have been so close yet so far for so long. This could finally be the year they get that coveted Cup.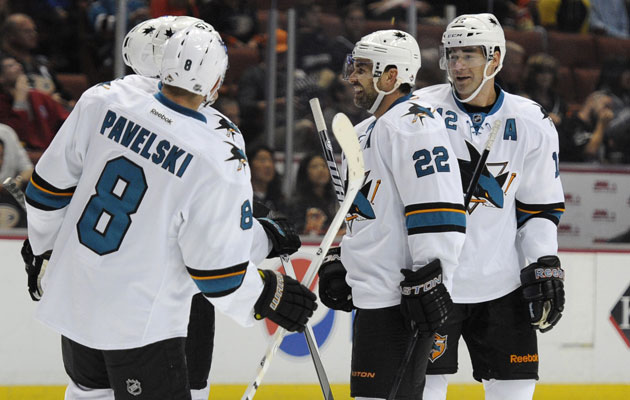 NHL previews: Atlantic Division | Metropolitan Division | Central Division | Pacific Division
For years it's been the season for the San Jose Sharks and for years they have come up short of not only winning the Stanley Cup but even playing for the Stanley Cup. Maybe, just maybe, this will be the year that changes.
Right or not, the Sharks have been burdened by the label of playoff chokers, this cast of characters they've been playing with for so long deemed postseason chokers. The veteran core, led by Joe Thornton, Patrick Marleau and now Dan Boyle and Joe Pavelski has had great regular season after great regular season but little to show for it when the playing was all done. So why would anybody think this jinxed team would have any different result this season?
First off, the narrative of playoff chokers is overplayed and frankly silly. Marleau, for example, has 96 points in 140 playoff games, just about in line with his career average of 0.74 points per game. Secondly, they have the addition of one of the game's best young forwards in Logan Couture who continues to emerge one step at a time. He could very well make a run at a 40-goal season.
Then there is the fact that these guys are going to have that proverbial hunger. I don't say that because they haven't won a Stanley Cup yet, though that helps, but also because that core trio of veterans will be playing for contracts. Each of Thornton, Marleau and Boyle don't have deals beyond next season and if they collectively fail to deliver again, it might be time that GM Doug Wilson thinks about a future without one or all of them. Contract years are always an excellent motivator.
Here's something interesting to look at with their crop of scorers. You hear a lot in stats talk about regression to the mean and how it works both ways. Well last season the Sharks still made the playoffs and reached the second round despite having the worst shooting percentage in the league at 6.6 percent, tied with the lowly Panthers in that regard. That number will surely go up this season, that's as much bad luck as anything else. If that mark pulls up just to league average you're talking about quite a bump and a very good team becomes even more dangerous.
At the back end you have a goalie who can't be accused of choking in Antti Niemi. He's done it once before, led a team to a Stanley Cup while in Chicago. He has the experience and at 30 years old, is still in his prime goaltending years. Carrying a heavy burden has not been an issue for him so being asked to do so again without a proven backup will not be out of the norm. He played in all but five games last season and enjoyed a career year.
The question is if that was just a great season or something more, a step toward becoming an elite goalie in the NHL. I'm of the belief it's the latter as twice in the past three seasons he has had a save percentage of at least .920 and has never been below .915 in his three seasons with San Jose.
The Western Conference is tough, there is no doubt about that. What the conference appears to lack in depth this season is made up for in power at the top. The Sharks are right there and with a lot of things working in their favor, perhaps it will finally be the time they break through.
The former Boston Bruin was the first black player to play in the NHL

Inclement weather led to the Charlotte Checkers and Bridgeport Sound Tigers playing in front...

The NHL chose the Detroit rocker as its All-Star Game entertainment and not everyone is th...
NHL fans from all over seem to agree on one thing: Hating Kid Rock

The team tweeted on Monday that Shaw would be re-evaluated in 7-10 days

The Montreal forward was hospitalized after taking a Zdeno Chara slap shot to the head